Page 2 of 2 •
1, 2
First topic message reminder :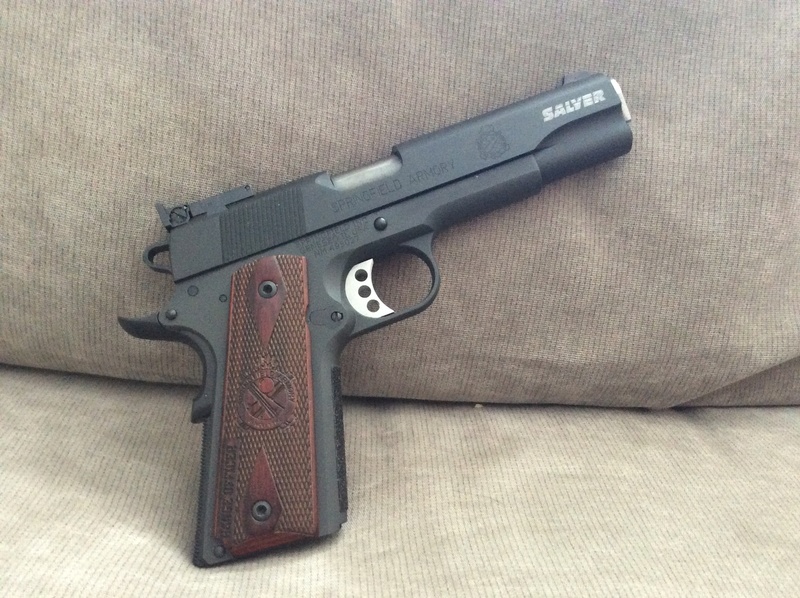 i a man so excited si I figured I would tell my bullseye buddies. I just picked up my RO "Salyer" precision 1911. It's a beauty. New Kart match barrel. Total turnkey job. 3.5# trigger job.  Watch out "X" I'm coming for you. This is my first ever bullseye pistol

Mightyheb




Posts

: 160


Join date

: 2017-03-10


Location

: Charlotte, NC



---
I appreciate having someone take ownership of their work.  Many do not and tend to use their anonymity to reduce quality.  Not that they are necessarily bad artisans, but it's human nature.  Would a Van Gogh be worth much without a signature?  Of course, this is just my opinion.

Bullseye_Stan




Posts

: 274


Join date

: 2017-06-11


Location

: Hampton Roads, VA



Thank God that James Hoag, Jim Clark, Sr., Jim Clark, Jr.,  Arnold Swenson, & the like didn't identify any of their work by putting their name on it. Although I am sure that you don't need the money, nor had it built by him to increase it's value it will add to the guns value. I would hate to tell anyone how many stories that a gun was built by a famous smith but that the owner didn't want it marked, and the gun naturally is total junk.

Gary Wells




Posts

: 370


Join date

: 2015-09-07



Went to my local gun store and saw a used Rem Rand 1911 with target sights, just when I was interested in getting into shooting EIC matches - a "true" service pistol.  I flipped it over, and saw "Clark Hardball", which told me much more about the gun and its provenance; I bought it on the spot.  Made a difference for me!

PS - I also have a Salyer upgrade (discreetly marked)  on my Janos Videcki build (no marks).  I wish the history was better documented!  Dave is a fine bullseye gunsmith and a great guy - I recommend him highly.

sharkdoctor




Posts

: 100


Join date

: 2014-10-16



I would be proud to have his name or any of the fine smiths in this forum on my custom builds.  After all a lot of my guns have S&W on them and that makes me happy also.  Don

Magload




Posts

: 1174


Join date

: 2016-11-18


Age

: 73


Location

: NE Florida



Clark put his name on his guns for decades.  I have one.

Dr.Don




Posts

: 719


Join date

: 2012-10-31


Location

: Cedar Park, TX



 by Dr.Don Today at 11:51 am
Clark put his name on his guns for decades.  I have one.
Just kidding, Dr Don. I've been around the block more times than I care to remember. I pretty much know who ID'd their guns and where the ID's went. I own a Hoag and Jim ID'd his guns for full house customs which Jim named his top of the line long-slides and comps as "Masterclass" &/or "mastergrade" IIRC.

Gary Wells




Posts

: 370


Join date

: 2015-09-07



Just MHO but it matters whats on the inside more than whats engraved on the slide...

Eddie 500




Posts

: 46


Join date

: 2015-11-02


Location

: Pascack Valley



I like the Salyer engraving on the side of my slide. 

But then again, the buttstock of the service rifle I use for highpower has a "Dave Salyer Bullseye Pistols" sticker and an Army Distinguished Pistol Shot sticker on it.  Just so people will know where my loyalties lie, lol.

mprince




Posts

: 50


Join date

: 2012-12-24



Mark,
Don't forget to mention the P100 badge with your Salyer pistol. You are amongst friends here so it's ok to brag. I hope you kick ass at the Army matches and go out with the rifle this year!

I am glad our trade worked out well.

Robert

robert84010




Posts

: 703


Join date

: 2011-09-21



Thanks.  Great trade for both of us, I love that pistol.  Me and Norwood put a slide mount on it.  It is now a very accurate wad gun. 

I need 4 points on Rifle and 4 more on EIC Rimfire.  Hopefully I get them both this year and I will be Triple Distinguished, woohoo.  Not bad for a nobody.

mprince




Posts

: 50


Join date

: 2012-12-24



Page 2 of 2 •
1, 2
---
Permissions in this forum:
You
cannot
reply to topics in this forum