+15
chopper
Slartybartfast
jwax
LenV
SmokinNJokin
Jon Math
JayhawkNavy02
Motorcycle_dan
laguana1984
Don Tunstall
bking
JLK
Paper-Puncher
gusso
sakurama
19 posters
Page 2 of 2 •
1, 2
First topic message reminder :
Since I haven't been shooting bullseye too long there was a lot to learn as I was getting started and like many things I think there's a lot people just take for granted - especially if they've been shooting for a long time. When I learned that there were specific boxes that were made for bullseye shooters I was really fascinated but it was really hard to find any photos of them. Now that I've started shooting (and have my own box) I find them even more fascinating because they really tell a story about the owner. In addition I find all sorts of interesting ideas that I'd like to incorporate into my own set up.
So I thought it might be an interesting thread to show photos of the boxes as they have such stories of their own. At the sectionals the other day I shot a couple photos of some of the boxes I saw and thought that they might be good to start the thread off.
I love this box for it's history and customizing.
This one reminded me that I need to find some magnets for my magazines.
Another idea I was reminded about from a shooter that helped me out was having the little notes that explain which way to turn which knobs on each gun to adjust the sites. Keeping important information close at hand seems to be the use of the lid. I also like the clamp to hold it open and the rag at the ready - this is someone very prepared.
You don't see too many wooden boxes but this one is really nicely made.
This is the box my friend Ben made so he could carry is setup to the range on his motorcycle.
This is something I've noticed from a lot of Masters - converting a suitcase or Pelican case. When I asked why it sort of struck me as obvious but I didn't guess: the guns can be shipped in a plane safely this way and the TSA theater crew is less likely to damage anything. So that's why the really good shooters are all using them.
Now that I see the logic of the Pelican I think my next box will be one of those as I know it will make it easy to lock down on the back of my motorcycle.
I hope that others will contribute some photos of their boxes or ones they've seen and liked as this is a thread I really looked for and never found when I was starting so perhaps it can be a good resource.
Gregor
---
Jwax,you buy the adapter online or maybe some camera store might have them. I bought mine online, and some places charge $40 - $100 for the same thing I paid $20. They're basically all the same except for sizes to fit the width of phone and scope eyepiece. You install on scope and then clamp phone on the adapter, then center the phones camera on the eyepiece. Make your focus and use.
  This works great except it uses a lot of the phones battery power, and the screen is much smaller to look at. I like your setup better, the bigger screen and probably less power to run everything. You know, a guy could build a whole new kind of box (revolutionize) that was lower in profile (wind resistance) with sponge-lined drawers for pistols and combine ammo. I'd build a box for camera,scope, and screen in another and a waterproof "Pelican" for pistols and ammo.
  I don't know much about camera lenses or focal lengths that's needed, but this does interest me a lot.
  Thank you much for sharing your ideas, and if you could figure how to save battery power with the cell phone idea please let us know.
  Stan

chopper




Posts

: 710


Join date

: 2013-10-29


Age

: 71


Location

: Western Iowa



I forgot the pics of adapter.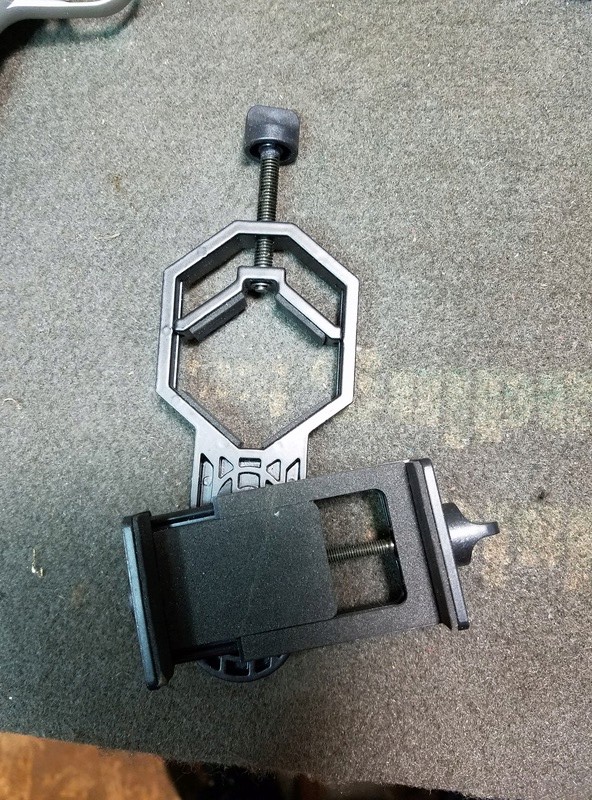 chopper




Posts

: 710


Join date

: 2013-10-29


Age

: 71


Location

: Western Iowa



I have tried that adapter- found it terrible to align and use. "Hokey" comes to mind.
If I could locate a decent zoom compact scope to modify with a camera, I'd consider offering such a setup for sale. Probably mount the scope on a stable battery box, and have the display portable.
jwax wrote:It's been a few years, but the camera is similar to this:
https://www.ebay.com/itm/700-TVL-COLOR-BULLET-CAMERA-WATERPROOF-LIPSTICK-CAMERA/111132166966?hash=item19dffe4b36:g:vwkAAOxy9LxSG~ZJ

I machined an adapter out of solid PVC plastic rod- one end to receive the camera, and the other to fit the eyepiece opening in the scope. A 12 volt gelcell powers both the camera and the monitor.
Thanks for the reply. I've been looking for either a USB webcam to do the same (a webcam app on my tablet would allow me to use it as a monitor) or something similar to the TargetVision Hawk or one of the USB or WiFi enabled telescope eyepiece cameras.
This should probably be in a new topic thread about scopes and cameras.

Slartybartfast




Posts

: 694


Join date

: 2016-11-11


Age

: 51


Location

: Montreal, Québec



Guys, while I like the creative thinking, the fact is that a scope and mount on a gun box will work everytime, with no need for batteries. It doesn't need a separate case. It takes seconds to set up. 

My Kowa 50mm is at least 40 years old. I see older scopes on the line too. What I think that you want is dependable and functional. But that's just my thought.

jmdavis




Posts

: 1406


Join date

: 2012-03-23


Location

: Virginia



jmdavis wrote:My Kowa 50mm is at least 40 years old. I see older scopes on the line too. What I think that you want is dependable and functional. But that's just my thought.
I hesitate as this is really diverging from the threads topic of "show" your bullseye box, but the comment above is why I'm looking at a scope/camera instead of say the Optex Redtail digital scope or some pieced together system based on a GoPro and a C-mount lens. If anything electronic fails, camera can be pulled off and the scope can be used as-is.
Tablets are cheap and reliable, tablets and cameras can run for hours continuously with their internal batteries, and USB battery packs that could run the whole setup for an entire day are easy and relatively cheap to come by.
For me this is all theoretical at this stage. Don't have a bullseye box and only just got a spotting scope from a friend and haven't even used it yet. Previous club had spotting scopes and I was one of the few that even set one up.
Right now, stacking toolboxes and a bench mount for the scope are looking like my preferred options.

Slartybartfast




Posts

: 694


Join date

: 2016-11-11


Age

: 51


Location

: Montreal, Québec



When the guys use the Pelican type boxes I've seen two ways of cutting the hole for the pistol one is like the photo (I call it the holster cut) the other places the pistol on it's side. 
Is the holster type cut abusive to the pistol's finish?
It seems like it might be especially if the foam is coated in Plasti-coat which is a popular option to keep the foam in nice shape.

Jon Math




Posts

: 289


Join date

: 2016-12-05


Age

: 62


Location

: Mass.



Jwax wrote, "
Sorry about the side view, but I mounted a small video camera in place of the eyepiece in a Burris Compact spotting scope. Drilled a hole in the box on the downrange side to view the target, and display it on the 10" LCD screen mounted in the box cover. Box is a Sportlock. 
That's a B-3 target at 50 feet."
Would you please write a short article on the items needed and the steps involved in creating this camera/LCD invention? Especially the battery aspect? You could make some bucks customizing these. :-)
Wow. I posted this a LONG time ago. I didn't even have a pistol box back then and I was just shooting Expert. I had a Hammerli 208 that was nice but not all that reliable but it got me to Master in a couple of years. The step from Master to High Master took a few more and was helped along by getting a Pardini. 
My whole box is like home with little bits of information and all the small tools you need. We finally got back to shooting in our range during the pandemic and luckily we have the space to social distance by skipping lanes. Shooting has been a welcome distraction. 
Thanks for participating in the thread - this was helpful to me when I started and is fun to look back on from here. 
Gregor
Page 2 of 2 •
1, 2
Similar topics
---
Permissions in this forum:
You
cannot
reply to topics in this forum