About a week ago I received the manual " The Progressive Method for Precision Pistol" along with 300 targets without the score rings, just 5.5 inch black bullseyes.  I read the entire book, then reread the slow fire section this morning. Went to the range (25 yard indoor) to try my luck. I know my pistol is zeroed at 25 yards, so I skipped that part of the book and went right to slowfire. Did as the book says, re-read it again while standing at the line. Ran through my head a "Shot Plan". Grip, aim, sight picture, breath, pressed the trigger, bang. I put the pistol down, and started all over. Repeated this a total of ten times. Elapsed time for my ten shots was just shy of seven minutes. That's about twice as long as I normally shoot slowfire. As the book suggests, I did not scope these shots taken during training. I walked down range, and the first thing that came to my mind was someone else must have shot my target for me! All ten shots were in the black! So I hung a new target, repeat. 9 of 10 shots in the black! Try a third time, all 10 shots in the black! So just for the heck of it, I tried two strings of timed fire. 18 of 20 shots in the black! I then remembered what a member of the US Army Marksmanship Unit once told me.... "Practice does not make perfect. Prefect practice makes perfect. It's better to shoot ten 10's and go home, then it is to shoot one hundred 8's." So I went home. As far as I'm concerned, today was prefect practice. Something must have clicked in that skull full of mush I call my brain. Now if I could just do this during a match!!!


So you guys that are good, what's next? Stay on slowfire until I get a 100, or continue on with the book?

Mike38




Posts

: 473


Join date

: 2016-09-15


Age

: 60


Location

: Illinois



You CAN do this during a match. Forget that it's a match. Forget the score. Forget the scope. Just follow your process. Process is everything.

mspingeld




Posts

: 479


Join date

: 2014-04-19


Age

: 59


Location

: New Jersey



If the steps in book worked for you why would you look for a new direction. just keep reading and doing the steps it outlines. Don't let doubt creep in, just because the targets at a match have scoring rings shouldn't change your shot process. Hopefully you wrote down what worked for you. There is a better chance of repeating them.

robert84010




Posts

: 667


Join date

: 2011-09-21



3 or 4 months ago I did pretty much the same thing. I was shooting timed and rapid fire strings with my 22. Switched to CF and practiced with a couple of pistols for awhile. I was getting tired so thought I would shoot hardball for awhile and call it a day. I decided I wasn't going to quit till I put one in the white. It took some time but just like you I knew it was time to go home. Keep doing what your doing it sounds like it's working.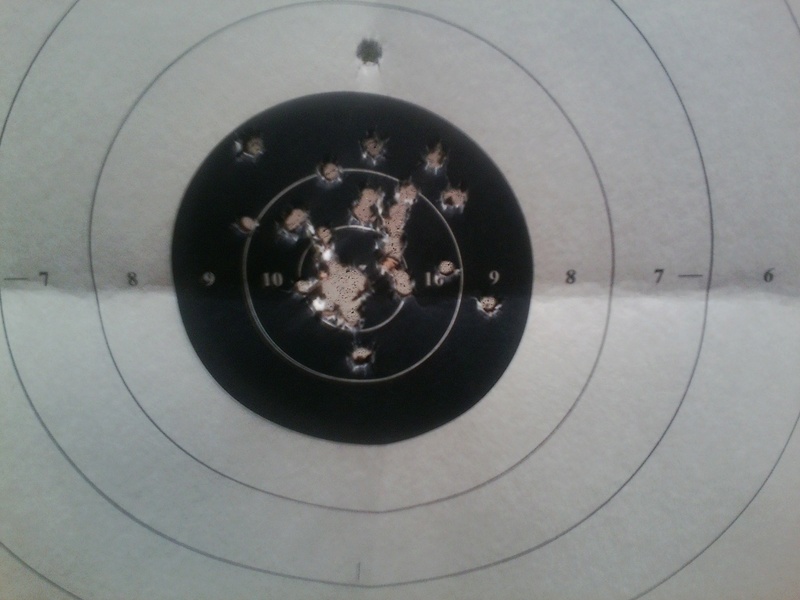 LenV




Posts

: 3965


Join date

: 2014-01-24


Age

: 70


Location

: Oregon



I went to the range again to see if all this was a fluke, or I'm really on to something here. First, I shot a 48 round PPC course, league starts up again Monday, and wanted to see how things would go. Shot a 475-33x so that looks good. Decided to get the Benelli out and shoot a 25 yard NMC using those solid black 9 ring targets. 28 of 30 shots in the black! The two outside the black were only about 3/8 inch outside, and I was able to call them. I think what's helping me here are three things that are new to me. First, I'm using the "Brian Zins grip". Works out to be very consistent / repeatable, and brings the sights right back on target without hardly trying. Second, setting up a mental shot plan before each shot of slow fire, and before each five shot string of timed and rapid. Third, the solid black nine ring sized targets. I don't concern myself with scores, just put the shots in the black. The 10's and X's will come, just focus on putting holes in the black. Anyhow, just thought I'd share. This is old news to most of you, but to another Marksman, give it a try, you may be pleased.

Mike38




Posts

: 473


Join date

: 2016-09-15


Age

: 60


Location

: Illinois



I have not bothered with the solid black targets I can't see the rings from the fireing line anyway.  Just trying to keep them in the black is helping a lot.  Don

Magload




Posts

: 1174


Join date

: 2016-11-18


Age

: 73


Location

: NE Florida



Follow the training program. It sounds as though it is based off the Marine Corps Pistol Team Workbook, that I actually learned how to shoot on become my username  12XNPC

12XNPC




Posts

: 25


Join date

: 2017-04-16




---
Permissions in this forum:
You
cannot
reply to topics in this forum