Page 2 of 2 •
1, 2
First topic message reminder :
In some posts, on this forum and others, people have stated that a 9mm 1911 can be converted to 38 super by simply swapping barrel and mags. (e.g. 
https://www.bullseyeforum.net/t7033-38-super-barrel
). However, in Gun Digest Shooter's Guide to the 1911, Robert K. Campbell writes:
Robert K. Campbell wrote:Converting from 9mm to .38 Super is more difficult. The 9mm has a .384" breechface and the .38 Super measures .405". The 9mm breechface must be opened in order to allow the slightly wider .38 Super casehead to function properly.
I was thinking about buying a 9mm Springfield Range Officer and get get a gunsmith to fit a 38 super barrel in it, thinking that it's easier to load down 38 super to bullseye speeds (~700fps) and get good accuracy. The gun would be used for 1800 matches and International Centerfire (max 38 cal); we rarely get a full 2700 around here. But Robert's comments have me worried that it may not be as straightforward as I thought.
Thoughts?

desben




Posts

: 357


Join date

: 2013-12-22


Location

: Ontario, Canada



---

Dr.Don




Posts

: 699


Join date

: 2012-10-31


Location

: Cedar Park, TX



I had a chance to play/practice with my long barrel Super today and the 147gr were definitely more fun to shoot. The two targets on the right were shot with 125gr Zero bullets with 6.9gr Power pistol (hot)l. The two on the left were shot with Magnus 147gr LFP and 4.6 gr BE. Rapid fire. The 147s were a lot easier to control. The 38 super+p with the larger rim also functioned perfectly in my RO 9mm conversion. The face has not been modified.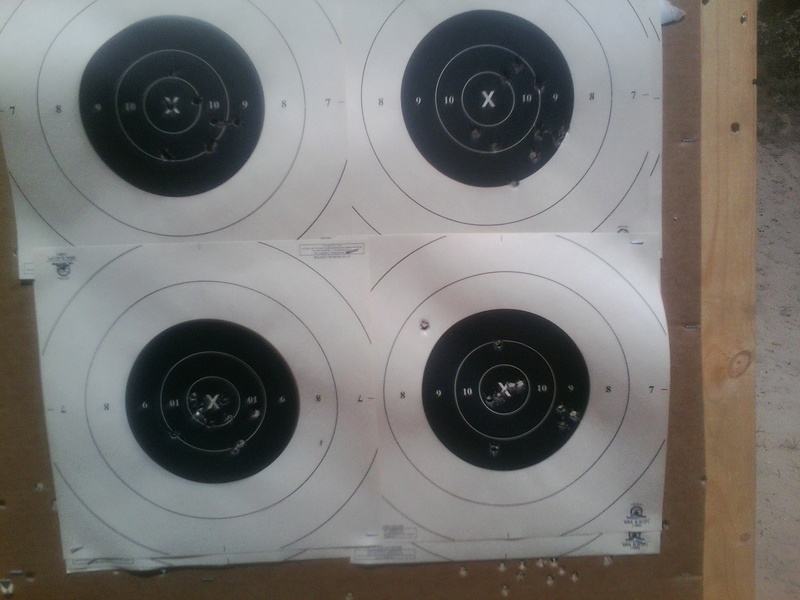 LenV




Posts

: 4050


Join date

: 2014-01-24


Age

: 70


Location

: Oregon



I just converted my 9mm RO to 38 super with barrel change and mags feeds and extracts flawless. Feeds hbwc no problem. So far in my test Remington 147hbwc most accurate

Gman




Posts

: 1


Join date

: 2018-10-31



So 38 Super brass with 148 gr HBWC bullets? Powder & charge? Recoil spring? Roll crimp? Optics or irons? How far is it ejecting brass from pistol? 
Cool!
Jon

Jon Eulette




Posts

: 2831


Join date

: 2013-04-15


Location

: Southern Kalifornia



I would never of thought of trying full WC in the Super. I spent the day at the range a couple of days ago and was working on reducing my 130gr SWC loads. I tried both .357 and .356. They fed good at a reduced load but pattern opened up.

LenV




Posts

: 4050


Join date

: 2014-01-24


Age

: 70


Location

: Oregon



Page 2 of 2 •
1, 2
---
Permissions in this forum:
You
cannot
reply to topics in this forum