About to pick up a S&W 19-3 but plan on mainly shooting 38 special not 357 mag. Plan on informal target shooting and possibly shooting CF for fun at the small local matches.

I already own the 150 grain Keith style mold made by Magma, using wheel weights it will drop closer to 155 grain. I also have tons of WST on hand I'd like to use.

What do you guys recommend for target velocity loads, I need:
Grains of WST
OAL
Crimp diameter

Thanks in advance.

zanemoseley




Posts

: 1030


Join date

: 2015-07-11



I can help with 2 of your questions. If the bullets have a crimping groove, just roll crimp the case mouths into it.

BE Mike




Posts

: 1572


Join date

: 2011-07-29


Location

: Indiana



Crimp to .375, either taper or sight roll since it does not have a crimp groove (looking at the photos of it on the internet).
OAL, just seat to the top of the shoulder, can't give you a definite length since I don't have that bullet in front of me to measure.
Start with 3.0 of WST which would be equivalent to 2.7 of Bullseye.

cdrt




Posts

: 534


Join date

: 2016-04-12


Location

: Amarillo, Texas



HARD CAST 158GR WILL NEED 3.3 TO 3.5 GR WST FOR ACCURACY AT 50 YDS. SWAGED 158GR NEEDS 3.1 TO 3.3 GR WST FOR 50YDS. JIM  P
Last edited by JIMPGOV on 7/12/2017, 7:54 am; edited 1 time in total (Reason for editing : FAT FINGERS)

JIMPGOV




Posts

: 336


Join date

: 2011-09-27



Here's the bullet mold I have, it's the 150 grain model. So would you consider the groove on the top a crimp groove? I've never used a bullet with a crimp groove, do I do anything in particular compared to a regular bullet? I'll be using a set of Dillon dies which I think are considered a taper groove.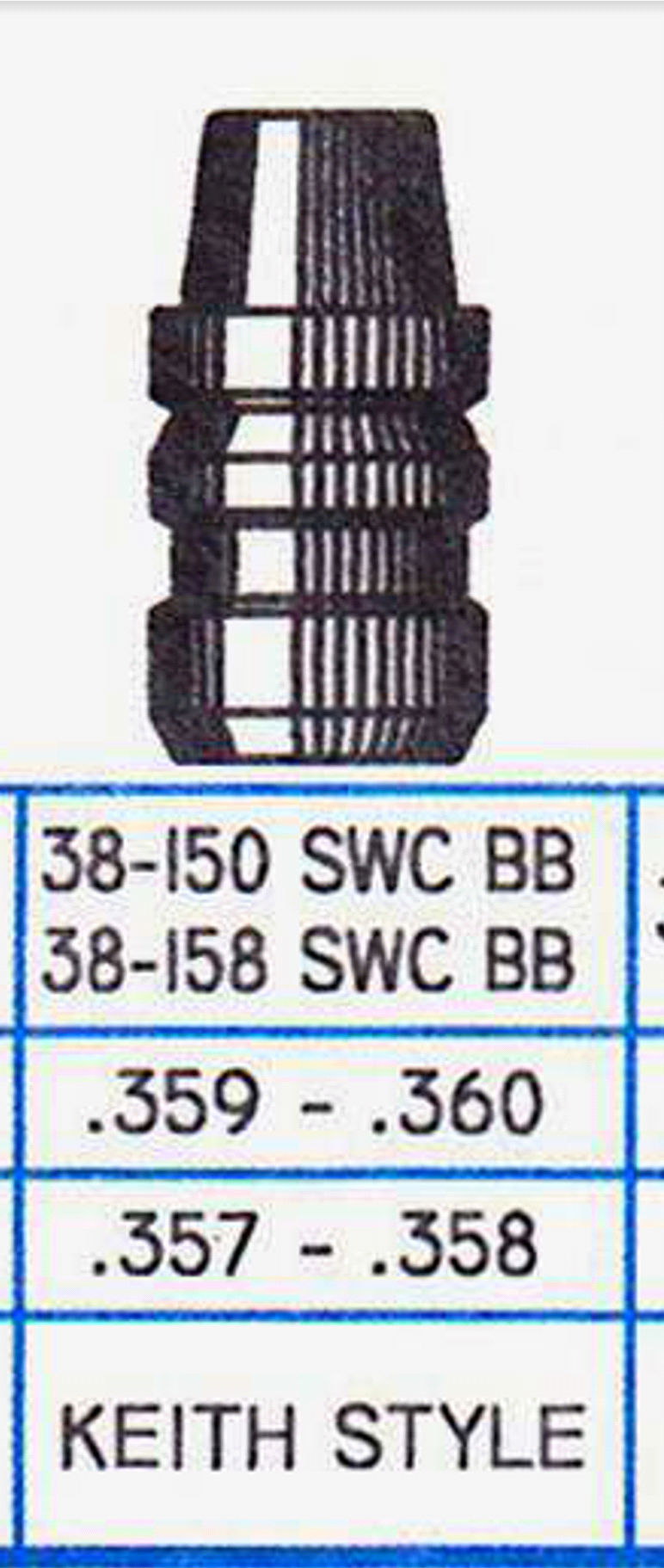 Last edited by zanemoseley on 7/12/2017, 7:55 pm; edited 1 time in total

zanemoseley




Posts

: 1030


Join date

: 2015-07-11



YEP THE TOP GROVE IS A CRIMPING GROVE. JP

JIMPGOV




Posts

: 336


Join date

: 2011-09-27




---
Permissions in this forum:
You
cannot
reply to topics in this forum