+10
JD Mahan
Wobbley
mikemyers
Boris_La
Blsi2600
jwax
brassmaster
BE Mike
LenV
Hardballer
14 posters
Page 2 of 2 •
1, 2
First topic message reminder :

I've been looking through the NRA Rulebook and Section 4 seems to have all the info you could need except the distance from the center of the bull to the ground.  I hope that I have not overlooked it.  Will someone please tell me the correct measurement?
Last edited by Hardballer on 8/17/2017, 8:55 am; edited 1 time in total (Reason for editing : used all caps by mistake)

Hardballer




Posts

: 7


Join date

: 2017-07-11


Age

: 74


Location

: AR



---
I printed all my practice targets till I started shooting BE.  Too much black ink.  Even buying re inked cartridges still not worth it.   I shoot 50 rounds per target and cover the holes each time.  I am not scoring so covering the lines doesn't matter. Don

Magload




Posts

: 1174


Join date

: 2016-11-18


Age

: 75


Location

: NE Florida



I took the B-8 target from the link I posted, and used Photoshop to put two bulls on one sheet of standard paper, and added places for notes.  This is before you guys convinced me to shoot 6-o'clock hold, so I'll need to make some changes to make room under the bulls for white space.
On a standard backing board at my club, I can put up four targets on the board, which becomes eight bulls doing it this way.  I only fire ten rounds at each (used to be more).  This target is from mid August this year.  
If anyone wants a blank copy, I can send the 'jpg' image file.  I know it's on my home computer, and I think I have a copy with me on my laptop.
(This photo also illustrates my small dilemma - what to do if I want to shoot bulls smaller than a B-8.  With center hold, it didn't matter.  Since I'm mostly concerned about shooting official targets, I'll figure that out if/when I need to.)
(If anyone is curious, the one inch grid with white lines is to make it easier to calculate the CEP which is what I did before deciding to score my targets the official way.  CEP gives a very precise number of how well I shot, regardless of what I'm shooting at or when.  It tells that a certain distance, some percentage of my shots will be within a calculated diameter.  It also tells me exactly where the center of my group is.  For these targets, it could have told me that at 25 yards distance, 90% of my shots were within an xx.x inch grouping.  Doing this over time, for enough shots, gives a nice idea of improvement, or the lack of.)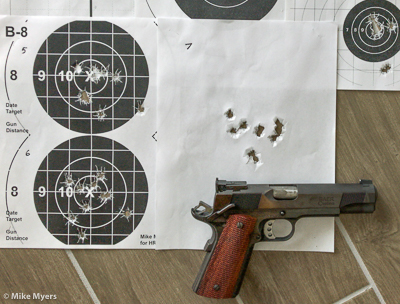 mikemyers




Posts

: 3872


Join date

: 2016-07-26


Age

: 78


Location

: South Florida, and India




Wobbley




Posts

: 3596


Join date

: 2015-02-12



Wobbley wrote:No picky?
I don't understand??

mikemyers




Posts

: 3872


Join date

: 2016-07-26


Age

: 78


Location

: South Florida, and India



When I first opened the thread, your picture didn't show.  Must be the crappy iOS I'm running.

Wobbley




Posts

: 3596


Join date

: 2015-02-12



Time to update to the latest iOS ?   More seriously, maybe it's because I added that image as an embedded image, hosted by this website.  Images that are linked to other websites might show up more quickly.  Most likely a network problem, not your phone.

I try to keep the operating system as up to date as I can, as they are constantly trying to make their phones safer, and tp fix "bugs".  I wish I could update my shooting ability as easily as I update my phone.   :-/

mikemyers




Posts

: 3872


Join date

: 2016-07-26


Age

: 78


Location

: South Florida, and India



Page 2 of 2 •
1, 2
---
Permissions in this forum:
You
cannot
reply to topics in this forum