I'm considering a new high end European rimfire pistol and while I can get quantifiable information about size, mass, etc; I am unable to determine what size grip to get. 

There are no local dealers that sell these pistols, so physically trying them is not an option. 

My glove size is roughly a XL.

Suggestions?

Blackbird




Posts

: 50


Join date

: 2017-08-30



Let me add I am considering a Walther GSP, a SSP, or a FWB AW-93.

Blackbird




Posts

: 50


Join date

: 2017-08-30




Jack H




Posts

: 2546


Join date

: 2011-06-10



Grip size is a subject I've puzzled for a long time. Thomas Rink makes Large grips that fit my 92mm hand very well, but a Morini Medium feels very good. I recently bought a FWB AW93 with a large grip and we didn't get along. Too thin and some hard edges for my hand. I took a file to it and came to an agreement but it will be replaced soon with a Rink Ambidextrous.

In this thread on Targettalk poster Gwhite has a chart he made for the different manufacturers. Target Pistol Grip Sizing Chart


(Oh yeah, look at this: Rink: Explanation of the grip parameters )

I've always liked the joke about the grips on old Soviet pistols: Your grip is inside the protective wood shipping material.

PM me and I can overwhelm your inbox with all the anatomical grip fitting articles I've collected over the last few years. Some good info but no substitute for experience. I'd love to book a session with a grip fitter.
Last edited by Sa-tevp on Sat Nov 04, 2017 12:29 am; edited 1 time in total

Sa-tevp




Posts

: 836


Join date

: 2013-07-20


Location

: Georgia



By the way, when I was researching FWB AW93s I ran across several European pistol forums that recommended buying the pistol without the factory grip, as many did not like the grip and would be replacing it with a custom grip. It sounded like the European pistol dealers were ok with that practice and some even advertise with no grip.

Since the factory grip of whatever you buy may not fit you may want to ask about purchasing whatever pistol you decide on without a grip if you expect to order a custom grip. I have also found that factory grips in good shape sell quickly most of the time on Targettalk.

Sa-tevp




Posts

: 836


Join date

: 2013-07-20


Location

: Georgia



I tried over a dozen different combinations before finally settling on Rink. No easy answer.  I found that recommendations for what it work for others seem to have no bearing on what work for me.  There are multiple variables, including hand size, length of fingers and preferred grips angle. 
I found that that some of the sellers (Pardini Store and Earl's Walther ) were willing to let me try different sizes of factory grips, but that is only limited help.  
I also did not like the grips on my AW 93, the factory GSP is much better for me, but.........
Perhaps you could try the feel of some of the competitor's grips at a match?
Might I ask how/why you have narrowed your consideration to the two you mention?
I copied this from another forum.
"An above comment about grip rake got me wondering what the approximate rake was on various target pistols. Using Photoshop, I added the yellow lines and measured the angle shown in illustrations; rake = 180-that angle.

So for all of you who were dying to know these rakes, 1911=74 (degrees), Benelli M90=61, AW 93=65, Hammerli 208=74, Hammerli 280=64, Hammerli SP20=62, MG4=55, Morini CM22=54, Pardini SPBE (standard grip)=55, Pardini SPBE (Dick Horton grip)=63, Pardini GT45=61, S&W 41=76, and Walther GSP=63. I don't know why that bug crawled up my leg, but hell, I like bugs.

Having proved the obvious, European are designed pistols with a lot more rake, I shall retire for the weekend and a club match. Ciao bang, dipnet
Attachments: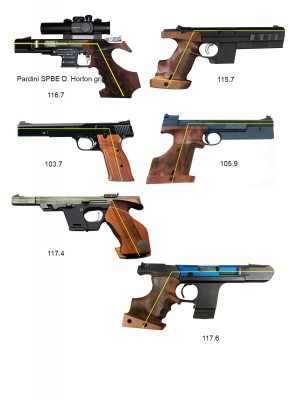 Grip rake angele_be pistols2.jpg [ 206.62 KiB | Viewed 2157 times ]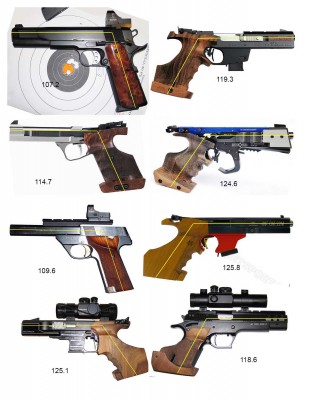 Last edited by gregbenner on Sat Nov 04, 2017 11:47 am; edited 1 time in total

gregbenner




Posts

: 738


Join date

: 2016-10-29


Location

: San Diego area



Well, I think that you are just supposed to get close and then customize it yourself with filing and filling. My experiences with the AW93 was that the grip was pretty true to size while I found the Walther to be slightly smaller than advertised. Also, I found that while I like the Rink grips, I think that the Nill are a step above.

Joel

1joel1




Posts

: 391


Join date

: 2012-11-09


Location

: San Diego, CA



Are you about 95-100mm or more across your knuckles? Then yes probably XL.  If you are on the border between L or XL, you probably need to get an XL.  You can adjust, add, and remove wood to custom fit most areas of your hand, but it is very hard to add width once you are at the upper limit of the existing grip size.

It is easier to make an XL width fit like a L, than a L width to fit like an XL just due to the way the palm shelf adjustment mechanism works.

Go to the grip maker web site and they will have instructions on finding your size.  Rink has a good configurator on their site.

willnewton

Admin




Posts

: 994


Join date

: 2016-07-24


Location

: NC



Thanks for the information and guidance.

Blackbird




Posts

: 50


Join date

: 2017-08-30



One day while playing Maytag repairman at work I Google translated an anatomical grip guide ( Guida Tecnica Pistola ad aria compressa )into something close to english. What I had liked about the guide was it illustrated errors and bad practices not just the perfect.

Pistol Grip Translated 

Some other good articles:

Essentials of the pistol grip

vlastni_rukojet.pdf

Some guy named Morini working on a grip

Here is a favorite website of mine, Igor's Blog. Igor shoots target pistols in Germany and has some great articles on several subjects, like this one for example: Igor's blog - Make a Pistol Grip

Sa-tevp




Posts

: 836


Join date

: 2013-07-20


Location

: Georgia



Similar topics
---
Permissions in this forum:
You
cannot
reply to topics in this forum