Recently bought a slightly used Roddy Toyota Wad Gun.   Came with 2 what I assume are tuned magazines.   In the original invoice, Roddy lists "Metalform Rd Mag Follower".   The followers are indeed rounded, but slightly different between the 2 magazines.   So, just what entails a tuned magazine?   Does the spring typically get replaced and why the round follower?   Thanks in advance for your reply.

Don

USSR




Posts

: 257


Join date

: 2017-07-14


Age

: 68


Location

: Finger Lakes Region of NY



Greetings,

Sounds like you should be talking to Roddy Toyota, not the BaloneyNet.

Cheers,

Dave

fc60




Posts

: 516


Join date

: 2011-06-11


Location

: South Prairie, WA 98385



Dave,

Just looking for generalities in respect to tuned magazines, thanks.

Don

USSR




Posts

: 257


Join date

: 2017-07-14


Age

: 68


Location

: Finger Lakes Region of NY



Its common for people to replace 1911 magazine springs of the Wolff reduced power springs. I believe i read somewhere that Jerry used 6 or 7lb ones. He posted before about the gun sounding and feeling the same when you close the slide with a round chambering or without. Ultimate smoothness. With 22 magazines its common to adjust the lips i can't imagine its different for the 45.

Chris Miceli




Posts

: 2690


Join date

: 2015-10-27


Location

: Northern Virginia



Thanks Chris.   So, what's the thing with round followers?

Don

USSR




Posts

: 257


Join date

: 2017-07-14


Age

: 68


Location

: Finger Lakes Region of NY



Of the twelve 1911 magazines of different mfg that I use for bullseye, I replaced all the springs with Wolff 6 lb springs, and all the followers with Clark rounded followers. No issues after four seasons.  BTW, the gun was built starting with a range officer.

AllAces




Posts

: 727


Join date

: 2011-08-30



"So, what's the thing with round followers?"

Multiracer




Posts

: 646


Join date

: 2017-03-15


Location

: North Ohio



typically the gunsmith will ensure proper feeding of the wadcutter bullets but they also ensure the mags do not contact the trigger bow which would cause inconsistent trigger feel or other problems.
The round follower type mags have a different release point so the tip of the round is higher which enables the short nosed button wadcutter rounds to feed better. compare your round follower to a GI mag, the difference is easily recognizable side by side.

robert84010




Posts

: 598


Join date

: 2011-09-21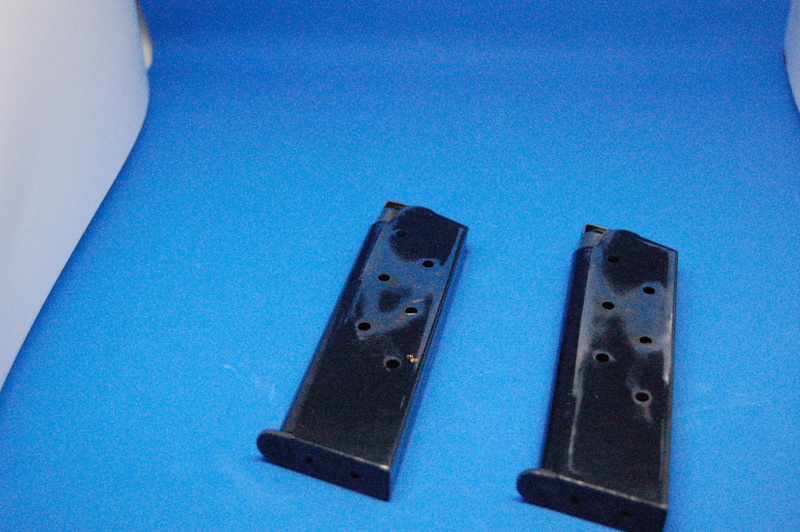 this picture from an ad shows that the gunsmith modified the mags around the trigger bow area to either improve fit or function. there is usually some small adjustments needed and good gunsmiths check all these small details.

robert84010




Posts

: 598


Join date

: 2011-09-21



Greetings,

Round followers came out long ago. I see them advertised in old Gil Hebard catalogs.

The theory is that the follower has the same diametrical feature as a loaded cartridge to enhance feeding.

Something about the flat follower hampering the feeding of the last round.

Back in "the good old days" when Hardball matches issued genuine Hardball, the feeding of the last round was an issue. Sometimes the cartridge actually jumped out of the magazine and onto the floor.

Some of the Military shooters were lobbying the Referee at Camp Perry in 1977 or 1979 to be allowed to load an empty case in the magazine to try to eliminate the feeding issue. The Referee was not amenable to the idea.

This problem seems to have gone away as the 2700 matches I have attended in the last few years have shown an increase in pistol reliability. Not as many alibi's have surfaced as did in the 70's and early 80's.

If I owned a pistol that only functioned well with one magazine, I would be examining the entire package to determine the cause. Yes, if the magazine is damaged or does not meet specification, most likely it will lead to malfunctions.

Still, I would telephone Roddy and speak with him about magazines as he has built far more 1911 pistols than I ever have.

Cheers,

Dave

fc60




Posts

: 516


Join date

: 2011-06-11


Location

: South Prairie, WA 98385




Multiracer




Posts

: 646


Join date

: 2017-03-15


Location

: North Ohio




---
Permissions in this forum:
You
cannot
reply to topics in this forum