Cheap is not always good but sometimes you can find good cheap stuff. 95, 98-2, 97-3. Bushnell TRS-25 red dot, and Federal Auto-Match bulk .22LR ammunition.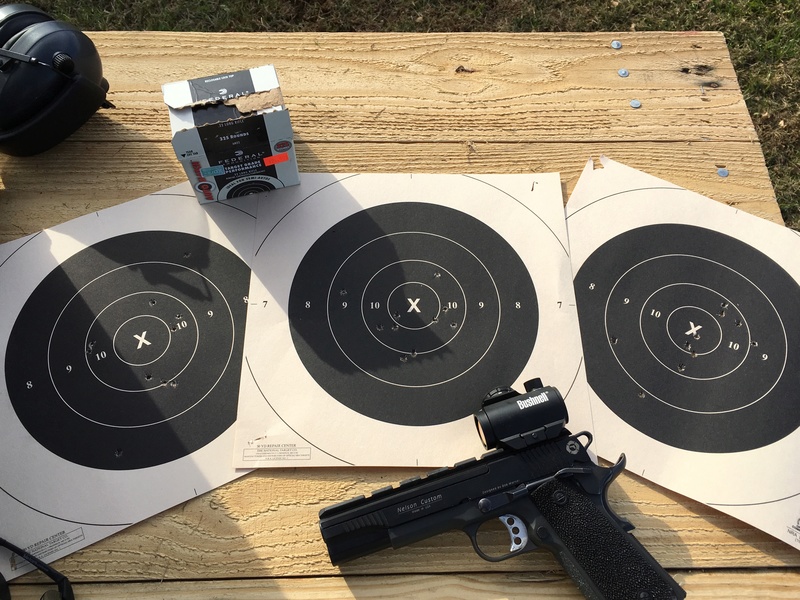 Tim:H11




Posts

: 1585


Join date

: 2015-11-04


Age

: 30


Location

: Columba, TN



How is the dot and clarity on that scope now that you have shot with it outdoors?

fpk




Posts

: 143


Join date

: 2017-04-26


Location

: Texas



fpk wrote:How is the dot and clarity on that scope now that you have shot with it outdoors?
Just don't shoot facing into the sun unless you're under good cover. And I find that with the other red dots I've encountered too not just this one. Nature of the beast? Maybe... The dot is 3MOA, it's clear, Lenses are clear. Maybe some cheap lense parallax going on? Not sure. I got a clearer image of the target if I aimed down low where the dot was no longer in the field of view but the target still was. When I tilted the gun back up to bring the dot back into field of view the target looked double slightly. Very slightly. With a blinder or a piece of tape over my left eye the issue went away. I've encountered this with one other inexpensive red dot before. 
The click adjustments don't feel distinct. Got to go slow to feel em. I find with the micro it's easier - if you're not paying attention - to let the dot wonder - so say the dot is on target but it's not centered in the tube. I like how it sets low to the gun. At least low on the 22. It doesn't sit as low on my 45 with a Marvel scope base. And the 45 rock it loose twice so I gave up on that idea for fear of stripping the threads trying to secure it. 
I think for someone looking for an indoor league dot on a budget it's a good one, and it may cut it in outdoor as well so long as you're not having to fight with the sun glaring in your face. The rear lense is completely exposed. Easy to smudge. Keep a lense cloth handy. Same for the front lense.

Tim:H11




Posts

: 1585


Join date

: 2015-11-04


Age

: 30


Location

: Columba, TN




---
Permissions in this forum:
You
cannot
reply to topics in this forum