Does anybody know which Vitavori powder ASYM uses in their 9mm Match loads? According to their website they state they do use Vitavori powder, but do not say whether the powder is N310 or N320.  I know what bullet, case, and primer is used, but cannot determine which one of the powders is used other than it is VV and I do not have either one of them on hand for comparison. Thanks in advance.......Paul

Caster3845




Posts

: 69


Join date

: 2015-02-21


Location

: Lisbon, IA



Can you post the bullet, case and primer used?

I doubt VV 310 or 320 is used in their 115gr ammo. Seems like 115gr. shoots better with slower powders like V330 or VV340. I haven't seen 330 listed for sale for several years. seems like everyone uses 340 or another brand of powder.

robert84010




Posts

: 600


Join date

: 2011-09-21



I'd go with 5.3grs. of N340 and a 115 HAP. Shoots like crazy for me.

HenryA




Posts

: 94


Join date

: 2013-08-24



4.8 VV320 OR 5.0 VV330 WOULD BOTH UNDER AN INCH AT 50YDS. JP

JIMPGOV




Posts

: 338


Join date

: 2011-09-27



I defer to Kyle Wolf for 50 yard 9mm load development, he's done extensive testing and gets really good results. I have also seen good results using his loads.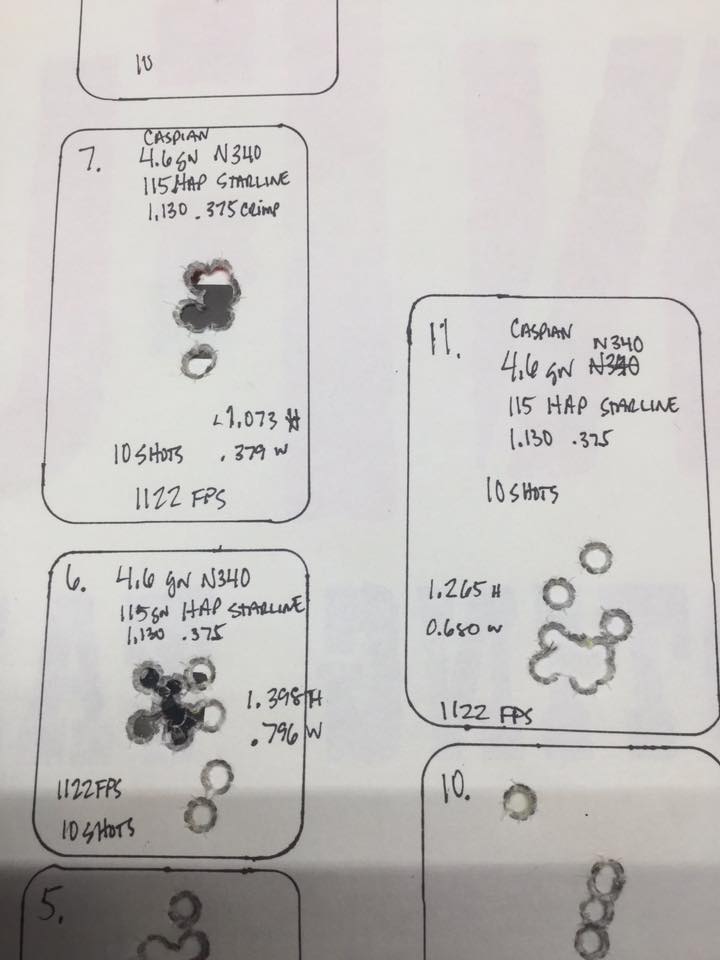 daflorc




Posts

: 200


Join date

: 2016-12-30


Age

: 34


Location

: Lisle



Now, you've got me wondering what the best primer is to use?

BE Mike




Posts

: 1574


Join date

: 2011-07-29


Location

: Indiana



When you get settled on your cartridge components and dimensions, make sure to shoot the ASYM and your handloads over a chronograph to verify that you are approaching the ASYM velocities and to verify the speed range the ASYM actually shoots at.

I did a copy of the ASYM 45acp round and the box said 775 FPS.  That was the lowest velocity round in the box.  I found I needed slight tweaking on my rounds COAL, crimp, and powder to match the performance.

Externally, my cartridges were dimensionally similar, but internally maybe I have a different case interior, primer, press process, different batch of powder, or the pistol or any number of slight variables that got me almost there.

 The chronograph just helped me figure out where I was at and dial it in.

willnewton

Admin




Posts

: 620


Join date

: 2016-07-24


Location

: Eastern NC



For what its worth, 5.3 of N340 and a 115 HAP at 1.100" oal with Winchester primers averages 1241 fps out of my 5 inch Kart barrel.

HenryA




Posts

: 94


Join date

: 2013-08-24



David Sams told me 5.0 N340 in a never fired Starline case under a 115gr XTP at 1.110 with a .375 crimp (notes not in front of me) for best accuracy at 50yds out of a KKM 1:32 barrel.  He said something about the coke bottle shape of fired cases loses a little accuracy at 50yds.

spyer40




Posts

: 50


Join date

: 2016-02-22


Location

: Indiana




---
Permissions in this forum:
You
cannot
reply to topics in this forum