I cast my own bullets for my 45. The mold I use produces a beveled base bullet. Is there any difference in how the bullet performs if it were a flat base? Please share your opinion on bevel base vs flat base. Keep in mind that I am referring to a 200 grain lead semi wad cutter bullet.

Tim:H11




Posts

: 1592


Join date

: 2015-11-04


Age

: 30


Location

: Columba, TN



I found the Lyman 200 gr lswc BB to be the most accurate of these.   
I noticed on  flat base bullets ,the lands may displace lead to the base of the bullets. It will no longer be flat. 
They were bullets i dug out of the back stop years ago.  It may have something to do with alloy hardness?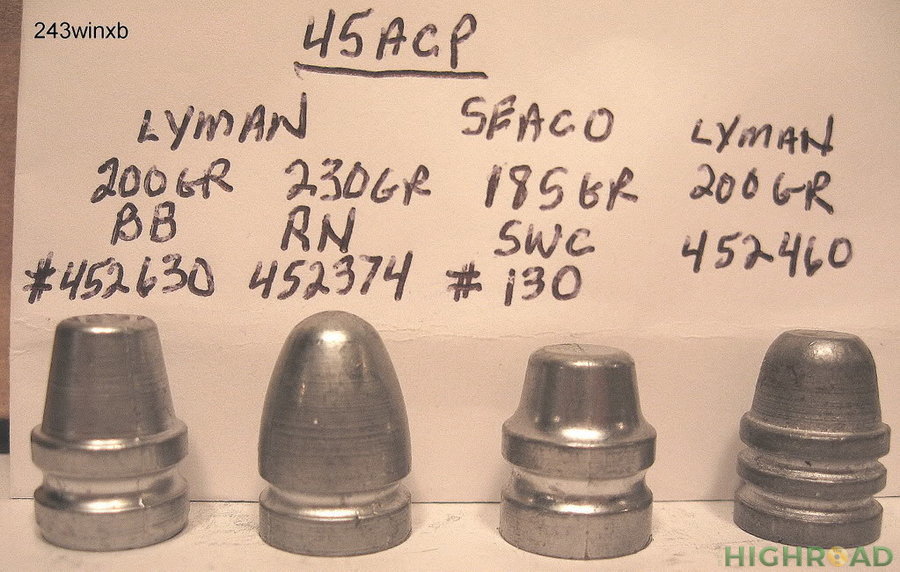 243winxb




Posts

: 264


Join date

: 2013-12-01


Age

: 74


Location

: USA



if given a choice I'll always go with a flat base bullet.. unfortunately not many 200 gr. SWC commercial FB out there.

the 160s, 180,s and 195s I use are all  flat base and load just fine.. I don't think I own a BB pistol mold..

data that they are better ... nope.  the amount of rifling surface difference is probably not of any importance.
I do think it's a bit easier to see a flawed  base with the FB bullet,,

opinions will vary I bet

jglenn21




Posts

: 1640


Join date

: 2015-04-07


Age

: 70


Location

: monroe , ga



There was an article in Handloader magazine umpty-sqump years ago on this very subject but for 38 caliber H&G 50 wadcutters.  These were shot in several guns but mostly in PPC target revolvers.  The findings were that BB bullets were slightly more accurate but hardly enough to put a meaningful number on.

Wobbley




Posts

: 1931


Join date

: 2015-02-13



Bevel base bullets may seat a little easier but in a 45 auto I do not think they account for any accuracy change better or worse.  If you like a particular bullet design, I would not let it being BB or FB deter you.  I think where a FB is better is in a revolver application where you want the base of the bullet to obturate as it passes through the cylinder throat.  This seals the bullet against the throat walls and prevents gases from escaping around the bullet.  These gases can cut the bullet and deposit lead in the throats and forcing cone.  It is harder to get a BB bullet to obdurate.  In a semi auto, none of this comes into play.

BEA




Posts

: 58


Join date

: 2015-11-30



The biggest trick on lead bullets is making sure that the base isn't damaged in some way- Ed Masaki demonstrated this back in the early 80's, I think it was.

Aufidius




Posts

: 87


Join date

: 2018-02-02



I believe the H&G 130 was a flat base

http://www.hostingfms.com/~cholt/Bullseye-LLoadsFromThePast.html

Chris Miceli




Posts

: 2698


Join date

: 2015-10-27


Location

: Northern Virginia




---
Permissions in this forum:
You
cannot
reply to topics in this forum