I was thinking of using my Baretta 92/fs for shooting center fire just to try something different and get it out of my safe once in a while. It's a stock out of the box pistol. I don't want to spend a fortune on it I've already done that with all my other bullseye guns. What's the minimum I should do to it to make it a worthy competitor. I'm thinking at the very least a red dot mounted into the rear site dovetail notch. Any recommendations or suggestions would be appreciated.

Flytrap1




Posts

: 58


Join date

: 2013-03-12



Most affordable shoot it with irons contact kc for a new barrel. If you want to full in crazy Sams does a frame mount and full builds them

Chris Miceli




Posts

: 2690


Join date

: 2015-10-27


Location

: Northern Virginia



Sams does great work, but his waiting time is usually many months. He also demands top dollar for his work. For something less than a full blown accuracy job, you might contact Dave Salyer. Less wait and more bang for your buck.

BE Mike




Posts

: 1574


Join date

: 2011-07-29


Location

: Indiana



I have one of the Salyer pistols.  New barrel and new sights.  I believe he worked on the trigger also.  I am entirely pleased with mine.

NuJudge




Posts

: 97


Join date

: 2011-09-22


Age

: 61


Location

: SE Michigan



+1 for Dave Salyer.
Mine was one of the first 92's when he started accuracy work on them.
It has served me well over the years.
Clarence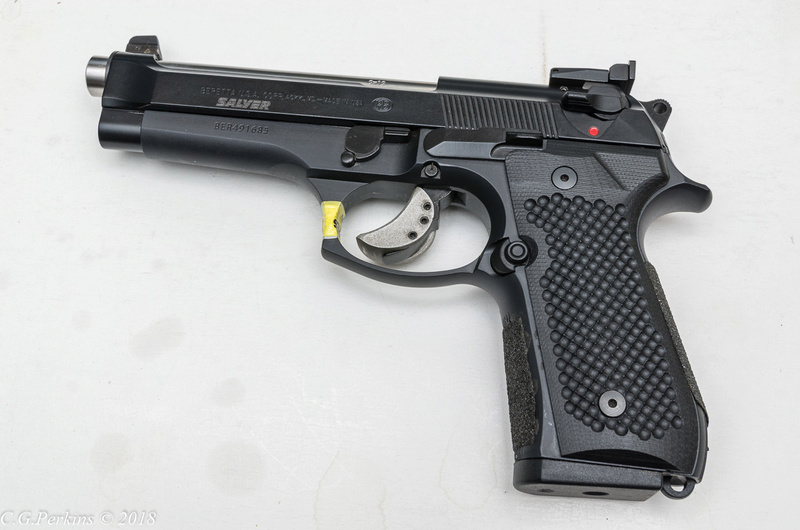 C.Perkins




Posts

: 742


Join date

: 2011-06-13


Age

: 55


Location

: Surrounded by pines in Wi.



Since the 92 is double-action, does that mean your trigger doesn't have to weigh 4 lbs or over? Since in single action, it's 9 lbs. Would you be able to lighten up the double stage so it's just 2 lbs with the hammer cocked, and have the single action about 7 lbs, and still be legal for competition?

CO1Mtn




Posts

: 23


Join date

: 2017-06-22



The trigger pull, single action, must be 4 pounds or greater. Single action means "hammer cocked".  The double action trigger must be operable, which in general for the 92 means you can't set any overtavel stop so close that the double action will not work. 

I  think you meant "double action about 7 lbs" in the last sentence. 

CR

CR10X




Posts

: 848


Join date

: 2011-06-17


Location

: NC



4lbs is for service pistol, no? General centerfire is 2.5.

desben




Posts

: 326


Join date

: 2013-12-22


Location

: Ontario, Canada



desben wrote:4lbs is for service pistol, no? General centerfire is 2.5.
Yes sir
Jon

Jon Eulette




Posts

: 2327


Join date

: 2013-04-15


Location

: Southern Kalifornia



Sorry for the amateur question, I didn't mean to confuse the situation.

CO1Mtn




Posts

: 23


Join date

: 2017-06-22



I have a stock (almost*) 92FS that I "dropped**" a drop-in KKM barrel into a few years ago.  Just adding that barrel moved the group to ten ring size at 50 yards shooting 115gr full power service pistol ammo off hand.  I can't talk longevity, though.  I got a first generation Sam's gun a little while later and shot it instead.

As to the topic of sights, I use a B-Square scope mount (at least I think it's a B-Square) with an Ultradot from time to time for "playing," with softer loads, but I've never had the confidence in the mount to expect great things from it.

* I drilled and tapped the trigger in my stock 92FS for a trigger stop.  Part of the reason I did was because the Beretta rep told me I couldn't drill that trigger. To be fair, a HSS drill bit wouldn't drill it, but a small ball mill worked fine.  Tapping was fun!  Over the years the stop screw has imprinted the frame.

** Installing the drop-in barrel, in my case, included some slight persuasion with a small mallet.

---
Permissions in this forum:
You
cannot
reply to topics in this forum