I was wandering a small gun store yesterday and bought myself a LNIB 52-2 in the box with two mags.  I've been hunting for one so I can enjoy ammo I've had stockpiled.  My plan is to  use a dot with a mount that uses the rear dovetail.  I am thinking Vortex Venom, Ultradot L/T or Doctor Optic.

Is anyone shooting anything similar?  I'd like to get some feedback.

lonegunman




Posts

: 19


Join date

: 2012-04-18


Location

: Washington state




Wobbley




Posts

: 1838


Join date

: 2015-02-12



I have tried just about everything. Grip mount, Holosun mounted on rail, Cheap scope and Ultradot mounted on rail. Shot the best group so far with the cheap scope but finally settled on a Vortex Crossfire on a BME mount. I never tried anything I had to modify the pistol to do. 
Grip mount. (not recommended)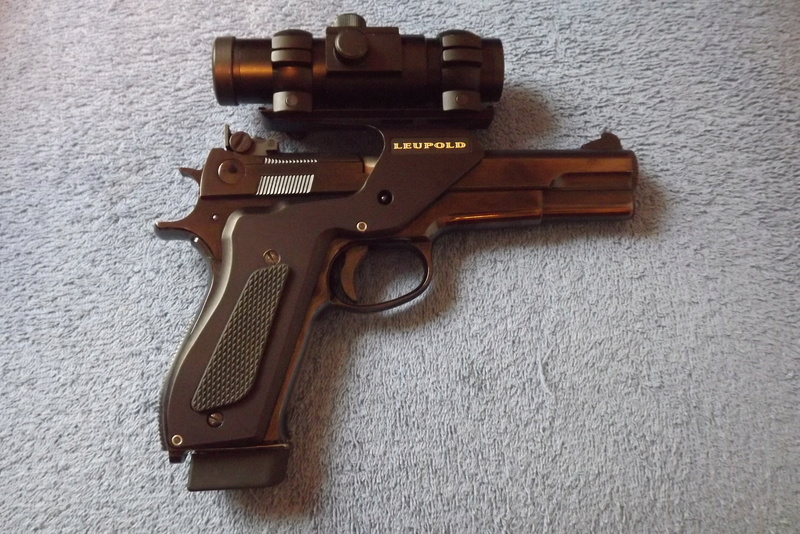 Holosun (group moved around. Never figured out why)
Cheap scope (millet worked ok just worried it wouldn't hold up)
30mm Ultradot. Seemed a little sluggish so I went to lighter scope.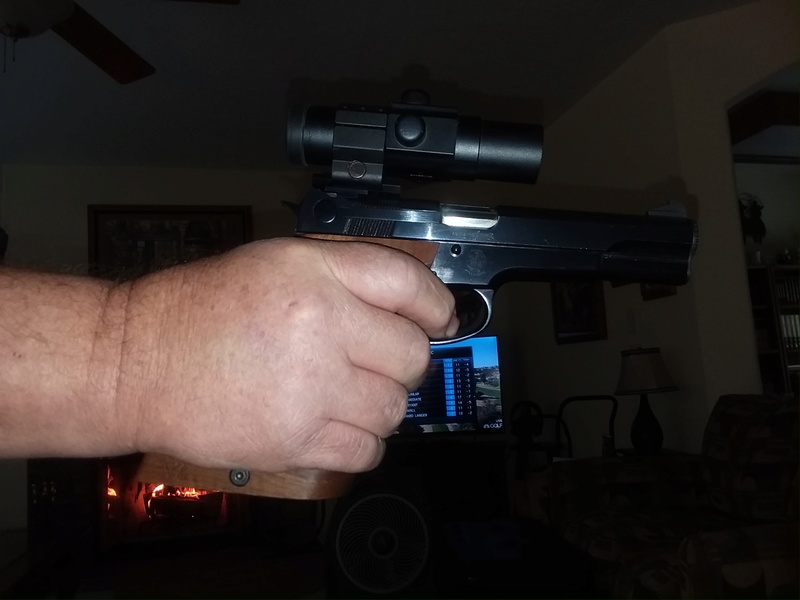 Vortex Crossfire...still on it..Can't believe it. I don't have a picture..Yet.


LenV




Posts

: 3379


Join date

: 2014-01-24


Age

: 69


Location

: Oregon



My wife's 52-1 uses a BME  mount and a 1" UD.. works just fine

jglenn21




Posts

: 1581


Join date

: 2015-04-07


Age

: 70


Location

: monroe , ga



I have an Aimpiont H-1 atop a BME rail in the rear sight dovetail and Kodiak Machine mount.

fpk




Posts

: 143


Join date

: 2017-04-26


Location

: Texas



No personal experience with a 52, but others like this mount. http://www.bme-mounts.com/sw52-bwr.html
It attaches to the frame where the barrel weight would go. No holes drilled in the gun and nothing attached to the slide so it cycles normally.

rreid




Posts

: 428


Join date

: 2012-02-06



As others have noted, the BME mounts have several options for the S&W M52: http://www.bme-mounts.com/productlist.html

I modified a EGW mount (http://www.egwguns.com/index.php?p=egw_catalog&cid=147) for my S&W M41 to try out the reflex sight.  I'm not shooting my M41 in competition now, so checking out a reflex sight on that gun was convenient for me.  My plan (or intention) is to use the reflex sight on a Springfield Range Officer in place of the rear sight, and EGW makes a LPA dovetail mount.  But, before I take that path I want some experience shooting rapid fire with a reflex sight.

Overall, BME sells more mounts for the S&W M52 than anyone else and I've never read any stories that they required extra work to use.  I think the same is true for EGW mounts (provided EGW says the mount will fit).  I don't have an opinion either way at this point.  But, would probably be inclined to go with BME since they have a longer track record with the M52.

Bullseye_Stan




Posts

: 274


Join date

: 2017-06-11


Location

: Hampton Roads, VA



I own a 52-2 and shot it quite a bit with a dove tail mounted ultradot , I was not happy withthe number of fliers induced by the extra inertia of a slide mount ,
I have enough fundamental issues without adding the disturbance of a slide mounted dot on the most unforgiving of platforms .
I switched to a frame mount , I was able to reduce my load a bit , my scores went up immediately , my fliers decreased quite a bit by volume and proximity .


Garander 62




Posts

: 6


Join date

: 2017-01-14


Age

: 64


Location

: Rockland county , NY




---
Permissions in this forum:
You
cannot
reply to topics in this forum