I've had my SA Range Officer for a couple years now so it probably has a couple thousand or more rounds through it now.  It is stock except for a slide mount dot, trigger shoe and grip tape.  Below are the results from putting it in the ransom rest at 50 yards this weekend.  Wind was light, temp was 40 degrees F.  It looks like my range has recently had the ransom rest rebuilt so it was in very good shape.  I'm no ransom expert, but based on a thread I put out there in the past, I believe I operated it well.
Ignoring one flyer from each of the 3.7 BE and 4.0 BE loads, both groups measured 2.4" center to center.  I'll probably stick with 3.7 for this outdoor season.
All reloads were with used Starline brass, Zero 185 HP LSWC bullets, 1.21 OAL, .467 crimp and CCI primers.
3.4 grains of Bullseye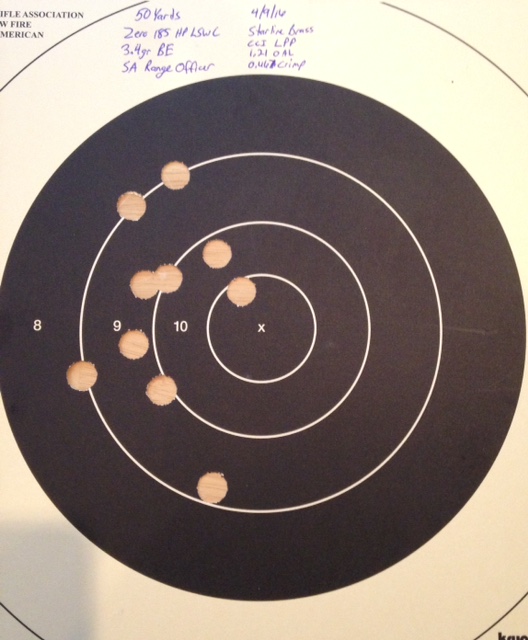 3.7 grains of Bullseye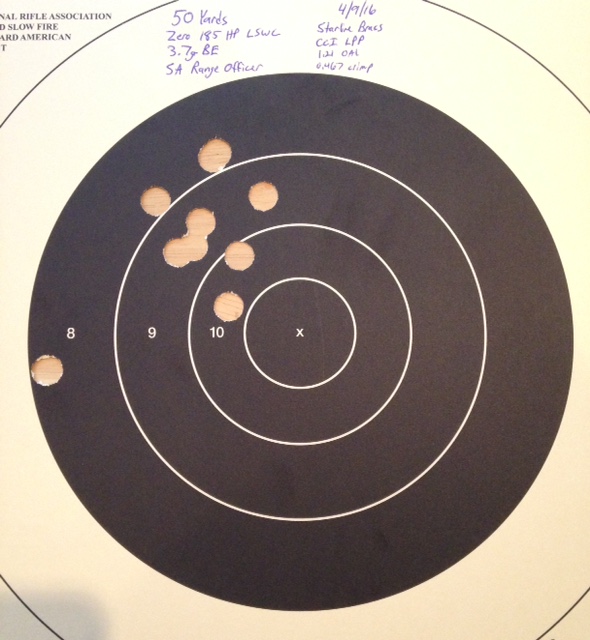 4.0 grains of Bullseye
Doug

dstates




Posts

: 191


Join date

: 2013-03-05


Location

: Near Moline, IL



Thanks for sharing Doug.
Jon

Jon Eulette




Posts

: 1948


Join date

: 2013-04-15


Location

: Southern Kalifornia



Just for the hell of it, try 3.9gr Bullseye and set the crimp at .471"

rreid




Posts

: 390


Join date

: 2012-02-06



rreid wrote:Just for the hell of it, try 3.9gr Bullseye and set the crimp at .471"
+1 on a lighter crimp.  I've found that swaged bullets don't seem to like a harder crimp, usually I wind up with .470-.471 on the swaged bullets anyway.  I got some good results with the Zero 185 shp with 3.8 and 4.2 of clays.  Bullseye, Clays, and WST all seem to have the same sweet spots for target loads, from my testing.
Al
Last edited by Al on 4/13/2016, 11:32 am; edited 1 time in total

Al




Posts

: 351


Join date

: 2011-06-10


Age

: 62


Location

: Bismarck, ND



Interesting results, this thread reminds me that I need to get my RO out and start load development for this season.  Especially since it was recently upgraded with a new trigger, accurails, and a cone barrel. 


Saladman




Posts

: 91


Join date

: 2016-01-12




---
Permissions in this forum:
You
cannot
reply to topics in this forum