Just bought a Ruger MKIII 22/45 and have added the Volquartsen kit to improve trigger and get rid of the mag disconnect.  Shoots like a dream but still working on getting it zeroed.  Anyone know how much each click of elevation and windage is worth at 25 yards.  Thought there was something posted a while back with click values for various brands of sights but my searches have not found it.

Rich/WIS




Posts

: 67


Join date

: 2014-07-01



About a click, give or take a click.

john bickar




Posts

: 859


Join date

: 2011-07-09


Location

: Menlo Park, CA



The Ruger MkII owner manual does not even give a click amount. 

Trial and error time.

Jack H




Posts

: 1432


Join date

: 2011-06-10


Location

: Oregon



Fine, Jack. 

I already gave him the definitive answer, derived from mountains of empirical evidence, but sure - go with "trial and error".

Joking aside, Jack's right. I've found that the value of a "click" varies so greatly from shooter to shooter that it renders published results almost meaningless. I've heard and read recommendations (from shooters whose experience I respect and believe) that would put me in the 5-ring.

So yeah: trial and error time.

As the old saw goes, "Two on the gun, two in the head."

john bickar




Posts

: 859


Join date

: 2011-07-09


Location

: Menlo Park, CA



or try one of these: TL Rear Sight for MKII and MKIII

bmac




Posts

: 59


Join date

: 2014-04-15



If the current adjustment screws are as poor quality as the ones of old, there is no accurate data because the screw detents are not consistent.  If you look at the underside of the elevation screw, the notches are all kinds of sizes.  If you look at the windage screw, there are just a couple crosscuts that are also uneven.

The way I solved my settings dilemma, was to place witness marks across the close edges of the movement surfaces.  I placed a straight line across the right side so that the two portions lined up at close to zero, and then judged the up/down movement using the lines.  On my gun you could clearly see the elevation literally jump up or down various amounts, sometimes up then down when going one way.  The witness marks were necessary.

I made similar marks for the blade, but here is something that was and might still be important: The right edge of the blade has a sharp shape that sits in the crosscuts in the end of the windage screw.  If you turn the screw without moving the blade away from it, the sharp edge will dull with too much adjusting.  The best way to minimize the dulling is to use something to push the blade away from the screw, adjust the screw and then let the blade move back against it.  Then just move the screw enough to "catch" the edge and "lock."

Hopefully all that I just wrote is no longer valid because Ruger has improved their sight, but just in case I put forth my experience, of long ago...
The answer is, I researched and built the same gun last month for my son, here is what I found'; 1 click = 1/2'' at 25 yards,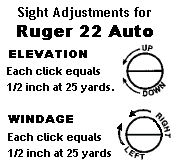 DavidR

Admin




Posts

: 3005


Join date

: 2011-06-10


Age

: 64


Location

: NRA:Expert, Georgia



Seems about right. My notes for ISSF (large bull) tell me it's 12 clicks from center-hold to 6 o'clock, which is about 6" lower. +/- a couple depending on the light and how I feel.

desben




Posts

: 300


Join date

: 2013-12-22


Location

: Ontario, Canada



When I shot a MK II with iron sights I didn't make any click adjustments from 50 to 25 yards. I would zero for center hold at 50 yards, then drop to 6 o'clock hold for 25 yards, with CCI Std Vel.

AllAces




Posts

: 678


Join date

: 2011-08-30




---
Permissions in this forum:
You
cannot
reply to topics in this forum