+5
spursnguns
PhotoEscape
Aprilian
Wobbley
inthebeech
9 posters
My Redding BR3 with the pistol insert is just about maxed out with this powder and with the rifle insert does not give the precision since it is at the very low end of the scale. I am ok picking up a new measure; I certainly got my money's worth out of this one. Any suggestions for other models that throw the 16-22 grains of 2400 with good precision (+/- .2-.3 grains)? I do NOT want to intentionally throw the handle twice for each case. I do not want to use my Dillon for this cartridge.  I'd like a stand alone measure.
Thanks all.

inthebeech




Posts

: 546


Join date

: 2012-03-17


Age

: 57


Location

: Harleysville, Pennsylvania



A Harrels BR. Not cheap but the best there is. http://harrellsprec.com/index.php

Wobbley




Posts

: 3892


Join date

: 2015-02-13



Call Redding - they have many different powder measures https://www.redding-reloading.com/search?searchword=powder%20measure&searchphrase=all

Aprilian




Posts

: 987


Join date

: 2016-05-13


Location

: Minnesota



Alternative solution would to use Dillon's or Hornady's powder measure with case activation kit as a stand alone option.  Both will provide with case expansion while dropping charge.  Dillon's solution is ready - http://www.uniquetek.com/product/T1702 or http://www.photoescapeinc.com/products/single-stage-powder-die-kit.html

Hornady solution will be posted in a day or two. 
Either way would be less expensive, provide for better functionality and in line with your current setup.

That IMO.
AP

PhotoEscape




Posts

: 1258


Join date

: 2018-05-15


Location

: Northern Illinois, USA



Wobbley wrote:A Harrels BR.  Not cheap but the best there is.  http://harrellsprec.com/index.php
+1 for the Harrell's Precision.
I would recommend the Pistol / Schuetzen model.  I have two and love them.
Jim

spursnguns




Posts

: 590


Join date

: 2013-01-04


Age

: 64


Location

: Gilroy, California



I just use my Lee with the extra charge kit. As simple as changing collets.

LenV




Posts

: 4589


Join date

: 2014-01-24


Age

: 73


Location

: Oregon



Out of curiosity I tried my Harrell's Schuetzen with Unique (wow, huge flakes) and U Clay's. I have no 2400.

Max'd out it throws about 13.5 hr Unique, 17 gr Univ. Repeatability with the slide all the way out would be poor. Not gonna make your weight with 2400 anyway.

My BR-30 looks better. At about 400, it throws about 21.7 Univ, decently consistent. I had to open it up to 550 for Unique. 26 throws gave me an average of 23.04, ES .7, SD .205. Min/Max, 22.75, 23.45.

From my Little Dandy chart 2400 looks somewhere in between for density.

WesG




Posts

: 468


Join date

: 2018-09-21


Location

: Cedar Park, TX - N CA



Have you tried a RCBS uni-flow?  Also if you have a RCBS little dandy they work great for pistol powders, a little less flexible but I use one of those and they work well.

troystaten




Posts

: 721


Join date

: 2012-04-19



Thanks Ian.  I don't do as much web browsing as I should before posting.  The Redding BR-30 is right there with a powder range that is perfect for everything that I use my single stage process for, with a powder range who's sweet spot is right there around 20-30 grains.  Since I can use it for my 270 deer loads as well, this leaves just the 38 and 45 which the Dillon takes care of.
Perfect.

inthebeech




Posts

: 546


Join date

: 2012-03-17


Age

: 57


Location

: Harleysville, Pennsylvania



My .02:
#1. is a Forster Bench Rest PM for hand throwing - it's the most accurate measure I have, but you have to find one on EBAY: https://www.midwayusa.com/product/1012704048
#2 is a Redding BR-30 for use in a progressive (never used with 2400), but you have to turn the drum around and drill & tap for the linkage.
Picture of BR-30 on my Dillon 1050 - I have loaded over 10,000 rounds for our State Service Rifle Teams on this using Varget. In 2007 our Jr. team Service rifle team were the Jr. Champs & beat the Marines in the Rattle Battle match. Super Accurate set-up.
Hope this helps,
Wes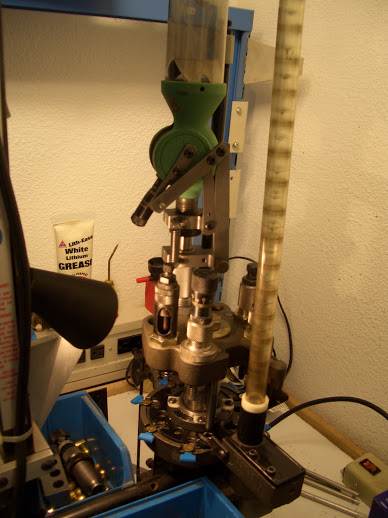 Wes Lorenz




Posts

: 356


Join date

: 2011-06-27


Location

: Washington



Similar topics
---
Permissions in this forum:
You
cannot
reply to topics in this forum