+4
Dave-Cooper
fc60
ric1911a1
ermakevin
8 posters

ermakevin




Posts

: 170


Join date

: 2014-02-03


Location

: New York



I modified one many, many years ago........ It wasn't pretty, but it worked..........

Ric

ric1911a1




Posts

: 318


Join date

: 2013-05-07


Location

: Upstate NY (the good part)



Greetings,

Yours has the "back door" feature. As such, it prevents lowering the tray.

The ones with no "back door" are easy to adjust.

You carefully remove the old tray guides, tap the staples out flush, reposition the guides, then tap the staples back down.

Cheers,

Dave

fc60




Posts

: 1261


Join date

: 2011-06-11


Location

: South Prairie, WA 98385



ermakevin and sayracin like this post
For what it's worth.......Here's what I came up with, it turned out great. Created padded shelves/slots. With the lid closed the pistols do don't move around and stay secure. The bottom shelf is is the shelf that the original tray set on. I used 1/4" lauan plywood, pleather fabric, and small finishing nails. I more or less build the the shelves as a unit, put it in the box, and secured it in the box with well hidden finishing nails.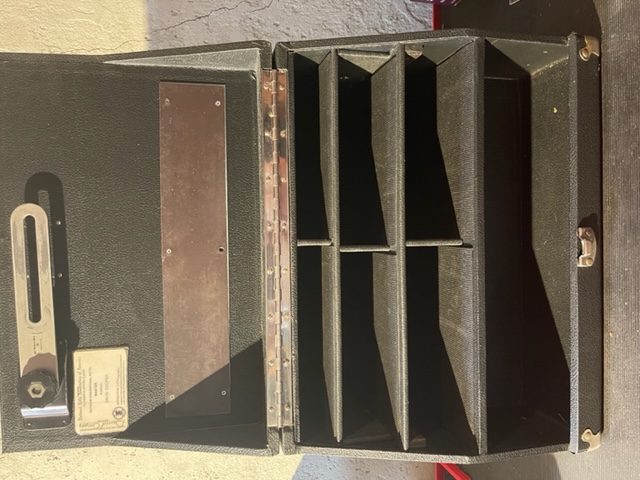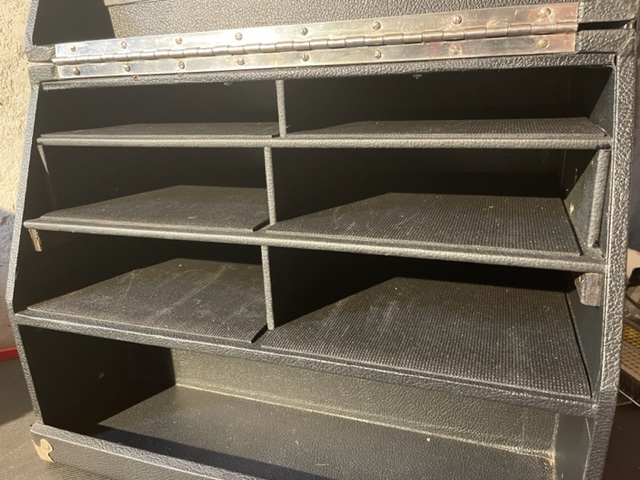 Dave-Cooper




Posts

: 31


Join date

: 2016-01-16



ermakevin, onlylead and chiz1180 like this post
I recently responded to a post with a similar question with some pictures of what I had done but today I can't see those pictures so I'm not sure what went wrong.
I built a tray for my box so that each gun has its own stall so to speak.  When they are placed in there, the muzzle is down so the gun is at an angle.  This lowers the height needed so that the gun should fit in the older boxes like you have.  I'll try attaching some pics again along with one I took with a box just like yours.  I sold that box off before I built a tray for it but the concept should come through in the pics.
Good luck.
John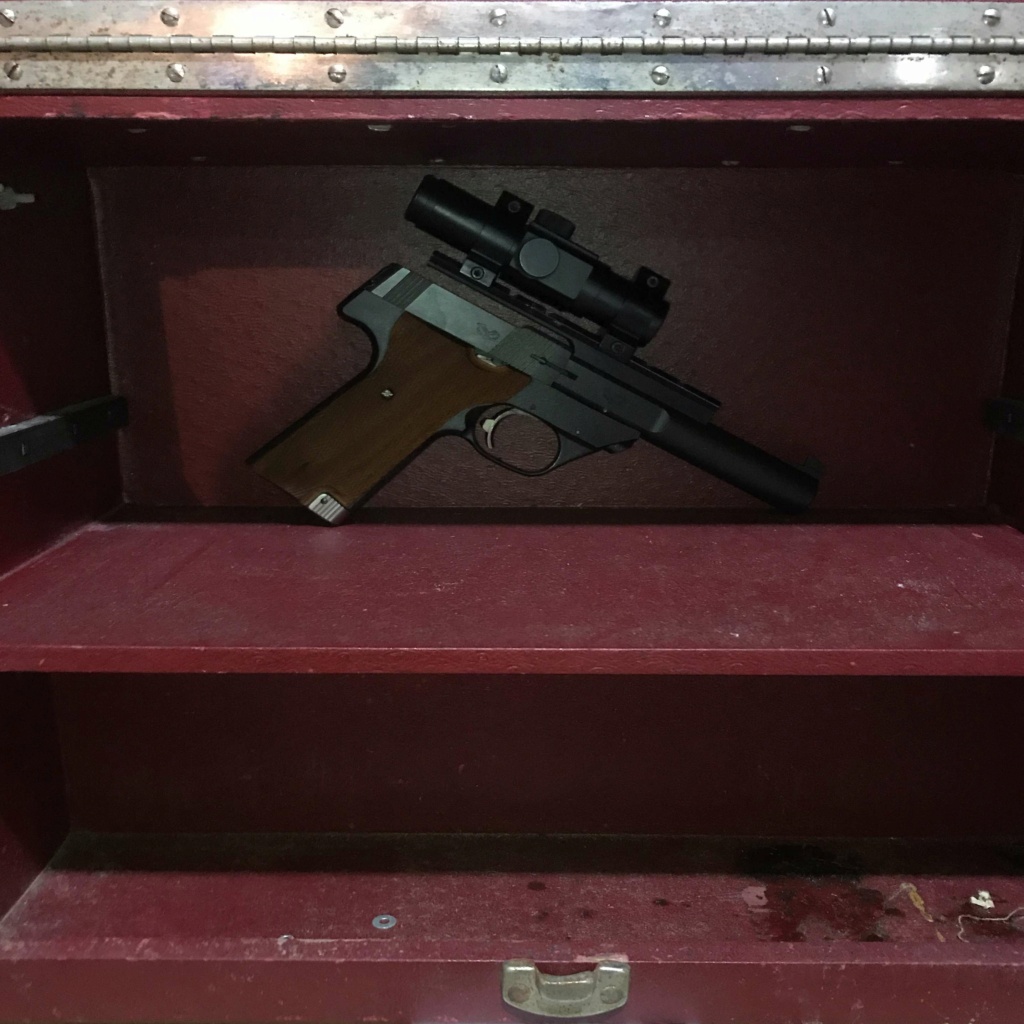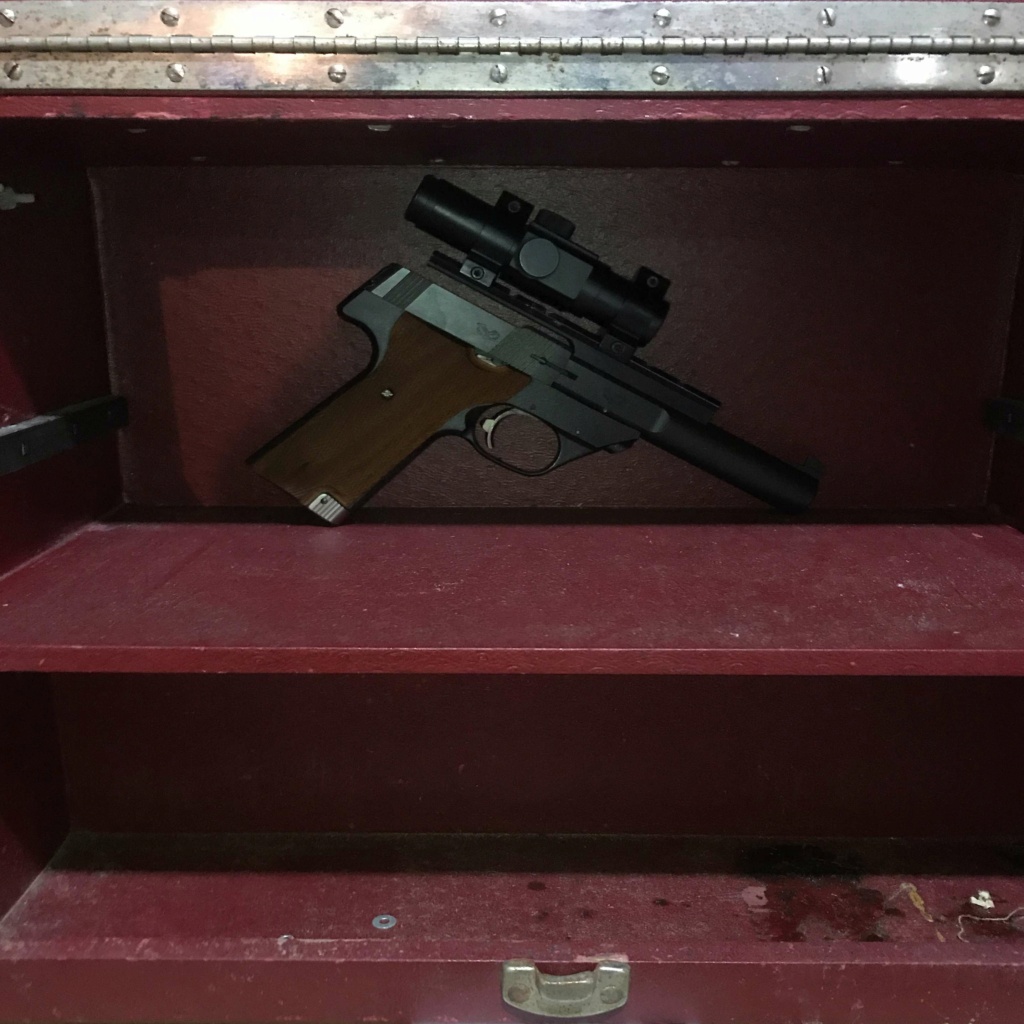 John Dervis




Posts

: 340


Join date

: 2012-08-29


Age

: 53


Location

: Sheridan, Il.



ermakevin likes this post
i knew someone had this same issue, thanks for the inputs, looks like i have  big job ahead of me.

ermakevin




Posts

: 170


Join date

: 2014-02-03


Location

: New York



I no longer have the box but I did what Dave (fc60) suggested and it worked great.

weber1b




Posts

: 556


Join date

: 2015-10-03


Location

: Ballwin, MO



FWIW there is one problem with setting up a gun box in the manner as shown by Dave Cooper:  Range safety and etiquette require all guns at the line MUST point downrange. Even those in a gun box. Additionally many require that they have safety flags in the chambers, or cylinders.  I know many ranges and RSOs that would disallow this type of setup. 
There are versions of Pachmayr boxes that are easier to modify.  Perhaps you could search around for one, or consider a Gun Ho box which really doesn't have this issue. YMMV

Fotomaniac




Posts

: 207


Join date

: 2015-02-27


Location

: Philadelphia



farmboy and ermakevin like this post
Fairly easy fix, 

remove tray guides
mark new location
apply glue, shoot new staples
ermakevin likes this post
Similar topics
---
Permissions in this forum:
You
cannot
reply to topics in this forum