I know there are threads that talk about cannelures in 38 Special reloading, but the search function is not coming up with anything.....
Is it better to reload brass with a cannelure or not? Pros or cons? Does it matter? 
When I bought my Model 52, it came with a bunch of reloaded ammo, so I've been reloading with those, all of which have a cannelure. And to be clear, I'm reloading HBWC.
Thanks!
Val

valbern67




Posts

: 273


Join date

: 2018-09-04


Location

: Norman, OK



https://youtu.be/NzrAgRjYHps

Which is a decent treatise on the subject.  It also confirms my suspicions as to why the 38 WC was so difficult to duplicate the factory ammo accuracy.  

As for the notion of "Wadcutter Brass" being special…there been some threads on that in the ammo section.  I've never found any special "Wadcutter Brass" even from known Wadcutter ammo.  

So, if you've shot factory Wadcutter ammo, the brass has the residual cannelures.  They will eventually be ironed out.  So load what you have.  If I had a choice of "makes" of brass, I'd opt for Federal, Blazer, Starline, and Winchester in about that order.  Just avoid ANY +P marked brass.

Wobbley




Posts

: 4230


Join date

: 2015-02-13



valbern67 likes this post
My question is, if cannelure is applied at the factory, can the reloader expect the same benefits of a cannelure during reloading? In other words, is the original cannelure still effective during reloading?

Also, if cannelure is so effective in .38SPL, why isn't it used beneficially in other calibers?
jwax wrote:Also, if cannelure is so effective in .38SPL, why isn't it used beneficially in other calibers?
Ah, but it is.
5.56 NATO uses the cannelure for two primary reasons:
Keeping bullets from setting back in the case.  This was the original reason for canneluring the original 55 grain bullets, and;

Increasing post-impact fragmentation of the projectile.  Following impact on a denser object, the bullet yaws.  Since the jacket is weakest at the cannelure, the bullet snaps in half, with base continuing forward, and the nose fragmenting.  This results in the massive damage observed in gelatin and gel block tests, and the tissue damage in people hit by these projectiles.

NOTE:
  Presence of a cannelure can also affect powder burn.  The US military's MK 262 ammo demonstrates this well.  In Mod 0 (original load), ammo grouped loosely, and cases were "sootier" than normal.  Adding a crimp shrank group sizes, and ejected cases showed less sootiness (better powder burn).  Since the Mod 0 projectile was Sierra's 77 grain projectile (no cannelure), crimping caused some bullet deformation.  IIRC, for Mod 1, the only change to load specifications was the addition of a requirement for a cannelured bullet.  Many resources (online and in print) conclude the powder used by Black Hills in this round is either TAC, or some close relation to it.  Now you know why cannelured 77s occasionally appear for sale from time to time (contract overruns), and how to reduce sootiness in ammo handloaded with TAC.
A nice read on 5.56 NATO ammo can be found online at https://www.ar15.com/ammo-oracle/.  An item of note is that the text on the left side of the screen is actually the header for different sets of discussions on various topics relating to 5.56 NATO ammo.
NOTE:
  US made M80 ball ammo for 7.62 NATO is cannelured and crimped, probably because most of its use is also in semi- and full auto weapons.  US made .50 caliber ball ammo is also cannelured, probably because its main use is in M2 Browning machine guns.
Hope this helps?

Asa Yam




Posts

: 197


Join date

: 2018-09-15



Thanks for the detailed explanation of other calibers being cannelured.

Question is still whether reloaded cannelured ammo is as effective as the original cannelured round, or is the benefit lost after the first firing?
Just to make things more complicated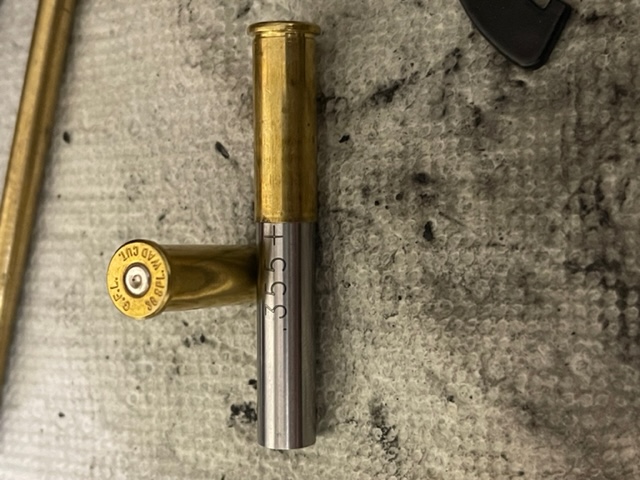 38WC ammo I reloaded using this brass and Remington 148gr HBWC held X-ring at 50Y.
Here is the link to another thread on the subject.  Some reference points can be found there.
https://www.bullseyeforum.net/t19125p25-reloading-148-hbwc#166781
AP

PhotoEscape




Posts

: 1345


Join date

: 2018-05-15


Location

: Northern Illinois, USA



After firing, the cannelure has been blown out, just like the rest of the case. Never found any accuracy difference between cases with 0, 1, 2, or 3 cannelure. In fact, sorting cases at all was a waste of time. 
Check bullet diameter before and after seating. Diameter should be unchanged.
Lightly roll crimp with Redding Profile Crimp die.
Don't worry about trimming cases

noylj




Posts

: 411


Join date

: 2012-03-09


Age

: 73


Location

: SW USA



---
Permissions in this forum:
You
cannot
reply to topics in this forum