I recently started to have eye problems and went to shooting my 1978 S&W M41 again with a Clark barrel and a red dot. Adding a Buffer Technologies recoil buffer helped performance too.

Since my pistol has been tuned and I wanted a few reference points to put in my notebook, I ordered a new factory recoil spring and mainspring to measure. 

New Factory Recoil Spring

4.67" long
0.0285" thick wire
35 coils
0.0268"/0.270" diameter ends

New Factory Mainspring

2.08" long
0.0475" thick wire
23.5 coils with rough ends
0.270" diameter ends.

From past notes a Wolff Reduced Power spring pack has these springs:

6.0# - 0.027" spring thickness
6.5# - 0.028" spring thickness
7.0# - 0.029" spring thickness

My M41 runs very well on CCI SV and Eley Club with a Wolff recoil spring with these dimensions:

4.55" long
0.029" think wire
36 coils
0.272"/0.277" coil ends

My gunsmith tuned mainspring doesn't match the factory spring. Contact KC Kustom Creations for more information on reliability tuning.

Sa-tevp




Posts

: 836


Join date

: 2013-07-20


Location

: Georgia



Thanks for the measurements!
I am of the opinion that shooters ought to be changing their recoil springs more often. The things take a set, and I am sure they lose strength as they contract and expand. I have asked M41 shooters, who are having failures to eject, or failures to feed, when was the last time they replaced their recoil spring, and the universal answer that comes back is "never".  That spring is essential to the timing of the slide.
While I did not take measurements, I was pretty sure the function problems I was having with my M46
were due to the recoil spring. It was the original. And when I received my new Wolff spring, I think I was right!

Slamfire




Posts

: 195


Join date

: 2016-04-18



SonOfAGun likes this post
I measured my 1980ish Model 41 recoil spring; I do not think it was ever modified or replaced.
Wolf Springs shows the factory spring as "Factory Standard.: 7.5 Lb."
The 0.030 spring wire diameter seems to match with the above Wolf spring wire diameter and rates.
I recently ran about 430-450 rounds of CCI Std Velocity through it.
The last two magazines (with 5 rounds loaded) did have a failure to eject on the first round, the slide closed on the fired case with it sideways to the barrel.
I have not shot it since I cleaned it afterward.
3.365" long
0.030" thick wire
28 coils one end is closed and the other open
0.270" diameter ends

shanneba




Posts

: 210


Join date

: 2021-10-16


Age

: 66


Location

: Indiana



I ordered a Wolf Factory Standard 7.5 Lb Model 41 spring Friday.
I also have a S&W Model 41 recoil spring I ordered from Brownell's last winter.
top spring in photo
S&W Factory spring  (part # 940066820)
~ 4 5/8"
0.029 wire
36 coils
0.270 od
Bottom spring in photo
Wolf 7.5 Lb spring
~ 4 3/16"
0.031 wire
36 coils (22 equally spaced and 14 closer together)
~0.265 od
My recoil guide rod measures ~0.193 (the 0.265 OD Wolf spring with an ID at ~0.203 slipped right on)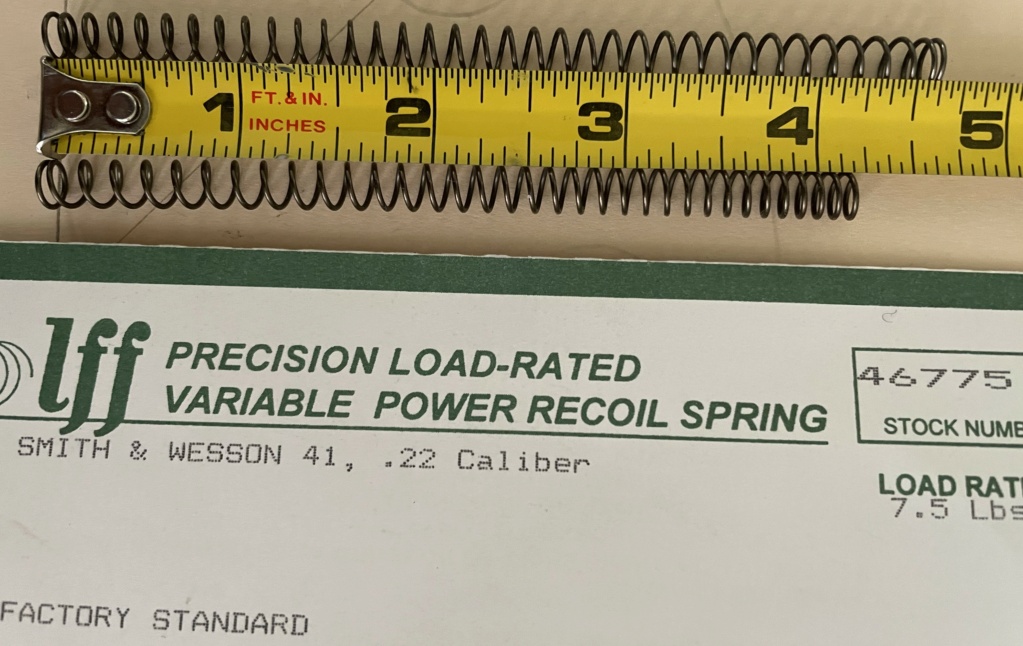 shanneba




Posts

: 210


Join date

: 2021-10-16


Age

: 66


Location

: Indiana



The Wollf spring is a "Variable pitch" spring.  The advantage is that there is less "preload" at the installed max dimension.  The fine pitch will compress "solid" first.  So it ends up as a "variable spring rate spring".

Wobbley




Posts

: 3891


Join date

: 2015-02-12



Similar topics
---
Permissions in this forum:
You
cannot
reply to topics in this forum