I am considering purchasing Knobloch or CC frames w/ a prescription lens. What is the difference between this setup and prescription glasses?
Last edited by SingleActionAndrew on Wed Sep 21, 2022 11:28 pm; edited 1 time in total

SingleActionAndrew




Posts

: 534


Join date

: 2019-11-19


Location

: IL, USA



I am using Knobloch glasses with prescription lenses made by my optometrist. I took my pistols and a Knobloch lens holder to my optometrist and he made me lenses for red dot, iron sights and a frosted lens for the non-shooting eye. The result is in the picture below.
For me, the advantages of Knobloch (or Champion) frames are:
1. Very thin ear pieces, which don't interfere with ear protection
2. An ability to adjust the position of the lens in several dimensions, which helps to position the lens just right when you are in your shooting stance.
YMMV.
Best Regards,
Oleg.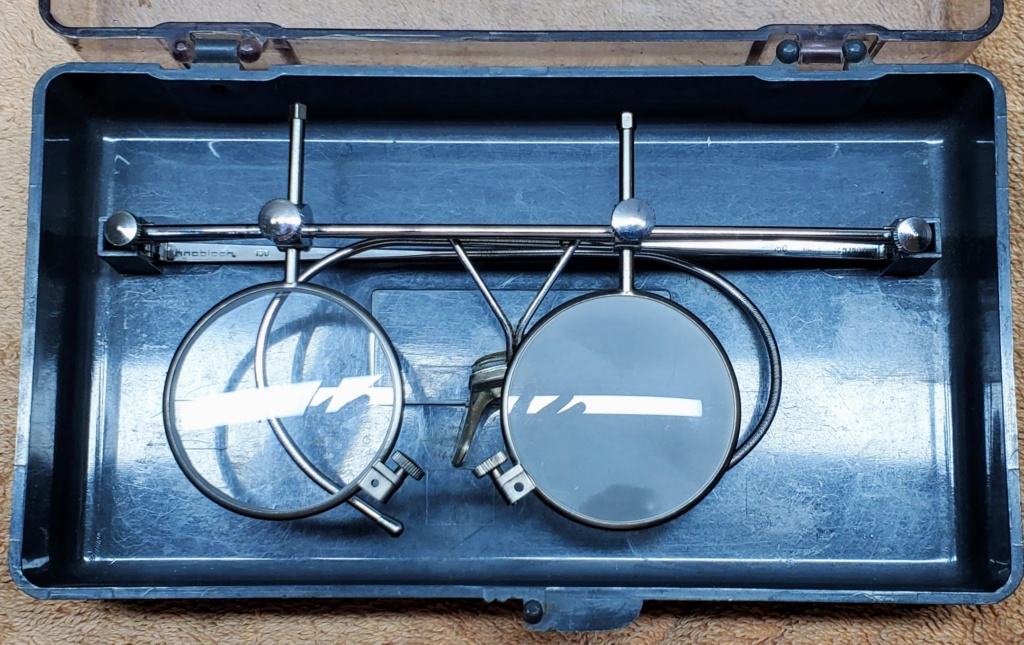 Oleg G




Posts

: 598


Join date

: 2016-05-12


Location

: North-Eastern PA



valbern67 likes this post
Oleg covered the pluses of shooting frames and I like them for air pistol and free pistol. Since I am a lead magnet I prefer prescription safety glasses for cartridge pistols. I have had good luck with friendly optometrists in getting the dominant eye lens cut for my shooting stance. They seemed interested in the professional challenge and I also shared the Champion and Knobloch websites with them, as well as ISSF pistol competition videos.

I'd like to add that having a 0.25 step range of lenses to put in shooting frames helps in deciding on prescription safety glasses and tuning for lighting conditions. I usually have my best lens and also + and - 0.25 from it.

A second add is Elvex RX-500 full lens reader safety glasses are good to play around with. Often they are on sale for $8, are very clear and resist scratching well. The downside is they jump from +1.00 to +1.50. No +1.25 to test. Put a small tab of Scotch tape as an occluder on the non-dominant eye and they work well.

Stephen

Sa-tevp




Posts

: 871


Join date

: 2013-07-20


Location

: Georgia



Adjustability is the main advantage of shooting glasses over normal prescription glasses. You can make it so you look through the center of the lens and your line of sight in position is perpendicular to the lens for maximum optical clarity. Through in an aperture and you can make sure your head position is consistent. That and it makes you look like an Olympic shooter. I was going to say 'cool' but that is definitely not true.
Orion, dieselguy624 and mspingeld like this post
Thanks for the insight. I lost the majority of my eyesight in my dominate eye, so I have to use my non-dominate eye. Will need to work with a opthomologist or specialist for special lenses. Might get a pair of ISSF style glasses to get my best vision back.
Similar topics
---
Permissions in this forum:
You
cannot
reply to topics in this forum