Someone posted this on Facebook today.  It looks really nice.  Makes me wish I didn't just buy a different one a couple months ago.

http://www.hawaiireporter.com/on-target-product-review-ultradot-micro-hd

dstates




Posts

: 191


Join date

: 2013-03-05


Location

: Near Moline, IL



My wife got me one of them for Christmas. There are things I really like about it and a couple of things I don't. The size, dot size and automatic shutoff are great features. The objective lens is really somewhere between 1" and 30mm. I was glad to see the larger then 1" tube. There was a little trouble mounting the scope on my pistol of choice (most of my pistols actually). The single cross bolt is oversized for a weaver mount and you  have to relieve the slot to have the scope mount flush. My only other complaint is the dot is a little bright even on the lowest setting. The parallax is good and the balance was good on my Hi Standard. I rate it a keeper.
Len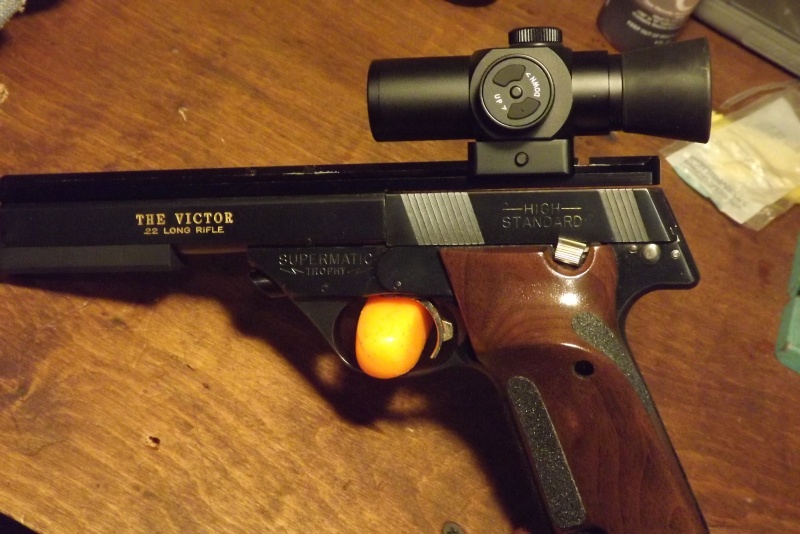 LenV




Posts

: 3370


Join date

: 2014-01-24


Age

: 69


Location

: Oregon



But, according Ultradot's website, the HD-Micro weighs in at about 4.9 ounces as opposed to the standard 25mm Ultradot at 3.9 ounces.  I'll give them the benefit of the doubt but their use of 140g for the weight seems a little deceptive when all of the other dot weights are in ounces.  Based on all of this I don't see any benefit in the HD-Micro.

beeser




Posts

: 956


Join date

: 2014-06-19



Beeser, The weight includes the mount.

LenV




Posts

: 3370


Join date

: 2014-01-24


Age

: 69


Location

: Oregon



There's that excellent HS again.  Wish I had one. 
Oh wait.  I did


Jack H




Posts

: 1661


Join date

: 2011-06-10


Location

: Oregon



OldMaster64 wrote:Beeser, The weight includes the mount.
Well that left me with egg on my face.  I assumed that the mounts were part of the overall weight of the standard Ultradot since they were included.  The mounts alone weigh about 1.5 ounces.

beeser




Posts

: 956


Join date

: 2014-06-19



I've been using an Ultradot HD-Micro for a few weeks now and really like it.  I may try to modify a dovetail mount and use one on a centerfire gun if I ever need to replace on the Burris sights I'm using now. 

Only suggestion for anyone buying one is to make sure the battery contacts are tight enough against the battery to hold it in place when the cap is off and the battery is vertical and would otherwise fall out.  At least that is my test.  I think I must have bent mine when I got it and was fiddling with the battery, as I had a few unexplained power downs, including two in a match.  Not good.  I bent the contacts back in to what I think was the proper angle to give some tension on the battery all the time, and no further problems. 

I really like this sight.  The 2 moa dot is very, very small, some people may not want something that tiny.  I like it myself. 

Joe

Joe L




Posts

: 136


Join date

: 2014-01-28



I will be getting one later this year.  Brian Zins used one at our state championship last fall.  He had it mounted on a 1911 .22 conversion and cleaned a slow fire with it.  He also mentioned that he wished it could go dimmer.

sixftunda




Posts

: 460


Join date

: 2012-05-18


Age

: 46


Location

: North Central Ohio




---
Permissions in this forum:
You
cannot
reply to topics in this forum