Page 3 of 3 •

1, 2, 3

First topic message reminder :

I had my brother stand next to me as I fired off five rounds from my Salyer.  He held my Canon camera set to capture a video of me and the gun.  This was shooting two-handed.  Eventually I'll have him film me shooting one handed.

While watching the video, I struggled to understand what was going on, so I slowed it down to 1/4 speed, so I could then play it back frame by frame and see both what I was doing, and what the gun was doing.

I've got lots of questions that I'm not going to ask.  If anyone can offer feedback on what I'm doing, I'd appreciate it.  The closest thing I've got to a "coach" is you guys. 

Ammo was Magnus, #801 I think, with what was supposed to be 4.0 grains of Bullseye powder.  




Video at normal speed:  https://youtu.be/_PBwIEVb6NE
Last edited by mikemyers on 7/14/2018, 12:45 am; edited 1 time in total

mikemyers




Posts

: 1081


Join date

: 2016-07-26


Age

: 74


Location

: South Florida, and India



---
Mike
I mentioned one time to do Military presses, push-ups etc.  No gun imvolved.

Get a small dumbell or milk jug with different amounts of water inside.  Repeat lifting up and lowering down like a weight lifter.  Sometimes hold the weight out in near shoot position for 30 seconds, then rest, repeat.  Do any exercise until you feel a burn, then rest, repeat 2-3 times. 

Consult a physical therapist/trainer.  Try exercise with surgical tube rubbers. 

Get a hand squeezer device

Jack H




Posts

: 1523


Join date

: 2011-06-10


Location

: Oregon



Jack H wrote:Mike
I mentioned one time to do Military presses, push-ups etc.  No gun imvolved.

Get a small dumbell or milk jug with different amounts of water inside.  Repeat lifting up and lowering down like a weight lifter.  Sometimes hold the weight out in near shoot position for 30 seconds, then rest, repeat.  Do any exercise until you feel a burn, then rest, repeat 2-3 times. 

Consult a physical therapist/trainer.  Try exercise with surgical tube rubbers. 

Get a hand squeezer device
Point 1 - my doctor was concerned about my starting that kind of exercise, because of other medical issues I've had.
Point 2 - Essentially, I'm doing that, holding the gun out in front of me, with and without a 1.5 pound wrist weight.  I sit or stand, holding my hand out for one minute.  I never get to "feel a burn", but when my hand starts shaking uncontrollably, I stop, wait a couple of minutes, and repeat.  I did this years ago with two hands.  It took a while, but I did get past it.  When I'm overseas, I hold a plastic bag filled with books out in front of me.  
Point 3 - I had a long talk with my doctor.  He feels exercise is good, but to not over-do it.   What are "surgical tube rubbers" ?
Point 4 - I got a set.  That part was easy.  Now I need to start using them.  Maybe I need a lighter set.  Thanks.

mikemyers




Posts

: 1081


Join date

: 2016-07-26


Age

: 74


Location

: South Florida, and India



CR10X wrote:............Performance is to be measured by ability to call the shot, group size and number of complete / correct repetitions of each training exercise. All of which is to be recorded and reviewed.  The target is irrelevant, unimportant and basically a distraction.  (Especially those expensive and useless "shoot and see" targets that simply train the shooter to look at the target.  You should be using a lot of "blank" targets..........
I understand about using a blank piece of paper for a target, or turning the target backwards, for shooting with iron sights.  My brain "knows" where the center of the paper is.  This doesn't work for my red dot sight, all I see is white - no indication about location.  I can draw a large "plus" sign, or make a small circle for where to aim.
For anything I can think of in my life, as I trained I could see improvement, maybe after hours, or days, or weeks, but I could see progress.  I put up a B-8 target, to date and save, like a test.   In my mind, what I am training for is to gain the ability to hold the gun steady enough for a long enough time to align the sights (and not disturb the sights when the gun fires).  The grouping is tightening up.  Below is a photo of the last target today.  The target before it looked the same.  It's not great, but it is better than what I could do before........25 yards, one handed.    
I'll be out of town for a week, but will pick up again where I left off.  Thank you all, for your patience with me.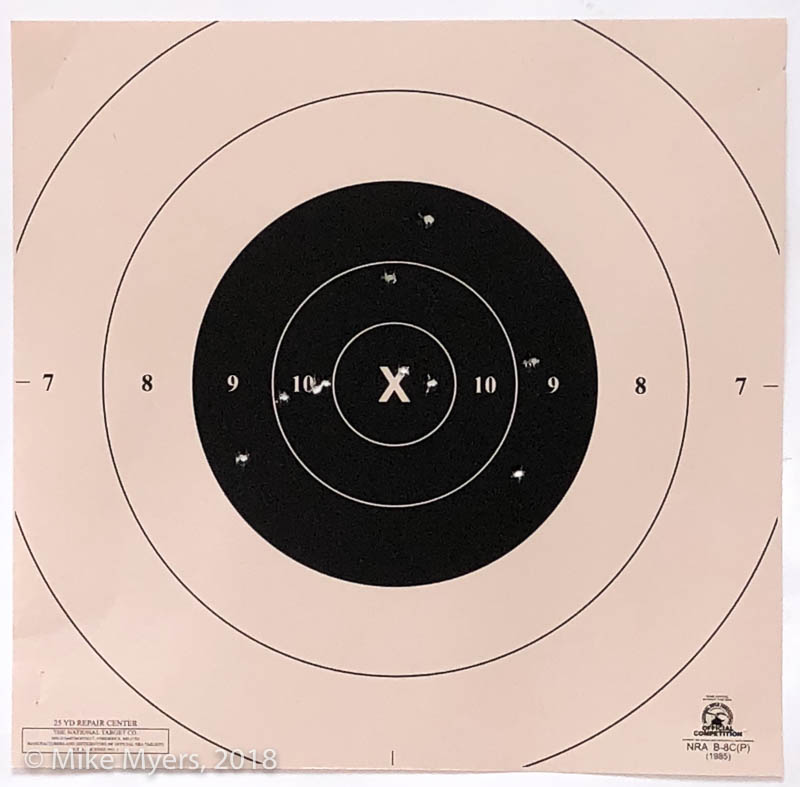 mikemyers




Posts

: 1081


Join date

: 2016-07-26


Age

: 74


Location

: South Florida, and India



It works with the red dot too. Your eye will be naturally drawn to center the dot on the paper. I don't know that it is as effective with the dot. But in general I see people shoot tighter groups without the distraction of the bull whether using irons or dot.

jmdavis




Posts

: 1260


Join date

: 2012-03-23


Location

: Virginia



I won't get to it for a week, but I'll try shooting at a plain white piece of 8 1/2 x 11 writing paper.  I think I was wrong about what I wrote earlier; the more I think about it, if I can "see" the paper, I should be able to sense where the middle is, even with the red dot.  

It's a bummer when "real life" interferes with what I want to do.

mikemyers




Posts

: 1081


Join date

: 2016-07-26


Age

: 74


Location

: South Florida, and India



Page 3 of 3 •

1, 2, 3

---
Permissions in this forum:
You
cannot
reply to topics in this forum