Page 2 of 2 •
1, 2
First topic message reminder :
I've been noticing that if I'm really concentrating on the sights (red dot and steel), occasionally, especially if I'm tired, the view from my other eye shows up just enough to disturb my concentration.  I block it out, but it's always "there", regardless of whether or not I notice it.  That's why I posted a thread some time ago asking what others do to deal with this.
User 'Bakita' from the forum wrote me, telling he had an extra occluder, and asking if I wanted it - to which I wrote back "Sure!!".  I received it, and spent some time trying to figure out what to do with it.  It had a huge opaque plastic shield that more or less blocked out all the information from my left eye.  We wrote back and forth, an he said something that gave me what I think is a good idea.
My goal was only to block out the view from the left eye of my sights.  No reason not to leave everything else alone.  So, I trimmed the occluder so it more or less blocks out the "top" of what's in front of my left eye, but leaves all the bottom view untouched.  I tried it for the first time yesterday, and it worked great!!!!  After a minute or so, I found I could ignore it.  While shooting, all I saw was the view from the right eye - since the left eye just saw "white", it didn't bother anything.
Here's the occluder, after trimming: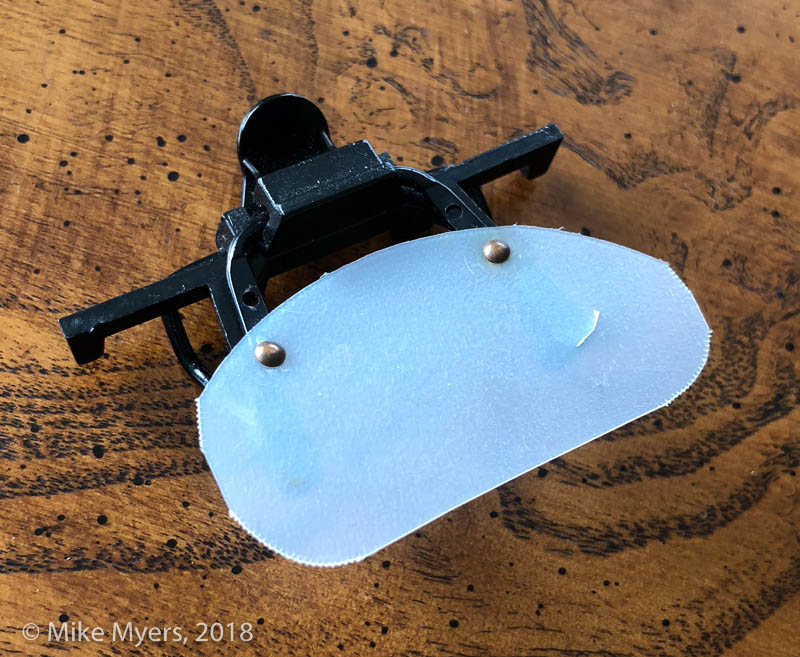 And this is what it looks like on my shooting glasses:
And here's how the front part can be flipped up, when not in use: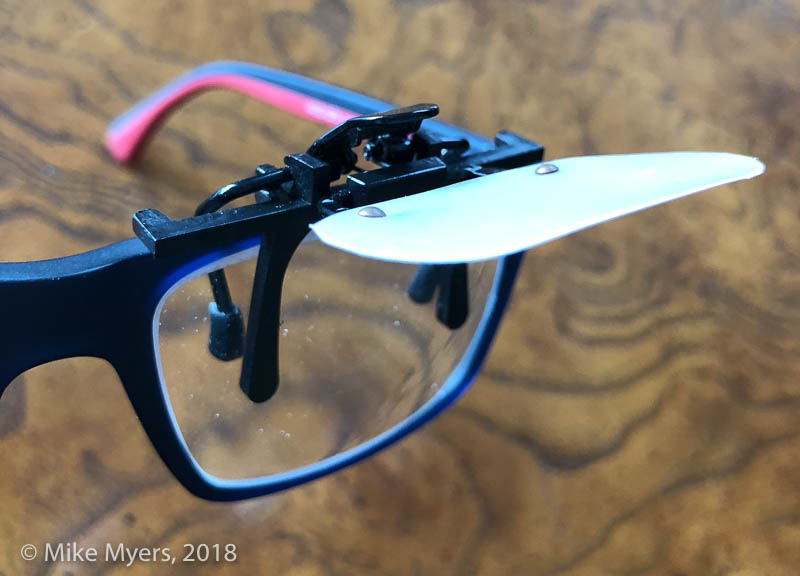 I might trim some more material off the bottom, but if it doesn't bother me, there's no need to do so.  I found a small plastic box to put it in, so it doesn't get damaged while it's in my shooting bag.
I'm not sure where this particular occluder came from - maybe 'Bakita' can fill me in, and I'll post it here.
I was surprised it felt so "natural".  I thought it might be annoying, or distracting, but none of that happened.

mikemyers




Posts

: 2604


Join date

: 2016-07-26


Age

: 76


Location

: South Florida, and India



---
mikemyers wrote:

Again, I apologize again for anything I wrote that sounded argumentative.
Don't worry about it. I come across as argumentative _ALL_ the time.

Slartybartfast




Posts

: 677


Join date

: 2016-11-11


Age

: 48


Location

: Montreal, Québec



Aside from allowing me to focus on the dot with my left eye better, it keeps me from seeing the other shooters on the line in a bullseye match. I use a piece of plain paper wrapped around the right lens. BTW- I use a 10% yellow tint on my shooting glasses.
In as much as the occluder could be considered an eye patch you may be required to join the Pirates and Buccaneer Union. If you join you will have to do some sea duty. It used to be that you could go out on your buddies bass boat but now they want you to go to Somalia.

Stewswanson




Posts

: 23


Join date

: 2012-09-04


Age

: 78


Location

: Harrisburg, PA



Page 2 of 2 •
1, 2
---
Permissions in this forum:
You
cannot
reply to topics in this forum