Since the internet NMC has petered out I decided to post here for feedback. 275 2X NMC I'm super happy with my SF, need to work on pacing and trigger control in TF and RF. Is there a good way to dry fire train for TF and RF. I've seen the benefits in my SF of daily dry fire, but after my first shot in sustained it kind of falls apart. This is with a Ruger Mk II Govt. Target with ergos and a dot, at 50' outdoors
Patrick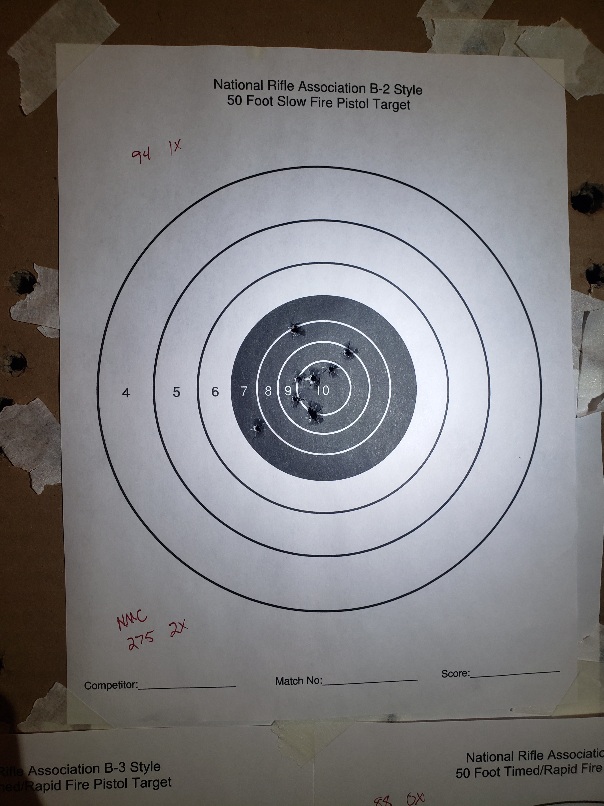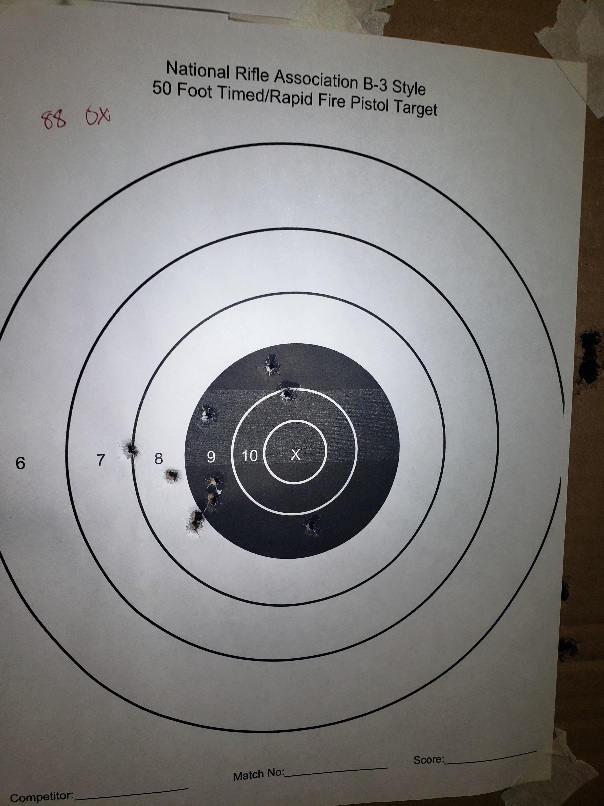 Psween




Posts

: 49


Join date

: 2020-07-17



Nice shooting! Congrats on the personal best as well!

I've used a revolver in DA, or a Sig, or Beretta, etc. to get my timing sorted out for sustained fire.

Keep the trigger moving,,,click, reset, sights aligned and on target, keep the trigger moving...ckick, reset. Works out about right for rapid fire without needing a timer!

I'm sure that thumb cocking would work as well, but I prefer DA to exercise the trigger finger more.

DA/SA




Posts

: 905


Join date

: 2017-10-09


Age

: 66


Location

: Southeast Florida



Work to shoot a ten within 1 second of the targets turning. That leaves you a bunch of time for the other 4 shots and therefore reduces anxiety.

BE Mike




Posts

: 2059


Join date

: 2011-07-29


Location

: Indiana



I find that pulling the trigger too fast in timed and rapid is common. You should feel it moving. That being said, I agree with DA/SA in that you must keep the trigger moving. Don't wait for the sights to be still, get on the trigger early. Try shooting sustained fire practice without a timer. Just work on getting the trigger moving as the sights come back into the black and keep building that pressure. When I did this I found a well shot target (without dawdling but without rushing) only took about 12 seconds. From there I was able to get my rapid fire under control. Last notes, shooting timed fire too leisurely did NOT help. Keep the trigger moving! If you can shoot good timed fire in 12 or 14 or 16 seconds, no worries. If I finish rapid and have time to look in the scope, I know I need to relax a bit.

Hope this is helpful.

mspingeld




Posts

: 711


Join date

: 2014-04-19


Age

: 61


Location

: New Jersey



Congratulations Patrick. Nice shooting!
The weekly NMC still lives. I took a break for deer season. DA/SA has started week 38. Go ahead and post your score.
JKR

JKR




Posts

: 729


Join date

: 2015-01-13


Location

: Northern Wisconsin



---
Permissions in this forum:
You
cannot
reply to topics in this forum