+3
bruce martindale
Dcforman
Brent375hh
7 posters
I have not shot Bullseye since 1983, but thought about doing a little this summer. I was thinking about just shooting 22 and CF, as all three guns is a long day for me.
Remington no longer makes bullets for my 52, and magazines are goofy high, maybe its time for something else. I shot 3 cast bullet loads yesterday off the bench yesterday with my 52. None were acceptable, and one would not stay on the repair center. That brings me to some questions for the experts:

Anyone try a 125-147 SWC deep seated in a 52 with success?
Anyone have real success with a 38 Super shooting cast at 700fps range?
If I shoot my 945, anybody have a recipe for a H&G 68 with 231 that is close to BE 3.8?

Thanks.


Brent375hh




Posts

: 41


Join date

: 2021-01-01



There's a wait, but have you tried Zero/Magnus 148 HBWC? Many folks here have had success. I have a 52 I shoot for fun, and they work well.

Dave

Dcforman




Posts

: 666


Join date

: 2017-11-18


Age

: 40


Location

: Ohio



Brent375hh likes this post
I just got back from the range with a small victory. I shot two 10 shot groups from 50 yards that went 2 3/4" for 8-9 shots with the other one or two an inch out and tipping. That was with 3D swaged dewc of all things. I must have had that box for 30 plus years. There may be hope. I tried 9mm deep seated. They went about 5", but made round holes.

Brent375hh




Posts

: 41


Join date

: 2021-01-01



What diameter were they?

Try .355?

bruce martindale




Posts

: 1111


Join date

: 2011-07-29


Location

: Upstate NY



Brent375hh likes this post
[quote="bruce martindale"]What diameter were they?

Try .355?[/quote

The swaged ones that shot well were .3575. I will takes some store bought cast and size them .356, as I don't have a .355 die currently.

Brent375hh




Posts

: 41


Join date

: 2021-01-01



I've had decent results with Speer and Zero HBWC. Not so much with cast 148 WC, so I use them for drills.  Object here is to keep them in the 9 ring.  A deep seated SWC would have way more issues to contend with.

As for a 200SWC with 231, Speer lists 4.6 starting giving 740. 3.8 is about 700 so maybe 4.4 ?  But better shooting might be had at 4.6 as I found 4.2 Bullseye, which gives 745, to shoot slightly better than 3.8.

Wobbley




Posts

: 3595


Join date

: 2015-02-12



Brent375hh likes this post
I've tried a 1:12 barrel and a 1:16 barrel with my 38 super.  My findings: The 1:16 is accurate at high speed but personally I feel it's a bit too snappy.  In other words why not just shoot the .45 with 160 grain bullets.  With the 1:12 barrel, the speeds are lower and the recoil softer but the accuracy curve tends to tighten up, so you need to have your load really dialed-in. Minor variations in powder charge aren't very forgiving, but it is nice to shoot.  I'm shooting 125 grain bullets with frame-mounted sight, and in my testing the recoil spring will make a difference in accuracy, and the minimum reliable functional load is close to the accurate load, if that gives you an idea.

Centerline




Posts

: 26


Join date

: 2018-09-07



Brent375hh likes this post
Not sure if they're back in stock yet or not, but how do Magnus #514 bullets compared to the competition?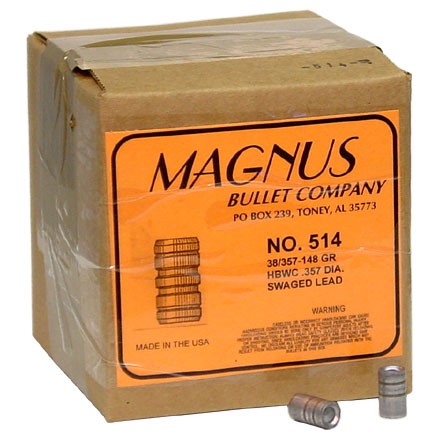 Last edited by mikemyers on 1/1/2021, 10:33 pm; edited 1 time in total (Reason for editing : oops, typo!)

mikemyers




Posts

: 3872


Join date

: 2016-07-26


Age

: 78


Location

: South Florida, and India



Excellent bullet. (Zero 148)

james r chapman

Admin




Posts

: 5488


Join date

: 2012-01-31


Age

: 73


Location

: HELL, Michigan



They're the same (or nearly so) to the Zero swaged 148 HBWC.  They shoot very well.

Wobbley




Posts

: 3595


Join date

: 2015-02-12



Similar topics
---
Permissions in this forum:
You
cannot
reply to topics in this forum