I found the swaged RN bullets in 38 shot very well IN FACTORY AMMO. The best performance was with WW police loads and l used Remington for the short line. I almost by accident used some 9mm factory RN 115 in a match pistol and was very surprised at the good 50 yd groups.

Now that said, I have not had good luck/consistency reloading RN in either caliber. Using Magtec 38, l would get a few good 50 yard shots then a wild 5 ring flyers That is not me. 9mm reloading with RN was a bust even though l matched the velocity.

I suspect the issue is bullet eccentricity in seating. I do have the Masaki seating stems but even they may not seat a RN straight whereas they do for shouldered bullets or conicals. Maybe a proper profile seater is needed here?

What say you?

bruce martindale




Posts

: 1260


Join date

: 2011-07-29


Location

: Upstate NY



Photo Escape's expanders helped for me.
If they are not available for your press maybe Lyman "M" expander die might work.

STEVE SAMELAK




Posts

: 900


Join date

: 2011-06-10



Bruce,
You are thinking in right direction.  At one point I experimented with loading bullets with different profiles for my 38 SPL ammo.  I used my HTC PTUs with proper size expanders, and that addressed concentricity of bullets seating.  However, I felt that seating needed improvement, especially with SWC bullets.  I machined seating stems (and adjusted profile on OEM one) for Redding die.  Resulting ammo performed quite good while tested out of three different S&W M14s, and held 10 ring at 50Y 9/10 shots out of RR.  Here is picture for the reference.  AP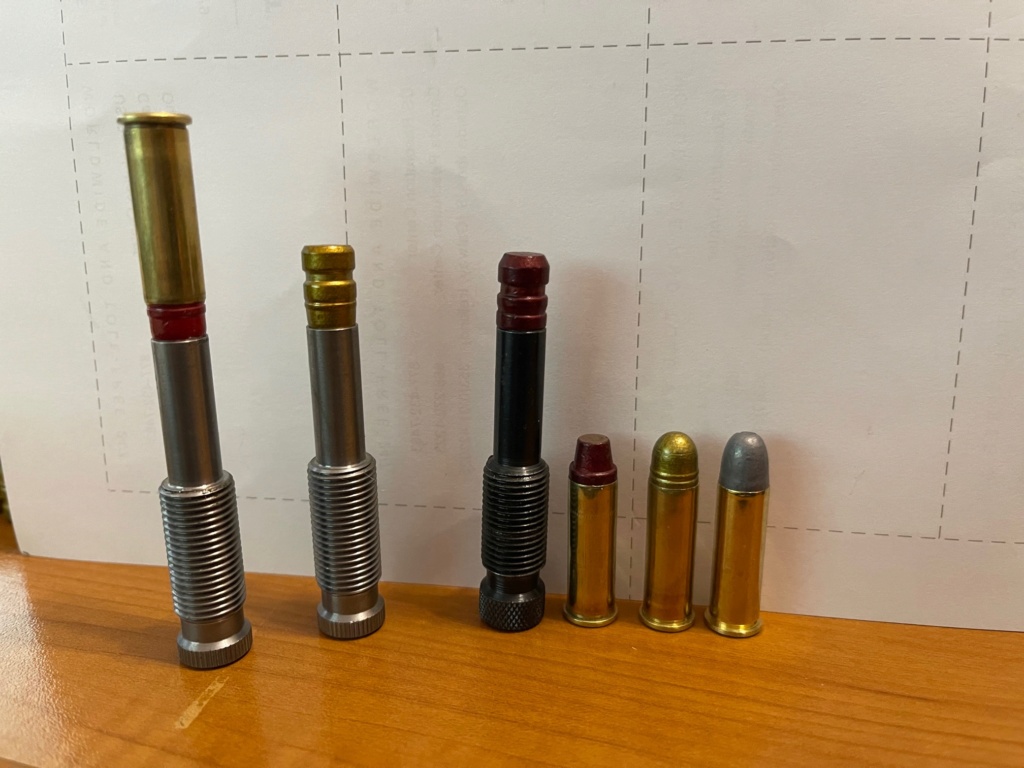 PhotoEscape




Posts

: 1240


Join date

: 2018-05-15


Location

: Northern Illinois, USA



Bruce, I've seen a seating die a guy made. He greased a bullet, then used a hot glue gun and put some glue in his seating stem and carefully shoved his bullet in it. He made good loads with it. 
 I cast my own and use the Lee 158 RN TL mould, I can use APs seating stem for SWC and it catches the top tumble lube rib seating them perfectly. Jason Gregoire uses that bullet also, I used 2.9 of BE and he said to try 2.8 of Tite Group. TG does have a different impulse which is nice. If I had to use a bullet without a rib or shoulder, I'd use that hot glue method and have a custom stem just for that bullet. What's nice about it is it doesn't take much to take it off the seating stem.
 Stan

chopper




Posts

: 681


Join date

: 2013-10-30


Age

: 71


Location

: Western Iowa



I have had good luck with that Lee casting; it's 150 gr for that 1R  or single radius bullet.  I get the occasional flyer, but nothing as bad as 2R designs though. It, like a swc, has a long straight body that accommodates straight seating. Going to look at what I have for seaters and get with Alex at some point.

bruce martindale




Posts

: 1260


Join date

: 2011-07-29


Location

: Upstate NY



I thought those bullets were cast with a shoulder.
I got shoulder seating stems from Unique-Tek.

STEVE SAMELAK




Posts

: 900


Join date

: 2011-06-10



---
Permissions in this forum:
You
cannot
reply to topics in this forum