I recently paid way too much money for a high condition Officer's model for CMP competition.  I have several Smith K frames and could have preferred a M14 but none were available.  I got the Colt because of the high quality and reputation.  

Here is my issue, when I take a proper strong grip with the web of my hand up on the curve of the backstrap, my trigger finger is pointing down crossing over my middle finger.  The strain is at my physical limit. Reaching the trigger and pulling straight back is not possible for me.   

Double action fire is very awkward and uncomfortable.  Accurate shooting is impossible for me.  I do have short fingers and my hands are used up and stiff.  

I compared the Colt to my Smith K-frames.  The Smiths feel just fine.  The grip on the Colt has a longer trigger reach and the trigger is lower compared to the Smith.  To comfortably reach the trigger I have to grip it such that my pinkie finger is falling off the stock.  Even so I have to reach out for the trigger and pulling straight back is not possible.  

I have been around the target shooting game for 50 years.  I never read or heard of this issue.  Maybe I have tiny mutant hands? Am I doing something wrong?  

Thanks for your thoughts in advance,
Scot

Scota4570




Posts

: 26


Join date

: 2019-10-22



Do you have service panel or target stocks on your Colt?

JRV




Posts

: 88


Join date

: 2022-04-03




JRV




Posts

: 88


Join date

: 2022-04-03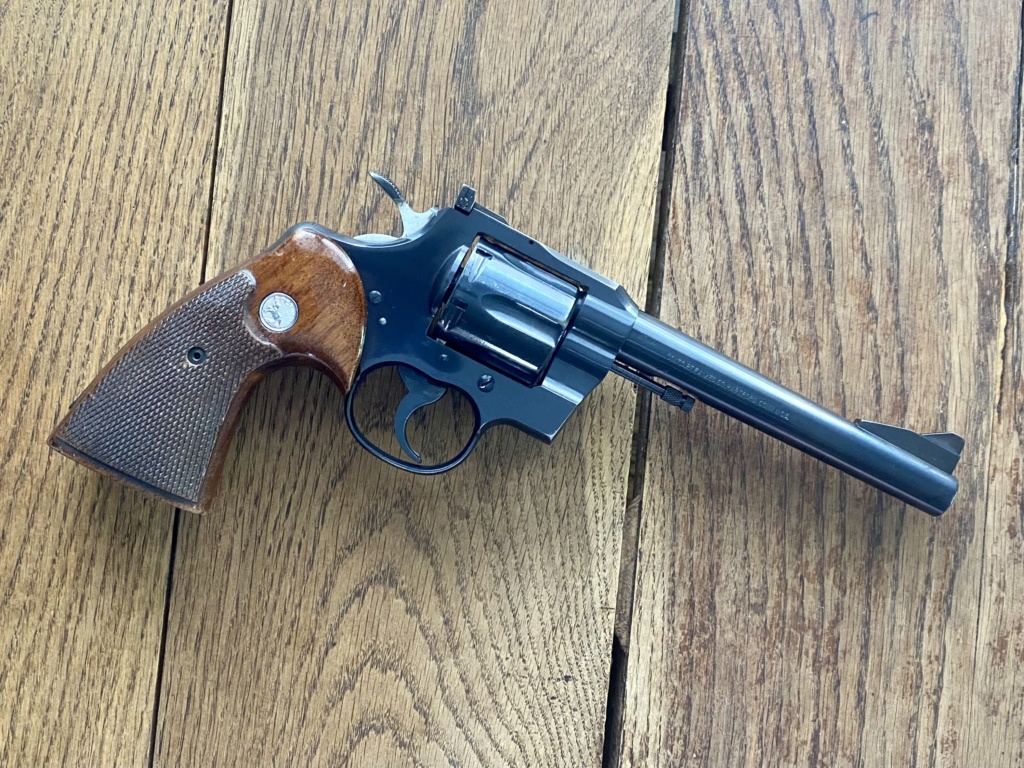 And those are the factory target stocks on an earlier Trooper.  
I have heard the Colt's called "a little big" before—they are bigger guns than the K-frames, and the grip dimensions and angles are more conducive to rolling recoil and single action fire—but I have never heard that the trigger position called "unusable" for adult-sized hands.
The beauty of revolvers is the stock options.
I have found the Pachmayr Presentation rubber stocks to have the "lowest" grip (they force the middle finger closer to the bottom of the trigger guard), so those might help your alignment problems.  They came in large and small sizes.

JRV




Posts

: 88


Join date

: 2022-04-03



The pachmeyers may be an option.  I just checked the length from the web of my hand to the tip of my index finger and got 4 1/4".  My wife measures 4 3/4".  The short finger thing is an issue for me and accurate pistol shooting.  My zero wanders right and left because I am reaching for the trigger and taking a poor grip to do it.  .
Attachments

COLT.jpg

You don't have permission to download attachments.

(163 Kb) Downloaded 8 times
Last edited by Scota4570 on 10/2/2023, 12:08 pm; edited 1 time in total (Reason for editing : add picture)

Scota4570




Posts

: 26


Join date

: 2019-10-22



I compete with the Pachmayrs. I don't have long fingers, so SA is my friend. I park my thumb on top of the cylinder release and thumbcock every shot, including in Rapid (two seconds per shot is a ton of time, just keep your focus on the front sight through the whole process).

JRV




Posts

: 88


Join date

: 2022-04-03



I had a Pre-War Officers Model like that once.  Mine had similar grips to yours although your picture is little tough for me to tell.  I found grip/trigger to be pretty awkward as well and my hands aren't really that small.  The grips panels themselves were pretty thin and the front to back dimension was narrow too.  The trigger pull itself has a longer arc than a S&W which probably doesn't help.  I always shoot Single Action so that longer pull didn't really affect me but I can see your difficulty if using DA.  I would try the rubber grips if you can.  They do fill in below the trigger guard pretty well and will change your grip up a bit.  That might be enough to get your hand at better angle.

Good luck.
John

John Dervis




Posts

: 431


Join date

: 2012-08-29


Age

: 54


Location

: Sheridan, Il.




Sa-tevp




Posts

: 900


Join date

: 2013-07-20


Location

: Georgia



Similar topics
---
Permissions in this forum:
You
cannot
reply to topics in this forum