+5
gemihur
Axehandle
HUGHT
243winxb
George Saunders
9 posters
PREFACE: I have a variety of Contender barrels which I use to test new loads rather than risk harming an expensive BE gun.  (Yes, Contender barrels come in 45 ACP)

PROBLEM: My Contender frame has taken to not releasing the barrel.  The only way to get it out of the frame, or to load another round, is to disassemble the frame.

REQUEST: Does anyone have experience with Contenders that exhibit this trait?  I would love to hear your experience and possible solutions.

SPECIAL NOTE: Back in the old days of the BE Forum I met Steve and Bev Allen from North Dakota on the forum.  I live in California.  Over the years we have not met...but, our families have become life long friends.

/s/ GEORGE

George Saunders




Posts

: 1


Join date

: 2011-06-17



I never found out why, when a brand new Contender did the same thing. Had to take the frame apart to get the barrel off. Worked normal after that. I would like to know the answer also.

243winxb




Posts

: 317


Join date

: 2013-12-01


Age

: 77


Location

: USA



I suggest you look at WWW.bellmtcs.com Mike covers everything you ever wanted to know about a TC contender
HUGHT

HUGHT




Posts

: 37


Join date

: 2012-07-16


Age

: 86


Location

: Georgia



#1 Make sure your barrels have a 2 piece bolt.  If not get one and put it in your barrel.  TC used to send these out for the asking but I don't think S&W will let them do that anymore.

Axehandle




Posts

: 822


Join date

: 2013-09-17


Location

: Alabama



This usually helps
use a stone to polish, NOT a file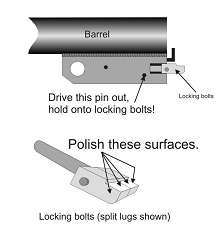 copied from Bellm's archives

gemihur




Posts

: 3


Join date

: 2021-08-26


Age

: 64


Location

: Ridgelines of the Roanoke Valley



George Saunders wrote:PREFACE: I have a variety of Contender barrels which I use to test new loads rather than risk harming an expensive BE gun.  (Yes, Contender barrels come in 45 ACP)

/s/ GEORGE
I personally would never use data/groups from another barrel to determine if my gun was shooting accurate loads. We also do not use rifle like charges or anything close to that for BE loads so potential damage to an expensive BE pistol is unlikely. I see more damaged barrels from squib loads than anything else. Also some pistols shoot better from a mechanical rest than they do from hand and vice versa. I also doubt your Contender has a 5" barrel?
My 2 cents
Jon
Last edited by Jon Eulette on Wed Sep 15, 2021 3:00 pm; edited 1 time in total

Jon Eulette




Posts

: 3635


Join date

: 2013-04-15


Location

: Southern Kalifornia



Al and gemihur like this post
I agree with Jon.  I DO use a Contender developing loads (10 inch barrel and all) to get velocities.  I have a magnetospeed and my club tends to barely tolerate downrange chrono for a variety of reasons.  After I get the parameters of a load down I load up a bunch more then go shoot them.  For the record, the difference between 5 inch and 10 inch velocities is about 75  to 90 fps confirmed by chrono and Quickload.

Wobbley




Posts

: 3620


Join date

: 2015-02-12



I have a 6.5 inch tc barrel. I also use a TC to test loads. Use an Encore rifle with a 16.6 inch 357 magnum match to test all my 38 and 357 loads.

dannyd93140




Posts

: 79


Join date

: 2021-07-31


Location

: Jacksonville, Florida



There's also the question of barrel twist rates. Does the T/C Contender have the same twist rate as your match 1911 barrel?

BE Mike




Posts

: 2074


Join date

: 2011-07-29


Location

: Indiana



I use a TC to test rounds because I only have to worry about precision of the group of shots.  If I use a 1911 have to worry about precision and work (making the slide move) or a revolver cylinder gap.  This tells me the true potential of the cartridge.  Because I only shoot a paper don't have to worry about kinetic energy ether.

That way I know if I move from the TC to other firearms and things don't go so well I have a starting point; to check other things the Gun, rate of twist, bullet seating, crimp.

dannyd93140




Posts

: 79


Join date

: 2021-07-31


Location

: Jacksonville, Florida



---
Permissions in this forum:
You
cannot
reply to topics in this forum