Page 3 of 3 •

1, 2, 3

First topic message reminder :
I just finished putting together this new Wad Gun for myself. Its a Caspian frame, STI slide and Kart barrel. Im not a professional gunsmith, just a hobby for me, but Im pleased with the results. Had an unexpected day off today, so took it to the range, Just got home from Ransom Rest testing at 50 yards, and the gun is holding 10 shot groups under 1.75".
 The big difference, as you can see from the pictures, is the trigger. I learned about this trigger from a post on another gun forum. Its an X-Line trigger.
Here is a link...http://www.xline-geppert.de/x-line%20trigger.htm
 I contacted the manufacturer in Germany. He is a Bianchi Cup Shooter,  and was very pleasant and helpful in Emails, So I placed an order. If you are familiar with the operation of the fire control group of a 1911, the pics on the X-Line site will answer a lot of questions. Its adjustable in almost every way (so much so, you can go a little crazy playing with all the adjustments). The spring loaded plunger behind the lower part of the trigger can be moved in and out for a long smooth single stage roll, or set up like a two stage feeling trigger, which is how I have it set up. I have a sear cut on a True Radius jig, with a Wilson hammer that has long-ish hooks. The body of the trigger doesn't move, it is secured in the frame with a set screw through the trigger guard.
 There is basically no take up, as you begin to pull the trigger, you start rolling the sear off the hammer hooks (movement is amplified by the hinged design). Just before the sear releases the hammer, the trigger hits the adjustable plunger. It has an internal spring that you can vary the weight of. Continued pressure will release the hammer with
very
little further movement. Initial pull of mine is 2 pounds for the first "stage", and 1.5 more for the second.
 With a properly polished and mated sear and hammer, the pull is very consistent. Because of the leverage gained by the hinged trigger, the sear spring is set up for a trigger pull more like 4.5-5 lbs. Results in a pull just a hair over 3.5
 I thought it was a pretty neat idea, and well executed, So I figured Id share it with you guys. Gives the old 1911 a "euro-gun" feel.  Ive only used the frame for a 22 match at this point, so the jury is still out, but so far so good.
 Its not a cure for poor trigger control, its just something different to try. If you like the feel of a two stage trigger in your .22, you might just like it in your .45.
 What I like about it, is it gives you a chance to experiment with different types of trigger pulls with just a few adjustments! cool.  If anyone has any questions, Ill do my best to answer them. Here are a few pictures...

markj




Posts

: 24


Join date

: 2013-03-20



---
kc.crawford.7 wrote:I have one for sale.  $150.00 shipped.  Send me an email kc@kcskustom.com
I don't suppose you have another for sale at that price, do you?

mpolans




Posts

: 285


Join date

: 2016-05-27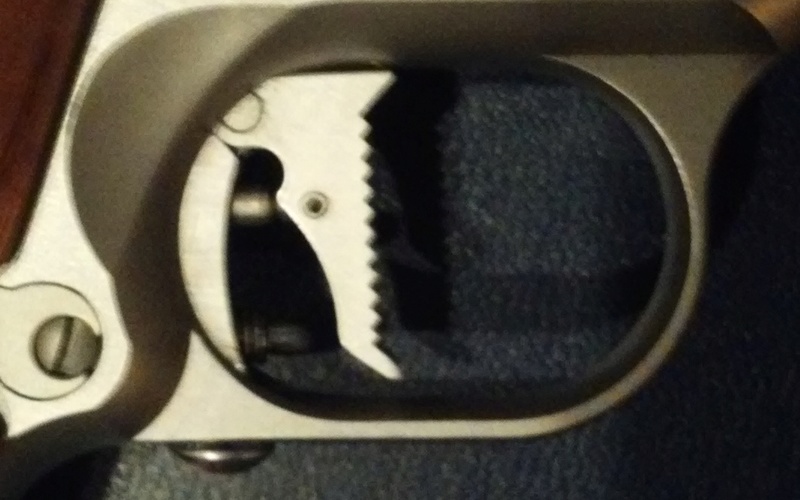 Here it is thanks to KC who was kind enough to sell me the last one available anywhere.
Tight installation and
one must play with springs and hammer angles
but the result is otherworldly. Clean take-up followed by a very distinct first stage and then the smoothest and lightest second stage one can wish for. 
The installation is straightforward but the tuning of it is time consuming and requires good skill. 
I was thinking that I'd polish smooth the front surface of the trigger but once you use it you are thankful for the grip/control that the indententions provide.

Amati




Posts

: 227


Join date

: 2017-12-10



I'm installing one now. The pin on the trigger bow is off by about 0.030". So it won't go through the housing. Hopefully customer service is up to snuff.
Jon

Jon Eulette




Posts

: 2327


Join date

: 2013-04-15


Location

: Southern Kalifornia



The customer service is limited to Susanne and they  have no interest in this product which they no longer manufacture.
I'll be milling a flat halfway up and inserting a pin to lock the body of the trigger.
I'll be interested to know what angle you will cut in the hammer.

Amati




Posts

: 227


Join date

: 2017-12-10



Will not be using the plunger/second stage feature. So standard sear set up.
Jon

Jon Eulette




Posts

: 2327


Join date

: 2013-04-15


Location

: Southern Kalifornia



The second stage can be short all right. I'm taking it to the range tomorrow to fire a lot of .22lr through it and see how I really feel about the second stage.
Last edited by Amati on 2/10/2018, 10:37 pm; edited 2 times in total

Amati




Posts

: 227


Join date

: 2017-12-10



Not interested in staging a short roll trigger.
Jon

Jon Eulette




Posts

: 2327


Join date

: 2013-04-15


Location

: Southern Kalifornia



Interested to hear how you fared with the installation of the Geppert X-Line. Their website now detects the point of access and does not accept any orders from the US nor do they respond to Emails.

Amati




Posts

: 227


Join date

: 2017-12-10



Page 3 of 3 •

1, 2, 3

---
Permissions in this forum:
You
cannot
reply to topics in this forum