Page 2 of 2 •

1, 2
First topic message reminder :
In some posts, on this forum and others, people have stated that a 9mm 1911 can be converted to 38 super by simply swapping barrel and mags. (e.g. 
http://www.bullseyeforum.net/t7033-38-super-barrel
). However, in Gun Digest Shooter's Guide to the 1911, Robert K. Campbell writes:
Robert K. Campbell wrote:Converting from 9mm to .38 Super is more difficult. The 9mm has a .384" breechface and the .38 Super measures .405". The 9mm breechface must be opened in order to allow the slightly wider .38 Super casehead to function properly.
I was thinking about buying a 9mm Springfield Range Officer and get get a gunsmith to fit a 38 super barrel in it, thinking that it's easier to load down 38 super to bullseye speeds (~700fps) and get good accuracy. The gun would be used for 1800 matches and International Centerfire (max 38 cal); we rarely get a full 2700 around here. But Robert's comments have me worried that it may not be as straightforward as I thought.
Thoughts?

desben




Posts

: 246


Join date

: 2013-12-22


Location

: Ontario, Canada



---
kc.crawford.7 wrote:The biggest thing about a Super shooting well at 50 yards and the 9 not is projectiles.  The super you're shooting a lead bullet.  As has been demonstrated time and time again, lead 9mm just doesn't play well at 50 yards.  If you run a jacketed 9mm you need to bring up the velocity to make the round shoot.  It's apples and oranges on this one.

That being said, I'm going to talk with KKM about a 9mm 1911 barrel to see if something can be done to find a "soft" shooting 9mm load.  Time will tell.
KC,
This, in my mind, just begs the question: did the 38 wadcutter ever really do well at 50 yards, and if so, in what format? Or was it a case of "what was available was used (due to practice at the time, price, circumstance, etc.) until something better came along?"
That four cartridges are always on the periphery of bullseye- 32 (Long and ACP), 38, and 9MM seems to me like there might be something there that people "think" they see or observe, but don't really make up for in scoring (or maybe they do???). Not to belittle Dr.Don's accomplishment in this particular arena- I thought the thread in which he and Jerry discussed this sort of problem, which of course I can't find just right now, was absolute classic "show and tell." I put in an order of 147gr slow 9MM from ASYM, and if I can ever get the house put back together and get to a match, I might have an idea on how they shoot out of the 9.
I think the 115gr jacketed success in the 9MM 1/32 barrel was proven out by the various Marskmanship units; no need to reinvent that particular wheel. Does make me wonder about electroplated bullets, lube, rifling speed, as a culprit (didn't Jerry advocate for the 1/12 twist, maybe? Hope he pops up here), but already too many experiments and too little time(!).
Thanks,
Chase

w4ti




Posts

: 84


Join date

: 2016-04-30



My .38 spl on 1911 platform with 1:10 twist shoots 1.5" @ 50 yds. My best is 889. It works fine!
Jon

Jon Eulette




Posts

: 1694


Join date

: 2013-04-15


Location

: Southern Kalifornia




Dr.Don




Posts

: 415


Join date

: 2012-10-31


Location

: Cedar Park, TX



Jon Eulette wrote:My .38 spl on 1911 platform with 1:10 twist shoots 1.5" @ 50 yds. My best is 889. It works fine!
Jon
And the proof is in the pudding- I'm just glad to know it can be done! Of course, Clark Sr. made a living doing this, and I have a hard time believing he was some charlatan, especially considering his shooting success!
There has to be some ratio here between the dimensions of the 9, 38 and Super that accounts for shooting lead either poorly, well or especially well. 
But how to back into it is beyond my kin.
Very fruitful discussion- thanks!
-Chase
https://groups.google.com/forum/?hl=en#!forum/precision-pistol

w4ti




Posts

: 84


Join date

: 2016-04-30



I had a chance to play/practice with my long barrel Super today and the 147gr were definitely more fun to shoot. The two targets on the right were shot with 125gr Zero bullets with 6.9gr Power pistol (hot)l. The two on the left were shot with Magnus 147gr LFP and 4.6 gr BE. Rapid fire. The 147s were a lot easier to control. The 38 super+p with the larger rim also functioned perfectly in my RO 9mm conversion. The face has not been modified.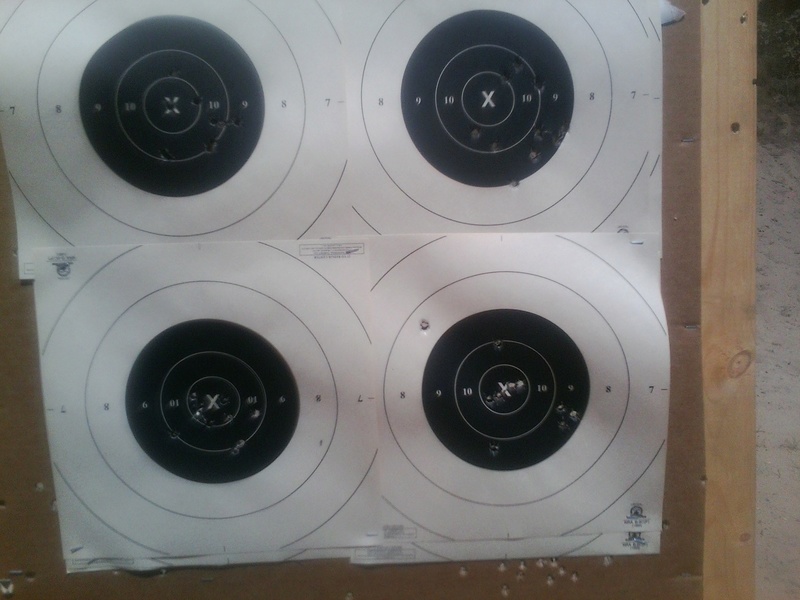 LenV




Posts

: 2531


Join date

: 2014-01-24


Age

: 67


Location

: Oregon



Page 2 of 2 •

1, 2
---
Permissions in this forum:
You
cannot
reply to topics in this forum