I have a new-to-me Smith & Wesson Model 52-1. I started working up loads for it last week for a club match this morning. A couple of times during load development, I had an unwanted twofer. That is, I pulled the trigger once, or at least I thought it was once, and it went bang-bang. Two shots! I thought maybe the trigger was sensitive, and it was me accidentally bumping it a second time.
Fast-forward to today's match. It happened *twice.* This caused me to score two zeroes. But I'm now certain it's the gun. I'm not bumping the trigger a second time. It happened during slow fire when I was concentrating on my trigger pull exclusively. It wasn't me.
If it matters, I'm running mixed brass, 148 gr. HBWC, 3.6 gr. HP-38, 1.165" COL, and heavy roll crimp. I had the same issue with 4.0 gr. HP-38 during load development (both loads are published by Hodgdon). I'm using a BME mount, B-Square rings, and Matchdot II scope. And I installed a Wolff 7 lb. variable recoil spring before testing.
What causes this? And can I fix it? Or do I need to a smith to do it?? Any help much appreciated!
Photo below 'cause I know y'all like pretty guns!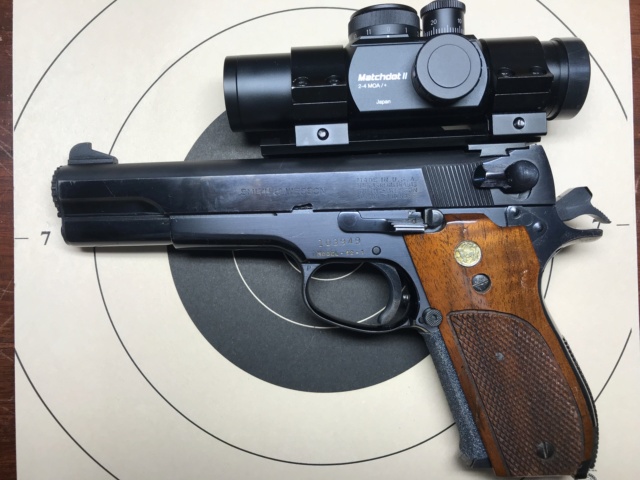 dev6682




Posts

: 41


Join date

: 2018-01-07


Location

: Oakton, Virginia



I would ship to a Smith. It's likely the trigger needs some work.

zanemoseley




Posts

: 2044


Join date

: 2015-07-11


Location

: Cookeville, TN



trigger likely just a bit too light, or the sear worn..
I'd loosen the overtravel screw a turn to eliminate that being an issue

jglenn21




Posts

: 2132


Join date

: 2015-04-07


Age

: 72


Location

: monroe , ga



Mine was doing the same thing.  first shot was OK and then sometimes just the slightest touch would fire the second shot while resetting the trigger.  My sear was worn and anything I did like changing trigger springs or adjusting the over travel screw had no effect, it still doubled at times.  Unexpected and somewhat scary to say the least.

I sent mine off to a smith and had a new sear put in and angle for sear and hammer set on a jig.  Just a heads up, not every smith has the jig to stone the angles for the M-52.  Make sure if you send it out that your smith has one and doesn't try to do it on a 1911 jig.

Virgil

Virgil Kane




Posts

: 574


Join date

: 2011-06-10



Thanks for the replies! I'll be sending it to a gunsmith to be fixed properly. In the meantime, it's going out of my shooting box and into the safe. I don't need any more "help" scoring zeroes!

dev6682




Posts

: 41


Join date

: 2018-01-07


Location

: Oakton, Virginia



---
Permissions in this forum:
You
cannot
reply to topics in this forum