Sadly, a friend passed away and I purchased a very clean Model 51-2 from his estate.  The pistol is in very nice condition with virtually no handling marks.  It has only one magazine (plastic follower) but I can fix that on eBay.  The magazine has hardly a scratch on it but there is no guarantee it is the original.  Trigger is 2 # - 15 oz so OK for my use. 
It came with18 boxes of Western 38 Special mid-range WC rounds in unopened condition circa 1971 (yes they do go bang!) plus another 5 boxes of Federal 38 spcl, 7 boxes of reloaded Western ammo and another 6 boxes of reloaded 38 special in 158 gr WC (won't work in the 52) and 5 more with 145 gr SWC.  If any of you are ammo collectors I would consider selling or trading some of them.   I have plenty of 38 special wad cutter brass from my Colt Trooper to reload. 
A couple of questions:


Anything to be aware of when buying a model 52 magazine from eBay (other than the price).   The new old stock ones seem good.  Worn ones not so good.  I'm happy with one or two additional mags. 

At 73 I prefer a red dot over irons but irons are fun.  What is the current view on Aimpoint clones?  I like 4 MOA dots so Aimpoint is out for now.   I currently have Ultradots (Match Dot II and the older Match Dot). 

I'm thinking of a base to replace the rear sight.  The BME bases seem good but should I get the one that fits an Aimpoint or Ultradot?  I'm thinking Ultradot since I have a spare one of those. 

Grips...I like the Nils grips that Len V showed on a recent post.   I might also consider grips by Alex (printed grips). I use Rink grips on my 1911 and Pardini but I don't see that Rink makes them for the 52. Other suggestions? 


The grips that came on the pistol show a double handed shooter in a crouched position.  if I could figure out how to post a second picture I would.   Any ideas what the origin of the grips might be?  
Kind regards,
Dave

UtahDave




Posts

: 32


Join date

: 2011-11-01


Age

: 74


Location

: Utah



OK...I obviously don't know how to post photos or insert them...back to school on that topic.  

Dave

UtahDave




Posts

: 32


Join date

: 2011-11-01


Age

: 74


Location

: Utah



Don't overlook the reflex sights.  There are bases available that replace the rear sight.  These are also light enough that no adjustment in loads are necessary.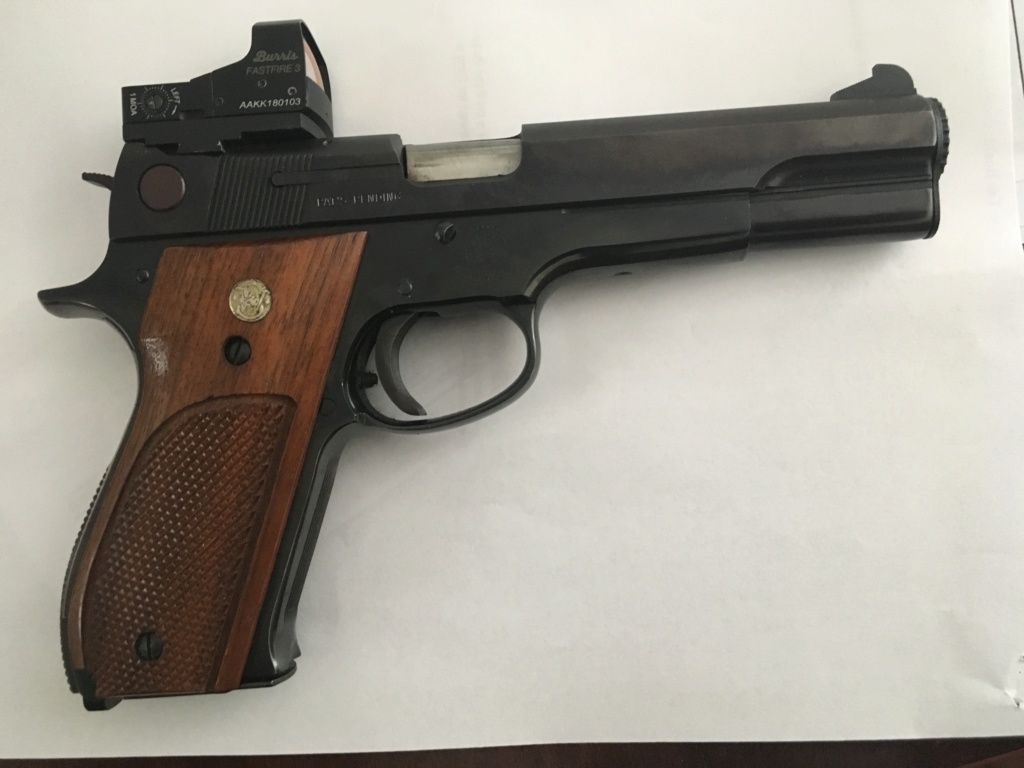 Wobbley




Posts

: 2621


Join date

: 2015-02-13



Happens that I have a lightly used BME 52 mount for a Burris/Vortex red dot available. And will have two as new Vortex Venom 3moa (on their way back from factory) later this week.

PM me if you are interested.

I've decided to standardise on Ultradots and have swapped out the mount/sight from my 52.

radjag




Posts

: 652


Join date

: 2017-03-23


Age

: 64


Location

: Oregon



---
Permissions in this forum:
You
cannot
reply to topics in this forum