I've noticed a quirk in my AW93 that I wonder if other pistols also have. Can any AW93 owners give me a quick take?
When picking up a round, my AW93's extractor holds the rim well and is roughly parallel to the bolt. See picture 1, so far so good.
However when the bolt moves forward into battery, the inside edge of the extractor contacts the horizontal ramp of its slot, and therefore swings outward. See picture 2. This relaxes its grip on the rim, and also causes it some impact, both of which seem wrong to me. The slot is clean. The brass ejects ok, if a little inconsistently, but when the chamber is even a little bit sticky, it often will not extract the round manually, such as when checking the chamber. I have to have a stick handy to clear the gun, in fact. 
Before I go all bubba on this and relieve the inside edge of the nose, does anyone else see a similar angle change on their AW93 with the bolt closed?
Picture 1 - bolt open
Picture 2 - bolt closed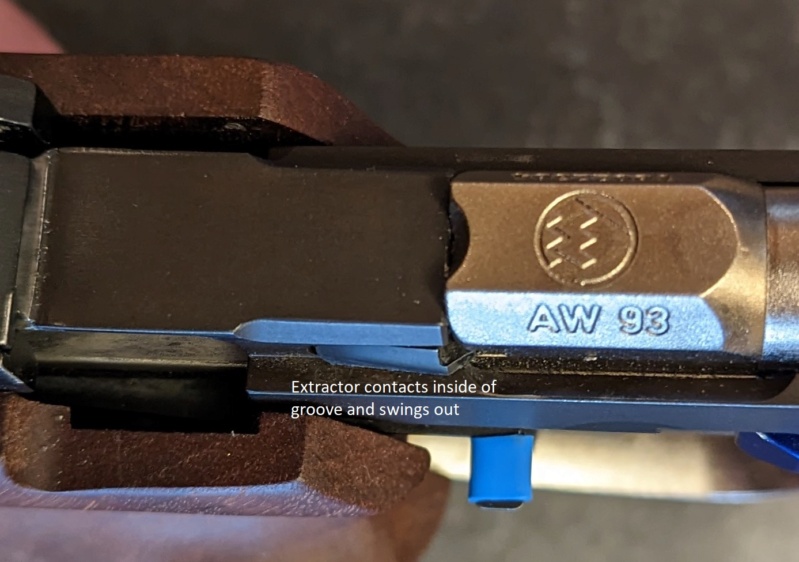 -TT-




Posts

: 569


Join date

: 2016-10-18



My extractor looks just like that on an empty chamber. I also shoot with a stick handy, but only with my practice ammo (Norma). I have no issues with CCI, S&B, or eley.

gstfsnbgs




Posts

: 5


Join date

: 2021-07-25




ric1911a1




Posts

: 338


Join date

: 2013-05-07


Location

: Upstate NY (the good part)



Just about all 22 caliber pistols have extractors that cam out at the extractor groove/slot in the barrel. Yes it slightly reduces the tension on the case rim. Some pistols are prone to extraction light strike problems because the spring pressure is too high.
Jon

Jon Eulette




Posts

: 4319


Join date

: 2013-04-15


Location

: Southern Kalifornia



My extractor will hold the bolt very slightly open if I close it gently, for example when checking if there's a round chambered, but all it takes is a slight push to make it home. And I guess it doesn't surprise me that AW93's all do it - the whole pistol screams consistency. I'll ignore it.

It's fun, I haven't shot the AW93 in a while but I picked it up again recently because its long roll trigger is helping me train and it's really helping, in a way it didn't before somehow. I guess I put it away wet, and aged chamber crud made the extractor angle seem like a bigger issue. Thanks for confirming!

-TT-




Posts

: 569


Join date

: 2016-10-18



---
Permissions in this forum:
You
cannot
reply to topics in this forum