I have a cased set of Clark longslides, one in .38 special, the other in .45 ACP. Beautifully done, can see the color change in the bluing where the slides were welded. One was made in 1969, the other in 1973. I also have a cased Clark, made in 1962, one fitted slide in .45 ACP. the other in .38 special with mags. The longslides I shoot occasionally, the 1962, once in a great while as it has very little use on it from what I can see. Any good reference works on Clark and his guns?

Colt38amu




Posts

: 12


Join date

: 2023-01-24



There's a certain amount of info on the "About Us" page on Clark's website --

https://clarkcustomguns.com/about/


But I'd think that some of the old timers still working at Clark would be your best resource.  info@clarkcustomguns.com or (318) 949-9884 .

TB Epitaph




Posts

: 12


Join date

: 2022-04-03



You have noticed ALL the comments on your post, I have just inherited a 1970 series 70 Colt/Clark 6 inch built by Clark SR. In 74, I have found much dislike if not out and out right hate for his guns, I would call him a pioneer in the accurizing of pistols, I have had people write 5 paragraphs on how they are just niche guns and how they are really not that accurate or valuable, had a guy on a 1911 forum tell me that they could only hold a 3 inch group at fifty yards and that was'nt very good and how I would only be able to get $1000 for it and I would have to search the world over to find a buyer, then I posted pictures of the proof targets, have not heard from that guy again.  Clark custom guns will not talk to you about your guns, they only will if you send them in to be freshened up, and they say that would take 6 months to a year wait. I would love to see yours,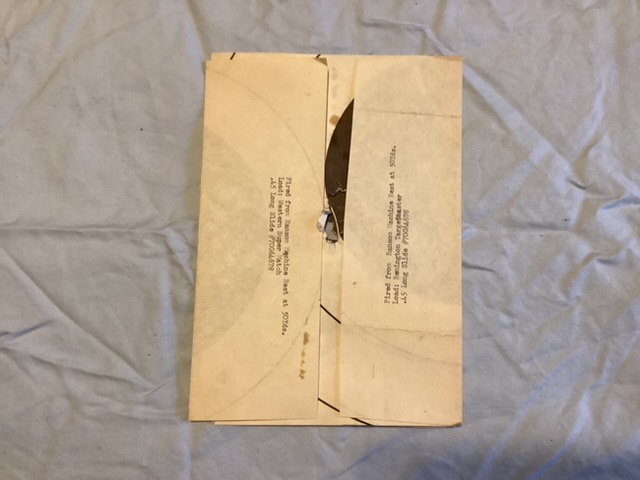 [url=https://servimg.com/view/20471961/10]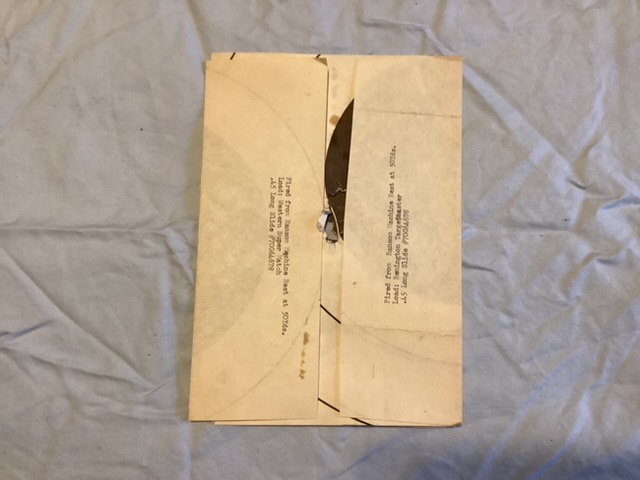 [/url]

Cmysix




Posts

: 183


Join date

: 2022-12-23


Age

: 65


Location

: Opelika Alabama




Cmysix




Posts

: 183


Join date

: 2022-12-23


Age

: 65


Location

: Opelika Alabama



This one really gets the snobs livid, $300 fusion firearms frame and a Remington Rand NM slide and NM barrel and bushing, Wilson combat small parts. Only thing done to it other then bing assembled by an 88 year old man(my father) was a trigger job, the gun smith that did that said he could not find anything that needed to be tightened. My father knew a guy at the Rock Island armory in the day. The beaver tail safety was for a standard frame, this is a .250 radius frame, the beaver tail has been changed to the proper one, this is as accurate as the Clark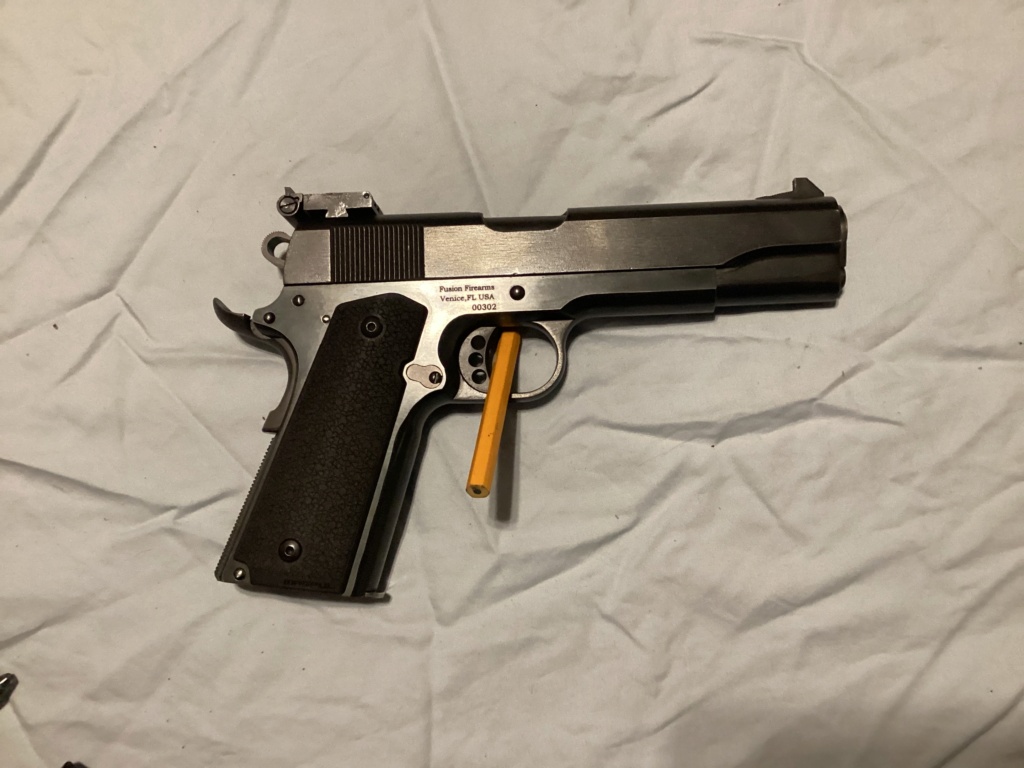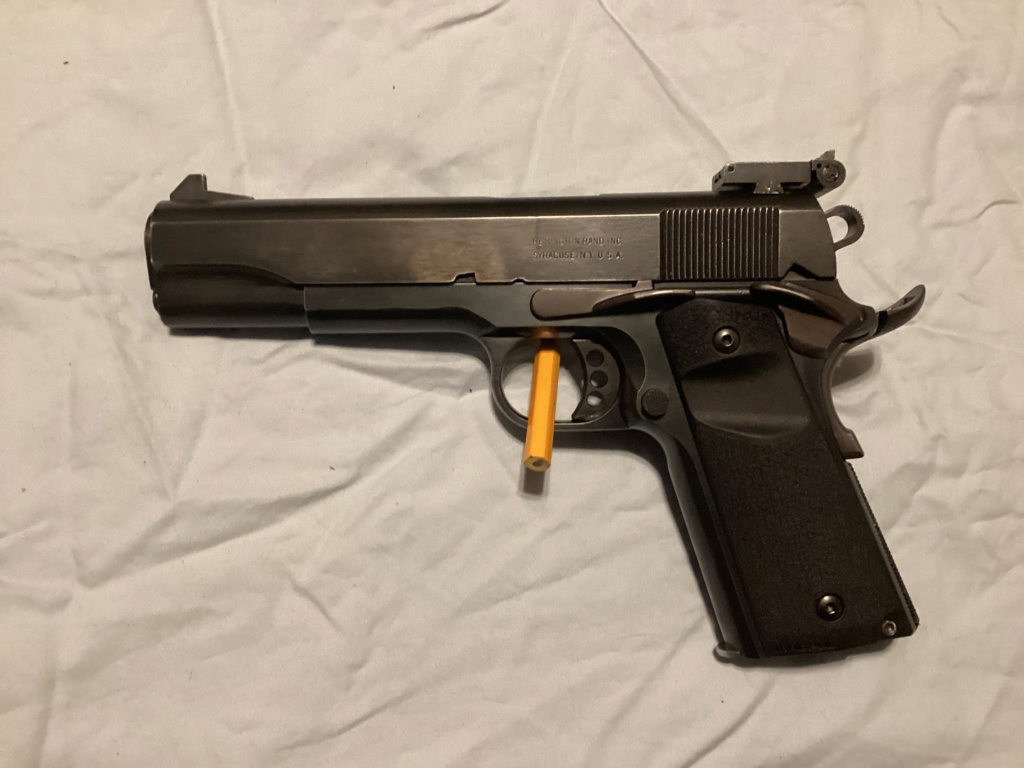 Cmysix




Posts

: 183


Join date

: 2022-12-23


Age

: 65


Location

: Opelika Alabama



Thanks for the info, I had a 5-inch Clark heavy slide that I used as a carry gun for a number of years. The proof target for that was 10 rounds in a 2-inch circle at 50 yards, sold it to my cousin some years back. Alton Dinan built a jig for holding 1911 barrels for accuracy testing. A barrel had to shoot a one-inch group out of his jig because the operating tolerances of a 1911 would make it a two-inch group when assembled into the pistol. The old joke that you can tell a Bullseye shooter by the lube dripping from his elbow was and still is true.

Colt38amu




Posts

: 12


Join date

: 2023-01-24



Similar topics
---
Permissions in this forum:
You
cannot
reply to topics in this forum