Page 13 of 13 •

1, 2, 3 ... 11, 12, 13

First topic message reminder :
Now that we can share our photos, let's see your bullseye guns.
Here is my Keefer Custom, Aimpoint dot scope, with one of my
better
very best targets.
Best Regards,
Slo cat
Last edited by Slo cat on Sat Jun 11, 2011 10:13 am; edited 2 times in total

Slo cat




Posts

: 38


Join date

: 2011-06-10


Location

: Conifer, CO



---
What you described is what is happening the same for me.  This started a week or two ago.  

When I go to add a photo to a post, everything goes normally. and I see the the photo has supposedly been added, but when I enter it, the photo doesn't show up.  But, if I copy the URL for the photo, and post that URL as a link, the photo shows properly when the link is clicked on.

mikemyers




Posts

: 2215


Join date

: 2016-07-27


Age

: 75


Location

: South Florida, and India



Hmmm, this thread is loading slow for me too. Other threads seem fine loading pics.

Could be the Servimg site that hosts pics is moving slow, due to having so many image requests for one page.

Could be the hosting service, but it would not be be that slow for just one thread.

willnewton

Admin




Posts

: 692


Join date

: 2016-07-24


Location

: NC



Maybe split this thread into 2? If you have to load all the pics in sequence it might take a very long time.

Wobbley




Posts

: 2196


Join date

: 2015-02-13



IT1 Wes wrote:

mikemyers wrote:(Is it just me, or why does it seem to take forever lately before images in posts show up??)

It is probably due to a slow internet.
If pictures are taken with a smartphone they can be huge, thousands of pixels wide and tall. This slows down transmission as the files are larger than they need to be. IMHO pictures should be cropped and resized down to 300 to 500 pixels tall with a free (for non-commercial use) utility such as IrfanView, https://www.irfanview.com/
IRFANVIEW GRAPHIC VIEWER


Fast and compact ( just 3 MB )


Freeware for non-commercial use


Supports Windows XP, Vista, 7, 8, and 10


32 and 64 bit version


Multi language support


Unicode support


Designed to be simple but powerful


Wes, all that may be true, but until a couple of weeks ago, I never had this problem.  Now it appears all the time.  

Any photo with my watermark at the bottom right has been resized to 800 pixels wide.

Other photos, such as from my iPhone, never caused a problem in the past - but most of my concerns are from wanting to see other people's photos.

(On my Mac computer, I use Adobe Lightroom, which adjusts and re-sizes the images to any size I prefer.  I picked 800 as it's big enough to show the detail, but not overwhelmingly big.  For people viewing on a phone, it's actually very small.....)

mikemyers




Posts

: 2215


Join date

: 2016-07-27


Age

: 75


Location

: South Florida, and India



Colt .45, Colt .22 and snubby Colt .45.
Havamal Viking wisdom updated to 2019.
The runes spell, "RTKB."
I will try to do my best to slow this down more.

It has been a couple, 3 or 4 years since I posted more then a picture or two at a time on this OP. I have some pictures I recently took that I would like to post but some explanation might be needed. I took these with the thought in mind of how I would take them to a match. I then assigned them a team name based on scores, function, manufacturer, grips or sights. I know that is OCD (super OCD?). However my hip is bummed up right now and since I can't shoot for awhile I might as well play. Teams A-C are scores. Other groups obvious.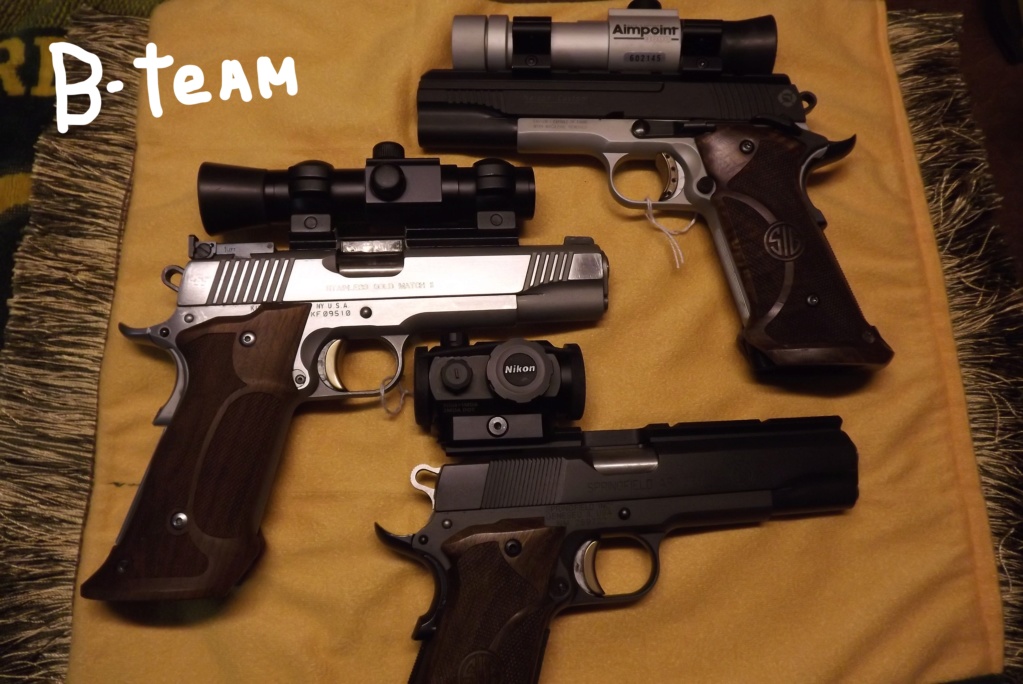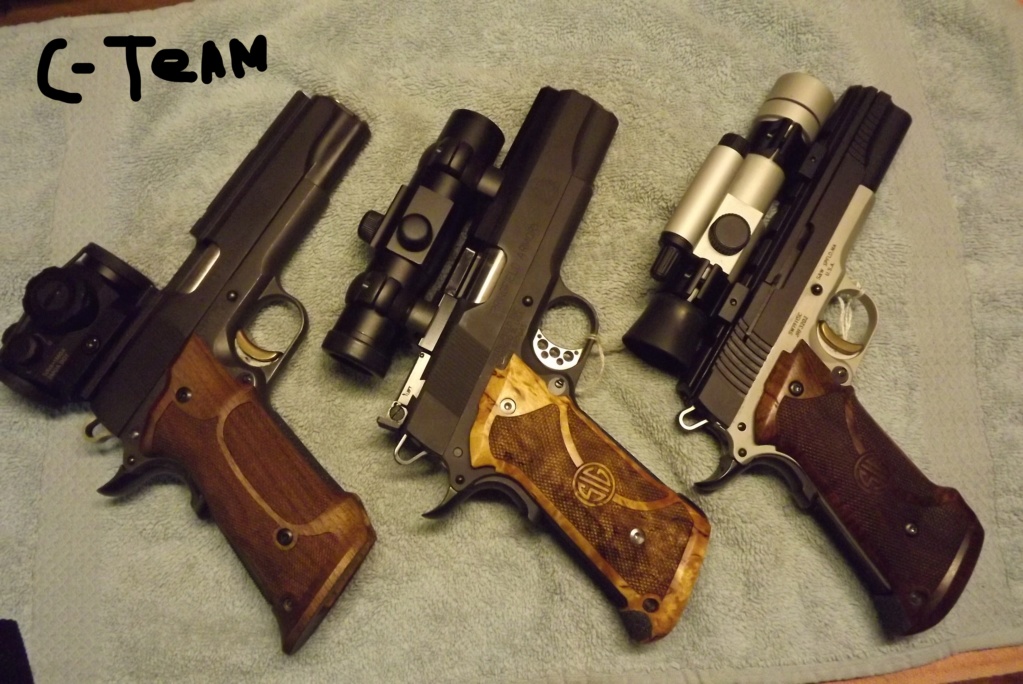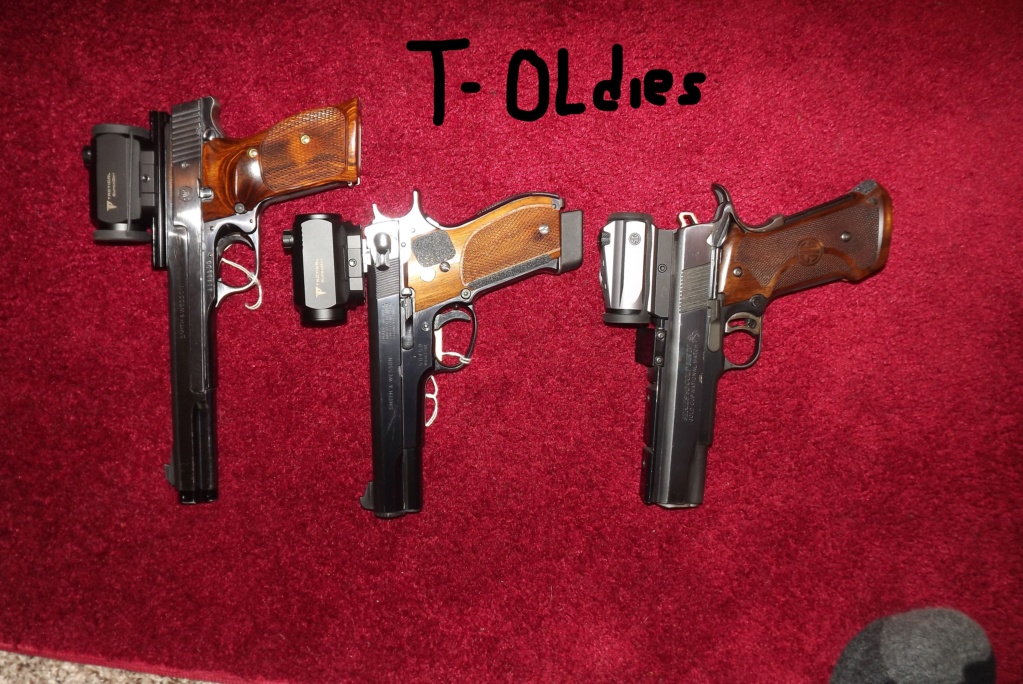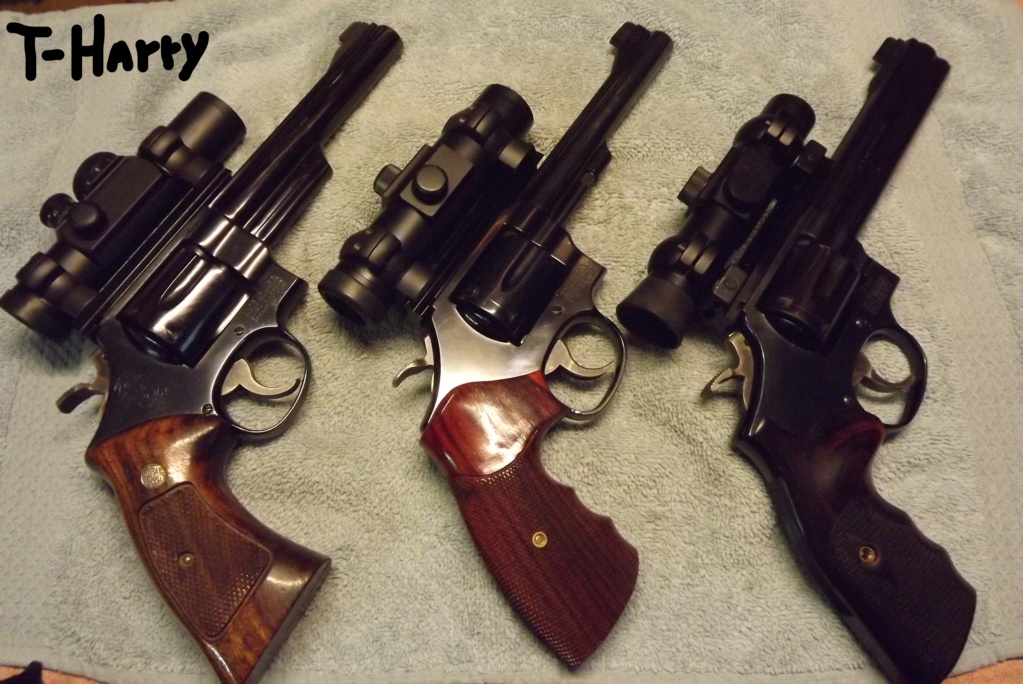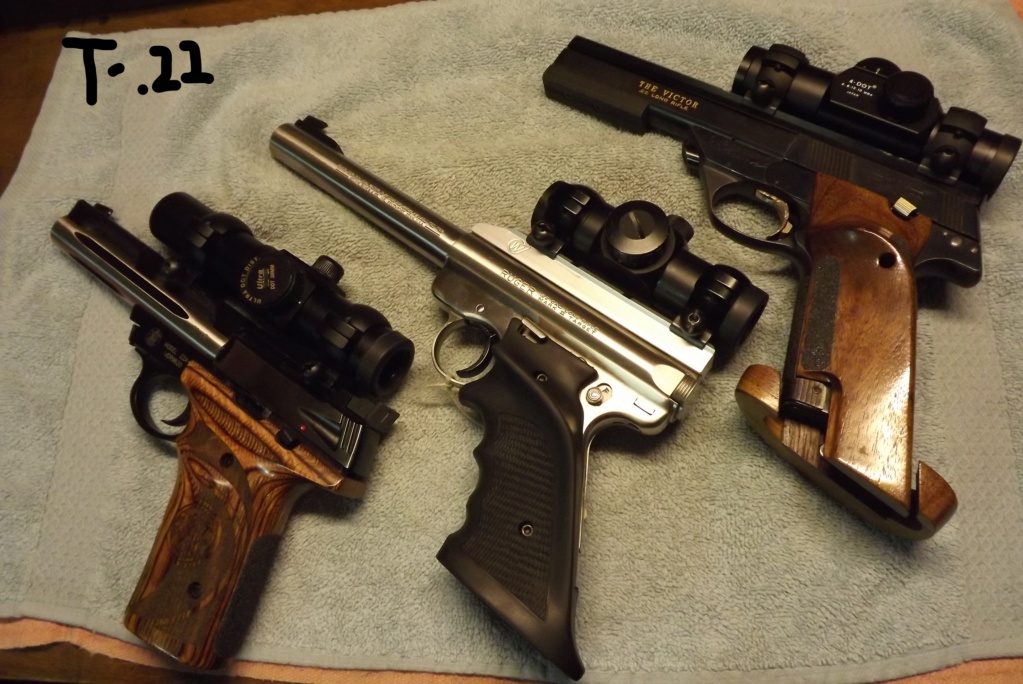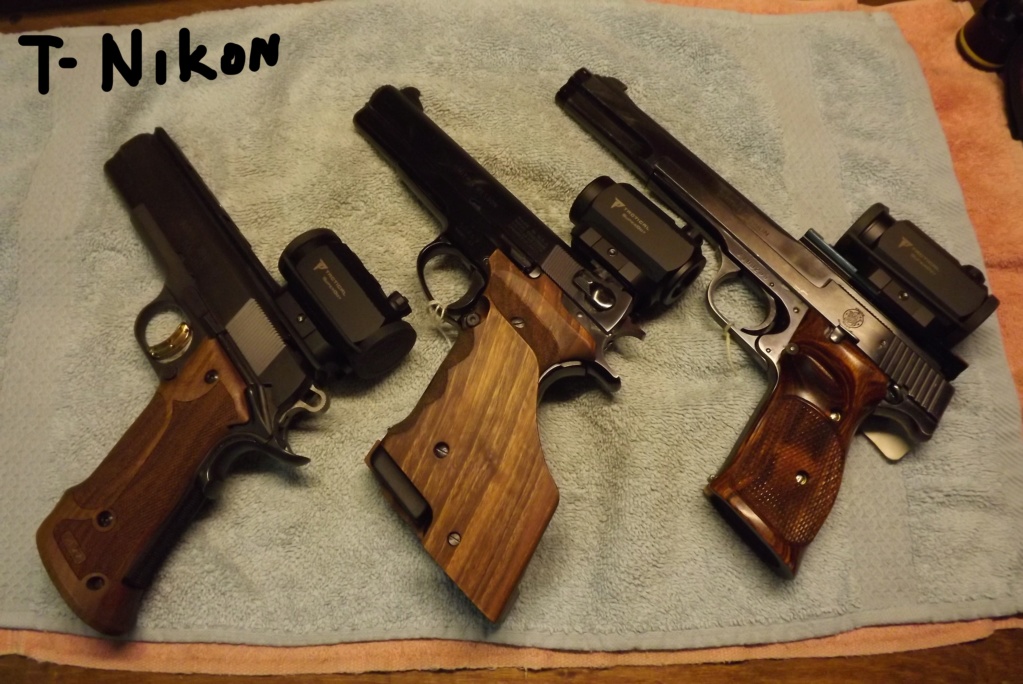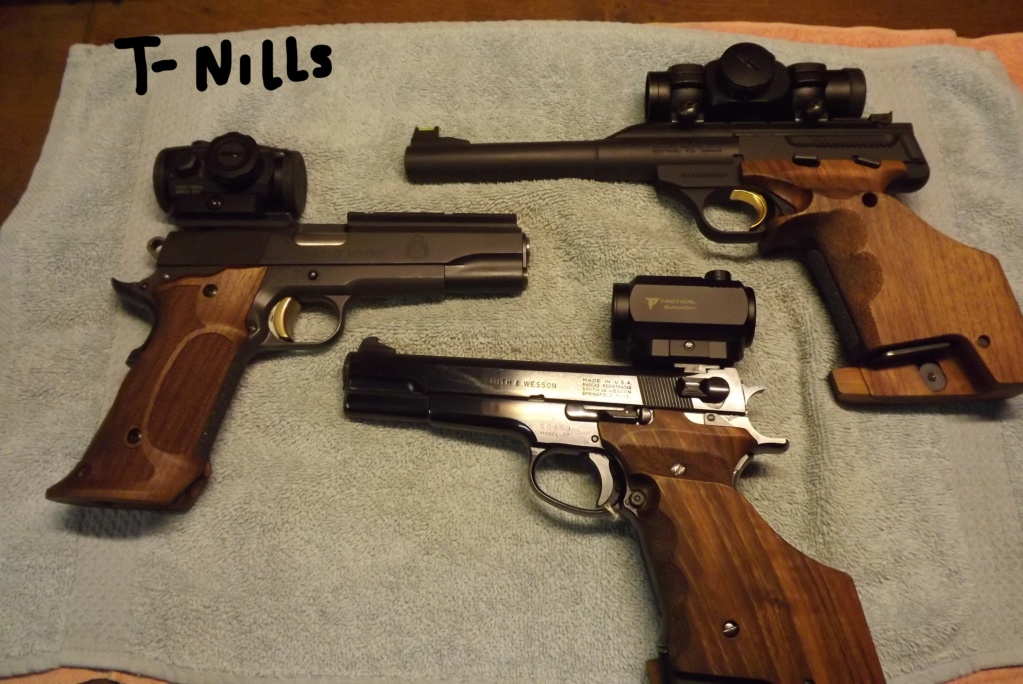 LenV




Posts

: 3676


Join date

: 2014-01-24


Age

: 69


Location

: Oregon



Beautiful collection!  I hope you're back on your feet soon.  

Your pistols are going to get lonely without you!!   :-(


added later...
Every one of your guns looks like it's brand new!

mikemyers




Posts

: 2215


Join date

: 2016-07-27


Age

: 75


Location

: South Florida, and India




randy86314




Posts

: 4


Join date

: 2019-07-23



Just added two new BE pistols to the fold.  I have worked on my Beretta 92FS so it now has a crisp 3.3lb. trigger and is very accurate. Several club members have asked me to work on their 92's so they can use them in centerfire matches. My next one is a Springfield Range Officer in 9mm. I changed the 9lb. recoil spring to a 12.5lb. spring, the heavy main spring to a 19lb. spring and put in a Colt Competition sear spring (all from Wilson Combat). I gently polished the sear, and tweeked the sear spring and my trigger is a very crisp 2.6lbs. BTW, it is also safe, no follow through and I cannot must the hammer off the full cock notch. This gun is as accurate as my model 52, but has a different feel to it. The RO has iron sights for now only because it shoots so well.
https://imgur.com/I5OUsYR
https://imgur.com/senO177
https://imgur.com/jQvmycp

mustachio




Posts

: 96


Join date

: 2019-04-05


Location

: South Florida



Page 13 of 13 •

1, 2, 3 ... 11, 12, 13

---
Permissions in this forum:
You
cannot
reply to topics in this forum