Page 14 of 14 •

1 ... 8 ... 12, 13, 14

First topic message reminder :
Now that we can share our photos, let's see your bullseye guns.
Here is my Keefer Custom, Aimpoint dot scope, with one of my
better
very best targets.
Best Regards,
Slo cat
Last edited by Slo cat on 6/11/2011, 9:13 am; edited 2 times in total

Slo cat




Posts

: 38


Join date

: 2011-06-10


Location

: Conifer, CO



---
Verrrrry (lots of r's) nice!  You either got lucky, or did a great job of finding it!

mikemyers




Posts

: 2566


Join date

: 2016-07-26


Age

: 76


Location

: South Florida, and India



Thanks to Roddy Toyota, this is my new (to me) High Standard Victor.  Just got it from the FFL.
I think I'll try it first without the barrel weight.
If the steel sights don't work for me, Roddy built a rail mount for my Aimpoint H-2.
I told Roddy I wanted it for shooting, not keeping it in a safe.  Will see how this works out.
.....and I have one of Alan's new High Standard guns on the way too.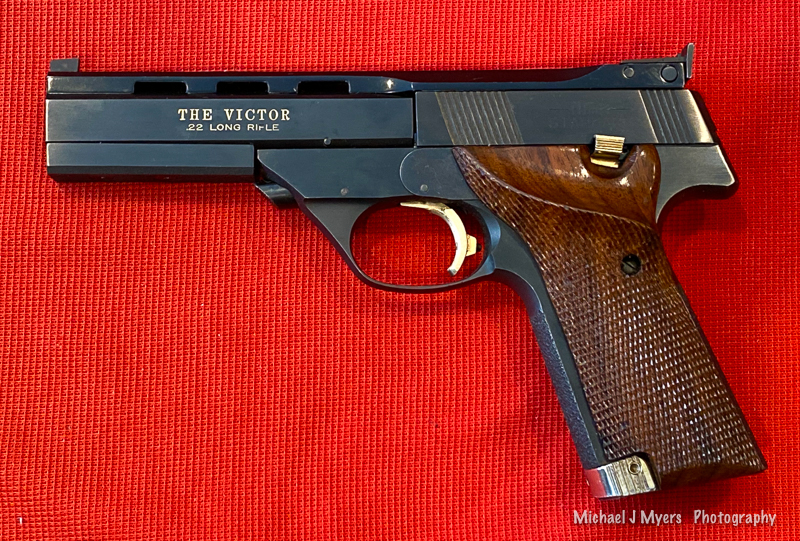 mikemyers




Posts

: 2566


Join date

: 2016-07-26


Age

: 76


Location

: South Florida, and India



SmokinNJokin wrote:

Found this really cool USGI National Match recently. No SA markings, I suspect it was built by a military armorer. All the usual old school mods, relieved half cock notch on hammer, excellent crisp trigger with shortest reset of my considerable 1911 collection, peened+lapped slide fit.

It appears as if I may have been the first person to shoot this thing off of the armorer's workbench. The parkerizing has not even worn off the sides of the hammer where it rotates in the frame. The barrel bushing is extremely tight, the frame to slide fit is perfect with no movement, and there is no appreciable wear anywhere but the grip panels.

All i had to do to the gun was oil it up, replace the hardball springs with a #12 recoil and #18 main more suitable to the ammo I consume by the truckload; back off the trigger overtravel to prevent the sear and halfcock from dragging (reset is still VERY short) and replace the murderously stiff magazine catch spring with my favorite wolff reduced power. The gun shoots beautifully; it required some serious windage and elevation adjustments to get it centered @25 (more evidence to me it has not been shot much if ever since build) but performed well at that range. Recoil is brisk, probably due to the steep profile on lower barrel lugs and amount of contact on upper lugs; pretty consistent with my other guns of the era (Clark Sr, Giles, Shockey).

All in all, I am very pleased to own another piece of nostalgia (for a very reasonable price I might add) and will ensure it sees action in upcoming CMP matches.
Cool.

rreid




Posts

: 499


Join date

: 2012-02-06



Page 14 of 14 •

1 ... 8 ... 12, 13, 14

---
Permissions in this forum:
You
cannot
reply to topics in this forum