Over the winter I noodled on the details of my original "Pelican" style travel case and tried to come up with a fresh plan that would overcome previous shortcomings. Took me a couple of weeks of odd moments to get it re-configured. Used it in anger for the first time last weekend and am happy with most things. It is now perfect for an away match, especially indoors. I intend to strengthen the brass screen fixings so that it will be wind proof.
Too many photos and details to just add them here, so I have created a PDF - see as attached. I missed one photo of the left end outside, I have added a steel trunk handle so that I can run a tie down or bungee cord if needed.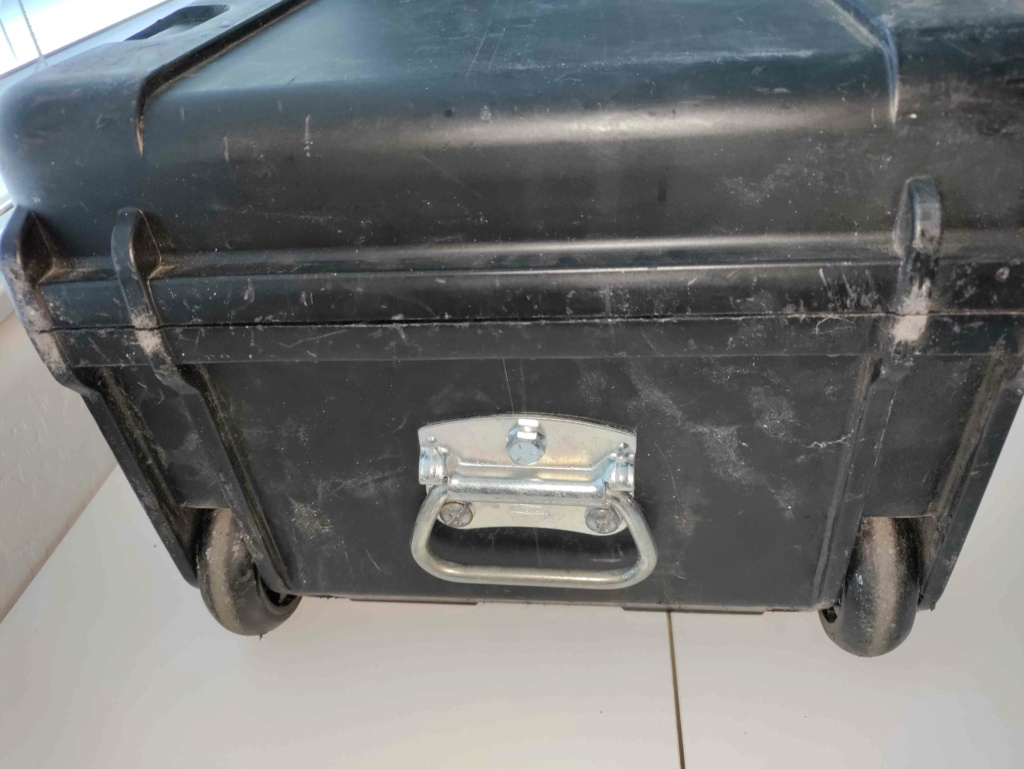 Attachments

RADJAG Travel Case.pdf

Try again

You don't have permission to download attachments.

(1.1 Mb) Downloaded 113 times
Last edited by RoyDean on 3/29/2023, 9:18 pm; edited 1 time in total

RoyDean




Posts

: 632


Join date

: 2021-03-31


Age

: 67


Location

: Oregon



Sc0, shanneba and samtoast like this post
Sorry, pdf failed to attach. Later.

PDF is now uploaded - I think!

RoyDean




Posts

: 632


Join date

: 2021-03-31


Age

: 67


Location

: Oregon



That sure is very well thought out! Thank you for documenting and sharing it

samtoast




Posts

: 96


Join date

: 2022-10-03



Roy - Thats an awesome case.  Really well thought out.  Getting everything to fit (including your ear protection), not having guns or dots bang into each other, and having a sturdy mount for your scope and brass deflectors is slick!  Do the guns actually not bang into each other?  I'd like to try something similar for the Arizona mid-winter next year.  Did the airline make you pull everything out to "check it"?  How did you ship your ammo?  And what did you do with your .45?  Or was one of the two Pardini's a GT45?  Cheers, Cliff

croesler




Posts

: 251


Join date

: 2018-08-10


Location

: MI



Cliff, thanks. I used it to fly to Amarillo for an indoor Sectional and 1800 a few weeks ago. 25 yards, so I used my Pardini 32SWL for CF. I got almost everything inside the case including ammo and two guns.

Yes, TSA open up everything (in their inspection room), owner is not supposed to touch, I always politely offer to help, reaction depends on the particular officer. I've gone through that quite a few times now, usually no problem. Ammo must be boxed and I now always put some tape on Eley 22 - you can guess why!

No problem with case or contents on way there. After I got back I discovered that both my Rink grips suffered slight damage. Possibly I did not pad them well enough, maybe TSA did not put them back in neatly, hard to say. Anyhow, since it is super easy to remove the grips from Pardini's I will do that in future. I will also cut some foam to hold each gun securely in future too. 1911's or similar should be no problem. Depending on the event I might pack a Marvel + Wad Gun + Revolver, those three would fit easily. Maybe even plus a Ball Gun.

Best to pack ammo in the case with guns, in my experience. If space is tight then I could move the tool box or other stuff to another bag.

Overall I'm very happy now with this case.

But, it is a fact that flying with guns is a major PITA!

RoyDean




Posts

: 632


Join date

: 2021-03-31


Age

: 67


Location

: Oregon



One further comment. It is best to unpack the case before entering the range (e.g. in hotel or back of car). Mount the scope on the support, assemble the brass net, etc., and put them in a shopping bag. That way it is easy to then put the case on the bench, insert the scope, screens, etc., and get everything set up ahead of time, with case lid closed. Then, prep period starts just have to open lid take out gun and ammo, ready to go very fast. Perfect.

RoyDean




Posts

: 632


Join date

: 2021-03-31


Age

: 67


Location

: Oregon



Sc0 and Hawkja like this post
Similar topics
---
Permissions in this forum:
You
cannot
reply to topics in this forum